CORE - Staff
David Edache, PhD, MSc
Postdoctoral Research Fellow
edachedave@vet.k-state.edu
David received his Animal Science undergraduate degree from the University of Agriculture Makurdi in Nigeria, where he was born and raised. He later moved to the UK to pursue a MSc degree. While there, he continued his study on ruminant nutrition with a particular focus on mineral supplementation for lambs raised on pasture. After completing his MSc degree in 2019, he accepted a PhD position in Italy where his research was on developmental programming in dairy heifers, specifically looking at the impact of maternal dietary challenge during pregnancy on the development of the gastrointestinal system in the offspring. David has a strong interest for research involving animal models, and his long-term goal is to keep pushing the limits of research in both academic settings and R&D-related enterprises.
Under the supervision of Dr. Natalia Cernicchiaro, David is presently a postdoctoral research fellow. As part of his job, David will look into the antiviral activities of polyphenols isolated from sorghum against the Japanese encephalitis virus (JEV).
John Ekakoro, PhD, M. Vet. Med, B. of Vet. Med
Research Associate
jekakoro@vet.k-state.edu
John is a veterinarian and epidemiologist. He received his PhD (epidemiology focus with a minor in statistics) from the University of Tennessee, Knoxville in 2018. He obtained his primary and secondary veterinary degrees from Makerere University, Kampala, Uganda. Prior to joining K-State, he was a post-doctoral associate at Cornell University's College of Veterinary Medicine from October 2020 to May 2023. He also worked at Purdue university as a postdoctoral Research Associate from September 2019 to September 2020. His research interests include epidemiology and ecology of infectious diseases including emerging infectious diseases, antimicrobial stewardship in human and veterinary medicine, epidemiology and mechanisms of antimicrobial resistance, food safety epidemiology, zoonoses, dynamics of disease transmission at the human-livestock-wildlife interface, and neglected tropical diseases.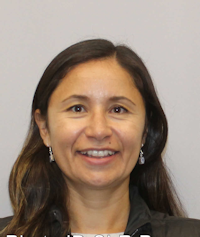 Karla I. Moreno-Torres, PhD, DVM, MSc
Research Associate
kimoreno@vet.k-state.edu
Karla received her PhD from the College of Veterinary Medicine at Ohio State University, where she focused on the dynamics of infectious diseases at the wildlife-livestock interface. She worked as a post-doctoral researcher and an Oak Ridge Institute for Science and Education fellow at the Center for Epidemiology and Animal Health and at the Agricultural Research Service, United States Department of Agriculture. She used experimental data to parameterize national models for epidemiological preparedness. Her research interests include modeling infectious diseases, emergency preparedness, applied epidemiology and ecology of infectious diseases.
GRADUATE STUDENTS (listed alphabetically):

Vanessa de Aguiar Veloso, DVM, MS
PhD, Pathobiology (Epidemiology)
veloso@vet.k-state.edu
Advised by Dr. Natalia Cernicchiaro
Vanessa received her veterinary degree from Brazil in 2017. She completed her MS degree at K-State in 2020, which focused on beef cattle nutrition, in the Dept. of Animal Sciences and Industry. During her MS degree, she held multiple management roles including interim Manager of the KSU Beef Cattle Research Center, and Manager of the ASI Pre-harvest & Food Safety Laboratory. Her current interests include the application of epidemiological concepts and methods to support evidence-based inference related to animal health and production issues. Her doctoral research focuses on various aspects of veterinary epidemiology, food safety, cattle production, and health.
Stephen Edache
MS student, Pathobiology (Epidemiology)
edache@vet.k-state.edu
Advised by Dr. Natalia Cernicchiaro
Stephen received his DVM from Nigeria in 2021. His MS research is focused on the use of a Yeast fermentation-based probiotic to reduce Salmonella prevalence in the lymph nodes of dairy Cattle. His other research interests are generally focused on one health, Epidemiology and public health. Upon completion of his master's program here at K-state, he wishes to proceed into a PhD program focusing on Epidemiology and public health. He intends to develop fully in academia, and his passion has always been to transfer theoretical knowledge and practical skills gained to students for the attainment of their academic and professional goals.
Deana Hardee, DVM
MS, Veterinary Biomedical Sciences
dvhardee@vet.k-state.edu
Advised by Dr. David Renter
Deana completed undergraduate and veterinary degrees at the University of Georgia. She returned home to a mixed animal clinic with a focus on beef cattle production in southeast Georgia. Deana relocated to central Nebraska and split her time between the cow-calf and feeding sectors. In the spring of 2020, she started a position as a ruminant technical services veterinarian in the Texas Panhandle. Her primary research focus is in antimicrobial use, stewardship, and resistance.
Lucas Horton, MS
Graduate Research Assistant
PhD, Pathobiology (Epidemiology)
lhorton@vet.k-state.edu
Advised by Dr. David Renter
Lucas received his MS degree in Animal Sciences and Industry from K-State in 2018, where he studied beef cattle nutrition. He spent one and a half years in industry as a Research Coordinator where he monitored commercial feedlot trials studying a ruminal probiotic. His doctoral research will focus on enhancing the beef production system through epidemiologic principles designed to generate practical, data-driven conclusions that are applicable in the field. He aims to support industry leaders with information that can be used to improve decision making in areas such as cattle health, production efficiency, nutrition, food safety, economics, and sustainability.
Ramya Kalam, BVSc & AH
Graduate Research Assistant
MS Clinical Sciences
rkalam@vet.k-state.edu
Advised by Dr. Raghu Amachawadi
Ramya received her BVSc & AH from Sri Venkateshwara Veterinary University India in 2018. She is currently an MS student in the Department of Clinical Sciences. Ramya's research focus is on the impact of antibiotic administration on the prevalence of pathogenic Escherichia coli in swine production systems.
Taylor McAtee
PhD, Pathobiology (Epidemiology)
taylormcatee@vet.k-state.edu
Advised by Dr. David Renter
Taylor received her MS degree in Animal Science from West Texas A&M University in 2022. She evaluated the impact of different adminstration routes of respiratory vaccinations on the respiratory microbiome of high-risk feedlot cattle. Her doctoral research will focus on commercial beef production systems research to enable science-based management decisions.
Harith M. Salih, BVM, MS
Graduate Research Assistant
PhD, Clinical Sciences
hmssalih@vet.k-state.edu
Advised by Dr. Raghu Amachawadi
Harith received his BVM from Iraq in1987. His first MS in Microbiology from Iraq in 1999. Then, the second MS in Veterinary Biomedical Sciences from Kansas State University in 2010. Harith worked for 10 years in the industry as part of research and development team. He is currently a PhD student in the Department of Clinical Sciences. His current research focuses on antibiotic alternatives and liver abscesses in feedlot cattle.
MaRyka Smith
Graduate Research Assistant
DVM/PhD, Pathobiology
marykasmith@vet.k-state.edu
Advised by Dr. Michael Sanderson
MaRyka is a concurrent DVM/PhD student working on modeling FMD control options including the use and value of traceability. She received her Bachelor of Science - Veterinary Medicine in Agriculture in May 2020 from Kansas State University.