A healthier world starts here
At the College of Veterinary Medicine, we embrace the One Health concept. We recognize how animal and human health are deeply intertwined. This understanding guides everything we do, from innovation and excellence in teaching to research and service to promote animal and human health for the public good. As a college, we are committed to an environment that is fulfilling and rewarding, and is recognized for good communication, productive collaboration, mutual respect, diversity, integrity and honesty.


News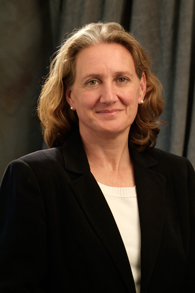 Tammy Beckham named College of Veterinary Medicine dean at Kansas State University
Following a national search, Kansas State University has named Tammy Beckham as its next dean of the College of Veterinary Medicine, effective Aug. 2.
New Center Focuses Research On Vector-Borne Diseases
The new Center of Excellence for Vector-Borne Diseases launched in April. It will have several missions, including conducting research to understand pathogenesis, surveillance and prevention of diseases such as Anaplasmosis , Ehrlichiosis, Rocky Mountain Spotted fever, Lyme Disease, and the newly emerging Bourbon virus. The center will also establish new labs such as a tick-rearing facility that will help support researchers at K-State and other academic institutions and industry. Watch our video to learn more about the center.
Read the April issue of The Grazier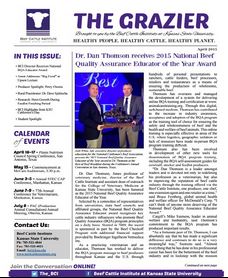 The official newsletter of the Beef Cattle Institute features stories this month about Director Dr. Dan Thomson receiving the 2015 National Beef Quality Assurance Educator of the Year Award; a research report about horn growth during the feedlot finishing period, a review of this year's Upson Lecture on "Big Food"; producer and rural practitioner spotlights on Perry Owens and Dr. Dave Sjeklocha; and more.
Dr. Kate KuKanich outlines safety guidelines for kids handling animals
Do you have kids who love to find frogs and turtles in the wild or snuggle with baby chicks and ducklings? Kansas State University veterinarians say it's great to encourage children to become interested in animals at a young age, but there are certain precautions and guidelines you should know.
Kansas State students to go on the road to care for shelter animals
Veterinary students at Kansas State University are going on the road to care for shelter animals. A new mobile unit will start heading out to shelters next month. The university says students are projected to perform 2,800 to 3,500 spay/neuter procedures in the first year.
Nanotechnology Innovation Center of Kansas State (NICKS) offers Electron Microscopy facility
The Nanotechnology Innovation Center of Kansas State (NICKS) hosts an electron microscopy (EM) facility located within the CVM. This facility can be used to help improve the scientific output of Kansas State University researchers, while providing faculty, students and staff with guidance for EM research. Click the link above for a detailed description of all features and services of the Electron Microscopy Facility.