James K. Roush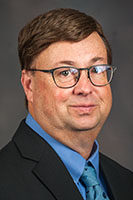 Associate Dean for Academic Programs and Student Success

Professor, Small Animal Surgery
DVM, MS, DACVS
Phone: 785-532-5690
E-mail: roushjk@vet.k-state.edu
Professional Training
DVM: Purdue University 1983
Residency: University of Wisconsin-Madison 1985-88
Master of Science: University of Wisconsin-Madison 1988
Diplomate American College of Veterinary Surgeons, 1990.
Teaching
Veterinary Surgery I (3rd year)
Clinical Small Animal Orthopedic Surgery (4th year)
Ethics and Jurisprudence, 3rd year
Research
Bone healing and blood supply
Osteoarthritis and articular cartilage healing
Gait analysis
Clinical
Dr. Roush's clinical service duties are exclusively in small animal orthopedics and neurosurgery. He has been recently involved in several investigations assessing the effects of new commercial pharmaceuticals and other substances on lameness in dogs.