Emily J. Reppert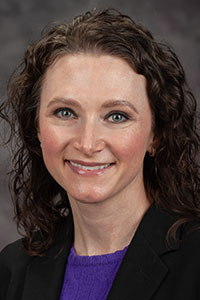 Associate Professor / Agricultural Practices
DVM, MS, DACVIM
Phone: 785-532-5700
erepper@vet.k-state.edu
Professional Training:
DVM: Colorado State University
Internship: Oklahoma State University
MS: Oklahoma State University
Residency: Oklahoma State University
Teaching
Food Animal Medicine and Surgery Clinics (4th year)
Food Animal Medicine (3rd year)
Veterinary Surgery II (3rd year)
Clinical Skills (3rd year)
Clinical Pharmacology (3rd year)
Clinical Anatomy (1st year)
Research
Dr. Reppert's basic science research interest is in tick-borne diseases such as Anaplasma phagocytophilum and her primary clinical research interest is in therapy for the management of urinary disease in ruminants and management of metabolic diseases in small ruminants and camelids.
Clinical
Dr. Reppert has a particularly strong interest in small ruminants and camelids. In addition, her clinical interests include ruminant urinary disease, neonatology, bovine lameness, and gastrointestinal disease. Dr. Reppert enjoys running, cooking and spending time with her terrier mix Ralph.