Kate KuKanich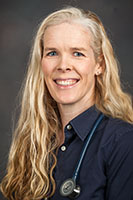 Professor, Small Animal Internal Medicine
Director, Veterinary Research Scholars Program
DVM, PhD, DACVIM (SAIM)
Phone: 785-532-4282
E-mail: kstenske@vet.k-state.edu
Education and Professional Training
Bachelor of Science: University of Notre Dame
DVM: University of Minnesota
PhD: University of Tennessee
Internship: Tufts University
Residency: University of Tennessee
Teaching
Principles of Epidemiology (1st year DVM and MPH)
Veterinary Medicine and Biomedical Research (1st year DVM)
Medicine I (3rd year DVM)
Pharmacology II and Clinical Pharmacology (2nd and 3rd year DVM)
Clinical Skills (1st and 3rd year DVM)
Veterinary Public Health, Introduction to One Health (DVM and MPH)
Veterinary Business and Professional Development (3rd year DVM)
Research
Dr. KuKanich performs One Health applied veterinary research to improve management of bacterial and fungal disease, including foundational research to support antimicrobial stewardship guidelines in veterinary medicine. She researches pain management therapies (opioids and NSAIDs) for chronic and acute pain in dogs and cats, with an additional focus on public health safety (misuse deterrents) and proper disposal of unused medications. She is the Director of the KSU summer Veterinary Research Scholar Program and mentors many veterinary students, MS and MPH students, and undergraduate students in research.
Clinical
Dr. KuKanich's clinical interests are infectious and zoonotic disease, including fungal infections (histoplasmosis) and complicated urinary tract infections. She is a key member of the KSU Veterinary Community Care team to provide basic veterinary services at low or no cost to people of need in the community.
Outreach
Dr. KuKanich is involved in numerous outreach activities in Riley County and throughout Kansas. She coordinates KSU's This is How We "ROLE," a collaborative program with the Boys and Girls Club of Manhattan, where her team of veterinary students visit kids from a disadvantaged background after school to bring veterinary STEM lessons and mentorship with the goal of inspiring future veterinarians. Locally, she also brings a veterinary medicine and One Health presence to Everybody Counts, Okt-FLU-ber Fest, BugAPalooza, Pet Palooza, and more. At a state level, she is active in the Kansas Healthcare Associated Infections and Antimicrobial Resistance Program Advisory Group.