Elizabeth Davis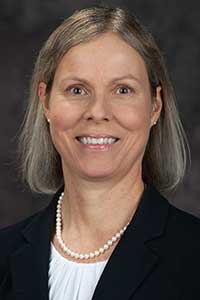 Associate Dean of Clinical Programs
Serves as Department Head and Professor, Equine Internal Medicine
DVM, PhD, DACVIM
Phone: 785-532-5700
E-mail: edavis@vet.k-state.edu
Education and Professional Training
DVM: University of Florida
Internship: Kansas State University
Residency: Kansas State University
PhD: Kansas State University
Teaching
Practical use and interpretation of veterinary literature (1st year)
Learning curve of equine practice (1-2 year)
Advanced equine internal medicine elective, course coordinator (2-3rd year)
Medicine III (3rd year)
Veterinary Pharmacology (2nd year)
Clinical Skills, course coordinator (3rd year)
Equine Medicine & Field Service (4th year)
Research Methods, course coordinator (Graduate)
Research
Immunology as it relates to effective vaccine strategies in horses and influences on the immune system.
Clinical pharmacology involving commonly used drugs in equine case management.
Evaluation of the pathogenesis of EHV-5 and related disorders: EMPF and lymphoma.
Clinical
Dr. Davis is an internist with clinical interests involving immunologic, neurologic, respiratory and gastrointestinal diseases affecting horses.