Peying Fong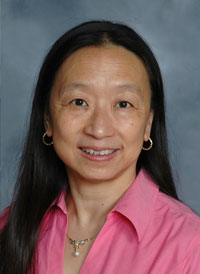 Associate Professor
BS, Biology, Yale University
PhD, Physiology, University of California, San Francisco
Coles Hall 129
785-532-4524
pfong@vet.k-state.edu
Research Interest
Thyroid hormones are essential regulators of every vital system of the body. Aside from their important roles in pre- and early post-natal development, thyroid hormones regulate basal metabolic rate, cardiac contractility, blood pressure and pulse throughout every stage of life. Overt thyroid dysfunction produces life-threatening consequences, whereas subclinical thyroid disturbances influence prognoses in cardiovascular and end-stage renal disease, conditions that have become endemic in the industrialized world.
The Membrane Transport Physiology Laboratory aims to understand how membrane transporters and channels functionally interact to promote iodide accumulation by the thyroid gland. Iodide is a rare element that must be accumulated actively by the thyroid gland in order to produce thyroid hormone. Precisely how iodide enters the thyroid luminal compartment, the site where it reacts to form hormone, remains incompletely understood. Using a novel porcine CFTR-/- model, Dr. Fong's laboratory was the first to identify and characterize definitively the function of cystic fibrosis transmembrane conductance regulator (CFTR) in thyroid gland. CFTR is a regulated epithelial chloride channel; mutation of the CFTR gene results in cystic fibrosis disease. This finding has important implications: CFTR may directly or indirectly mediate thyroid iodide transport and, moreover, impaired thyroid function may affect the etiology of cystic fibrosis. The laboratory currently investigates CFTR regulation of novel thyroid-specific transporters through interactions with scaffolding proteins and macromolecular complexes. Interestingly, several key interacting transporters have tumor suppressor activity in thyroid as well as colonic and breast tissue. Thus, emergent mechanistic models potentially extend to manifold aspects of cancer biology.
Dr. Fong is affiliated with the KSU-COBRE and is a member of The Johnson Cancer Research Center. She serves as a Senior Editor on the Editorial Board of The Journal of Physiology.
More information about Dr. Fong's research can be found by following the links below:
News Releases
Covers (pdf)
Teaching
Dr. Fong teaches Renal and Gastrointestinal Physiology modules of Veterinary Physiology II (AP747) in the first-year veterinary curriculum.
Seminars
Selected publications
Wang, Y.H., Guggino, W.B. and Fong, P. 2007. Anion Channels. In: The Kidney: Physiology and Pathophysiology, Hebert, S. and Alpern, R., Eds., 4th Edition. Elsevier, Inc.
Fong, P. 2008. Mouse models for human epithelial disease: novel insights and new horizons. Exp Physiol 94: 169-170.
Wangemann, P., Kim, H.-M., Billings, S., Nakaya, K., Li, X, Singh, R., Marcus, D. and Fong, P . 2009. Developmental delays consistent with cochlear hypothyroidism contribute to failure to develop hearing in mice lacking Slc26a4/pendrin expression. Am. J. Physiol. Renal Physiol.297: F1435-F1447. PMCID: PMC2781347.
Kirchner, M., Timm, W., Fong, P. , Wangemann, P., Steen, H. 2010. Nonlinear Classification for On-The-Fly Fractional Mass Filtering and Targeted Precursor Fragmentation in Mass Spectrometry Experiments. Bioinformatics 26: 791-797. PMCID: PMC3202308.
Li, H., Ganta, S., and Fong, P. 2010. Altered ion transport by thyroid epithelia from CFTR-/- pigs suggests mechanisms for hypothyroidism in Cystic Fibrosis. Exp. Physiol. 95:1132-1144. PMCID: PMC2991370.
(Journal cover article; see also accompanying Viewpoint Article: Scholte, B. 2010. Thyroid glands from pigs with cystic fibrosis, old issues new ways. Exp. Physiol. 95: 1131.)
Garnett, J.P., Hickman, E., Burrows, R., Hegyi, P., Tiszlavicz, L., Cuthbert, A.W., Fong, P., and Gray, M.A. (2011) Novel role for Pendrin in orchestrating bicarbonate secretion in CFTR-expressing airway serous cells. J. Biol. Chem. 286: 41069-41082 PMCID: PMC3220502.
Fong, P. 2011. Thyroid iodide efflux: a team effort? J. Physiol. 589: 5929-5939. PMCID: PMC3286676.
Li, Y., Ganta, S., and Fong, P . 2012. Endogenous surface expression of ΔF508 CFTR mediates cAMP-stimulated Cl- current in CFTR ΔF508/ΔF508 pig thyroid epithelial cells. Exp. Physiol. 97: 115-124. PMCID: PMC3253219.
Fong, P. 2012. CFTR-SLC26 transporter interactions in epithelia. Biophys. Rev. 4:107-116. PMCID: PMC3369697.
Fong, P. 2013. Editorial Focus. Time for T…(T3, T4, rT3)? Am. J. Physiol. Cell. 305: C800-C802. PMID: 23864604 (PubMed - indexed for MEDLINE).
Fong, P.2015. Apical iodide efflux in thyroid. In: Hormones and Transport Systems, Litwack, G., Ed. from Vitamins and Hormones, Elsevier, Inc. PMID: 25817865; (PubMed, in process).
Fong, P.2015. Editorial. Twenty-five years of CLC chloride transport proteins. J. Physiol. 593:4083-4084. PMID: 26372836; PMCID: PMC4594284 (Available 2016-09-15).
Vergara-Jaque, A., Fong, P. and Comer, J. 2017. Iodide Binding in Sodium-Coupled Cotransporters. J. Chem . Inf . Model . 57 (12): 3043-3055.
*Lillich, J.D. and Fong, P. (2018) Invited Chapter Isolation and Culture of Juvenile Pig Thyroid Follicular Epithelia. In: Epithelial Cell Culture: Methods and Protocols, Baratta, M., Ed., from Methods in Molecular Biology, Volume 1817: 9-18. Humana Press, Springer Science + Business Media, LLC, Springer Nature, New York.
*Fong, P. (2018) Editorial Cross Talks at a Crossroads. J. Physiol. 596:1779.