Peying Fong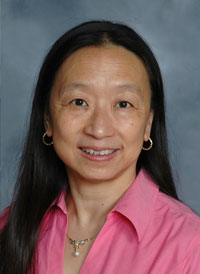 Associate Professor of Physiology
BS, Biology, Yale University
PhD, Physiology, University of California, San Francisco
Coles Hall 129
785-532-4524
pfong@vet.k-state.edu
Research Interest
Peying Fong's research interests center on understanding the structure and function of proteins that facilitate salt, solute, and water movement across intracellular and plasma membranes. Transport processes enabled by these channel and transporter proteins underpin functions critical to all systems within the body. Dr. Fong's present research focuses on how these proteins function in the physiological context of airways, pancreas, and thyroid, as well as glia and neurons within the central nervous system.
Dr. Fong is affiliated with the Center for Epithelial Research. She is a member of The Biochemistry and Molecular Biophysics Graduate Group, and The Johnson Cancer Research Center. She serves as a Senior Editor and CrossTalk Editor on the Editorial Board of The Journal of Physiology, and is a Fellow of The Physiological Society.
More information about Dr. Fong's research can be found by following the links below:
News Releases
Covers (pdf)
Teaching
Dr. Fong teaches Renal and Gastrointestinal Physiology modules of Systems Physiology I and II in the first-year veterinary curriculum. Her didactic teaching extends to instruction in Gastrointestinal Physiology to students in the One Year Masters Program. She also offers a graduate course, AP828: Electricity in Biological Systems, to introduce graduate students to this important dimension of physiology. Dr. Fong currently also directs the Graduate Programs in the Department of Anatomy and Physiology.
Seminars
Selected publications
Fong, P. 2008. Mouse models for human epithelial disease: novel insights and new horizons. Exp Physiol 94: 169-170. PMID: 19144746; DOI: 10.1113/expphysiol.2008.043059.
Wangemann, P., Kim, H.-M., Billings, S., Nakaya, K., Li, X, Singh, R., Marcus, D. and Fong, P. 2009. Developmental delays consistent with cochlear hypothyroidism contribute to failure to develop hearing in mice lacking Slc26a4/pendrin expression. Am. J. Physiol. Renal Physiol.297: F1435-F1447. PMCID: PMC2781347; DOI: 10.1152/ajprenal.00011.2009.
Kirchner, M., Timm, W., Fong, P. , Wangemann, P., Steen, H. 2010. Nonlinear Classification for On-The-Fly Fractional Mass Filtering and Targeted Precursor Fragmentation in Mass Spectrometry Experiments. Bioinformatics 26: 791-797. PMCID: PMC3202308; DOI: 10.1093/bioinformatics/btq036.
Li, H., Ganta, S., and Fong, P. 2010. Altered ion transport by thyroid epithelia from CFTR-/- pigs suggests mechanisms for hypothyroidism in Cystic Fibrosis. Exp. Physiol. 95:1132-1144. PMCID: PMC2991370; DOI: 10.1113/expphysiol.2010.054700.
(Journal cover article; see also accompanying Viewpoint Article: Scholte, B. 2010. Thyroid glands from pigs with cystic fibrosis, old issues new ways. Exp. Physiol. 95: 1131. PMCID: PMC3003899; DOI: 10.1113/expphysiol.2010.055079.)
Garnett, J.P., Hickman, E., Burrows, R., Hegyi, P., Tiszlavicz, L., Cuthbert, A.W., Fong, P., and Gray, M.A. 2011. Novel role for Pendrin in orchestrating bicarbonate secretion in CFTR-expressing airway serous cells. J. Biol. Chem. 286: 41069-41082. PMCID: PMC3220502; DOI: 10.1074/jbc.M111.266734.
Fong, P. 2011. Thyroid iodide efflux: a team effort? J. Physiol. 589: 5929-5939. PMCID: PMC3286676; DOI: 10.1113/jphysiol.2011.218594.
Li, Y., Ganta, S., and Fong, P. 2012. Endogenous surface expression of ΔF508 CFTR mediates cAMP-stimulated Cl- current in CFTR ΔF508/ΔF508 pig thyroid epithelial cells. Exp. Physiol. 97: 115-124. PMCID: PMC3253219; DOI: 10.1113/expphysiol.2011.060756.
Fong, P. 2012. CFTR-SLC26 transporter interactions in epithelia. Biophys. Rev. 4:107-116. PMCID: PMC3369697; DOI: 10.1007/s12551-012-0068-9.
Fong, P. 2013. Editorial Focus. Time for T…(T3, T4, rT3)? Am. J. Physiol. Cell. 305: C800-C802. PMID: 23864604; DOI: 10.1152/ajpcell.00210.2013.
Fong, P. 2015. Apical iodide efflux in thyroid. In: Hormones and Transport Systems, Litwack, G., Ed. from Vitamins and Hormones, Elsevier, Inc. PMID: 25817865; DOI: 10.1016/bs.vh.2014.12.015.
Fong, P. 2015. Editorial. Twenty-five years of CLC chloride transport proteins. J. Physiol. 593:4083-4084. PMCID: PMC4594284; DOI: 10.1113/JP271325.
Vergara-Jaque, A., Fong, P. and Comer, J. 2017. Iodide Binding in Sodium-Coupled Cotransporters. J. Chem . Inf . Model . 57 (12): 3043-3055. PMCID: PMC5744185; DOI: 10.1021/acs.jcim.7b00521.
Lillich, J.D. and Fong, P. 2018. Invited Chapter Isolation and Culture of Juvenile Pig Thyroid Follicular Epithelia. In: Epithelial Cell Culture: Methods and Protocols, Baratta, M., Ed., from Methods in Molecular Biology, Volume 1817: 9-18. Humana Press, Springer Science + Business Media, LLC, Springer Nature, New York. PMID: 29959698; DOI: 10.1007/978-1-4939-8600-2_2.
Fong, P. 2018. Editorial Cross Talks at a Crossroads. J. Physiol. 596:1779. PMCID: PMC5978281; DOI: 10.1113/JP276209.
Fong, P. 2021. Perspectives SARS-CoV-2: pushing the E(nvelope) J. Physiol. 599: 2785-2786. PMCID: PMC8250662; DOI: 10.1113/JP281601.
Zifarelli, G, Pusch, M, and Fong, P. 2022. Altered voltage-dependence of slowly activating chloride-proton antiport by late endosomal ClC-6 explains distinct neurological disorders. J. Physiol. 600 (9): 2147-2164. PMID: 35262198; DOI: 10.1113/JP282737.
(See accompanying Perspectives article: Kobertz, W.R. 2022. Want to hear ClC-6 sing? Push your amp to eleven. J. Physiol. 600 (9): 2019-2020. PMID: 35286714; DOI: 10.1113/JP283060).