Anatomy and Physiology
We are a multi-disciplinary department with responsibilities in instruction, research and continuing education in the disciplines of gross and microscopic anatomy, cell and systemic physiology, pharmacology, and neuroscience.

Class of 2022 One Year Master's in Biomedical Science students celebrated graduation on May 9, with a party featuring Call Hall ice cream and cookies. Some of the students in this year's class are scheduled to graduate later in 2022.

OUR MISSION AND VISION
Our mission: Cultivate an environment that fosters ingenuity, leadership and excellence in teaching, research and service.
Our vision: Build the finest veterinary biomedical science department.
OUR SOCIAL MEDIA
Instagram: K-State Anatomy & Physiology (@ksudap) • Instagram photos and videos
Twitter: Department of Anatomy & Physiology (@KSUDAP) / Twitter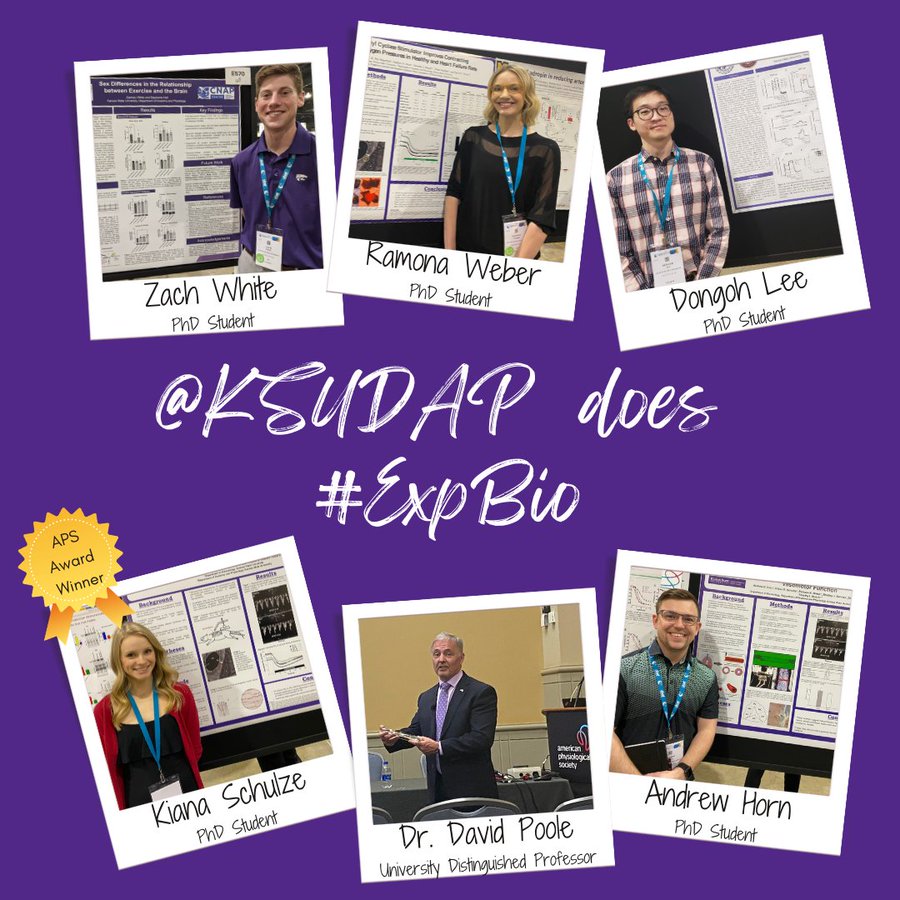 One of our recent tweets:
It was quiet in the halls of @KSUDAP this week as many of our faculty and students attended #ExpBio! #EB2022 S/O to @Kiana_57 for being an @APSPhysiology award winner!
OUR LEADERSHIP
Dr. Hans Coetzee honored as University Distinguished Professor
Anatomy & Physiology Department Head Dr. Hans Coetzee has earned Kansas State University's highest faculty title, University Distinguished Professor. He is known worldwide for his work developing objective measures of pain in food-producing animals. He also researches bovine anaplasmosis and has developed a single-dose implant vaccine that provides long-term immunity against anaplasmosis infections.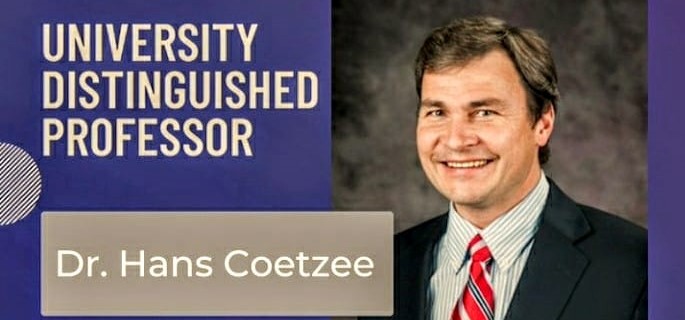 Awarded more than $21.2 million in research funding over the last 16 years, including more than $18 million from highly competitive federal sources, Dr. Coetzee has authored or co-authored more than 200 peer-reviewed manuscripts. He also is in high demand for consultation by livestock producers, practitioners, academic researchers and pharmaceutical companies on livestock pain assessment. He has presented his work at continuing education sessions and conferences around the world.

Dr. Coetzee's work has earned several international and national honors, including being the first North American recipient of the World Veterinary Association Global Animal Welfare Award in 2017, the second recipient of the World Buiatrics Congress Well-Being Achievement Award in 2018 and the youngest ever to win the American Veterinary Medical Association Animal Welfare Award in 2017. He has also received the American Association of Bovine Practitioners Award of Excellence and the Zoetis Award for Research Excellence.
OUR STUDENTS

Fritz receives awards
Anatomy & Physiology student Bailey Fritz received a Graduate Student Excellence Award from Department Head Dr. Hans Coetzee on May 3. Fritz also recently won a 2022 Zoetis Foundation/Association of American Veterinary Medical Colleges Veterinary Student Scholarship for academic excellence.
Undergraduate researchers recognized for their hard work in labs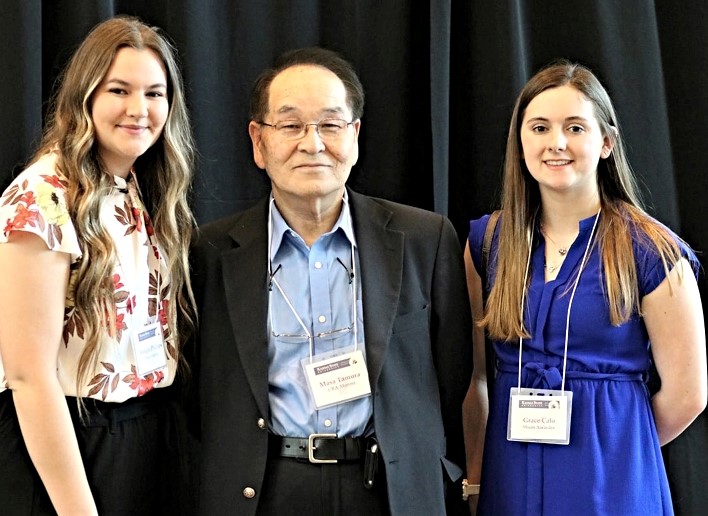 Juliet Nava (not pictured), researcher in Dr. Rob DeLong's lab, won Biology's Most Promising Student Award and a Coffman Excellence in Research Award. Morgan Phillips (pictured, far left), researcher under Dr. Masaaki Tamura (center), received a K-INBRE Summer Semester Scholar Award. Phillips and Grace Calo (right) won Johnson Cancer Research Awards.
Kinesiology doctoral student places second in thesis contest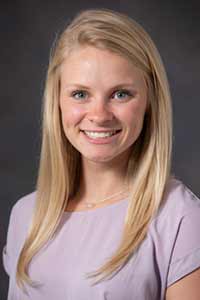 Kiana Schulze, doctoral student in kinesiology, took second place in Kansas State University's Three-Minute Thesis competition. She also won a $1,000 American Physiological Society Cardiovascular Section Pre-doctoral Fellow Award and a $100 RSCAD College of Health and Human Sciences poster award, tying for first place in the Best Creative Display Research Poster along with fellow K-Stater Andrew Horn, who was also awarded a $100 prize.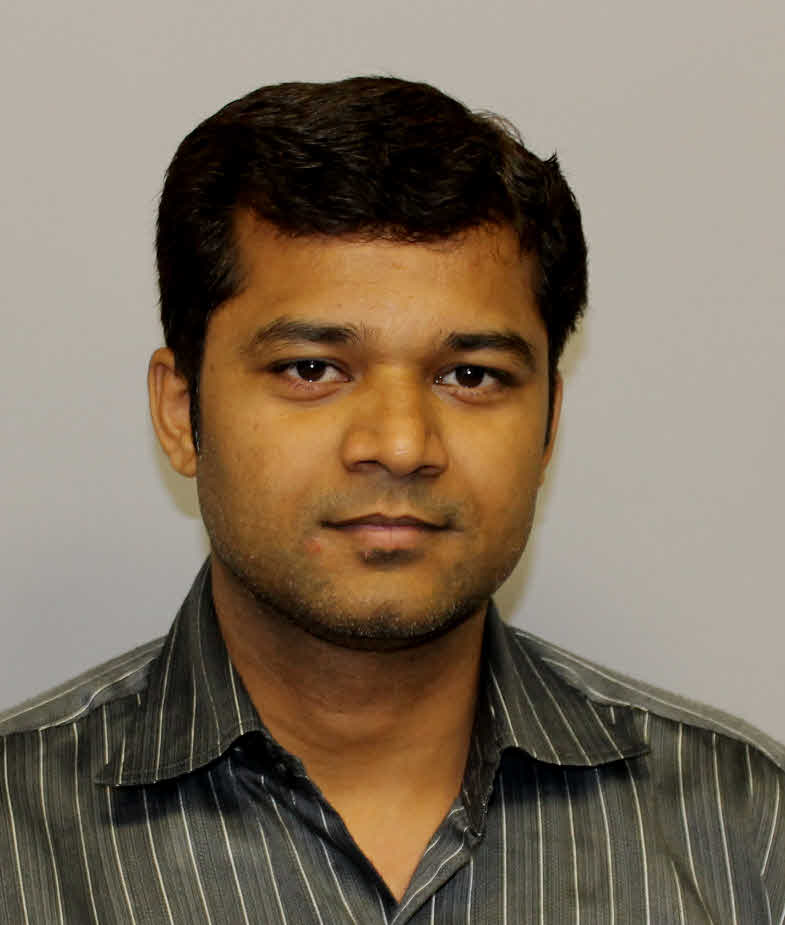 Congratulations to our PhD graduates
Andrew Curtis, Miriam Martin, Deepa Upreti (pictured, left) and Ravindra Thakkar (pictured, right) have successfully completed defense of their PhD presentations. Congratulations to all of you!
OUR ACCOMPLISHMENTS
Recent achievements by A&P faculty, staff and students
Awards/Activities
Dr. Pradeep Malreddy has received the 2021 Boehringer Ingelheim Award For Excellence in Teaching in the first year of the DVM curriculum and also the CVM's Caring For Others Award. He and Dr. Matt Basel are also nominees for the 2022 Zoetis Distinguished Teacher Award.
Dr. Jishu Shi is the inaugural recipient of the Dr. Wayne and Hilda Appleton Endowed Professorship. During his 14-year career at K-State, Dr. Shi has attained national and international recognition for his research focused on advancing our understanding of swine immunology, especially as this pertains to the development of vaccines and diagnostic assays to combat swine fevers. Dr. Shi is also the founder of The U.S.-China Center for Animal Health (now U.S.-Asia Center). Dr. Appleton graduated in the class of 1942 and served as a mixed animal practitioner and swine producer.
Dr. Abbie Viscardi recently coached a group of CVM students to a second-place finish nationally at the 21st annual AVMA Animal Welfare Assessment Contest. Brad Hill, Tessa van Buren, and Kaitlyn Rhine competed as a team in the Undergraduate Senior Division, and Madeline Hall (Class of 2024) competed as an individual in the Veterinary Division. The contest species this year were boar studs, psittacines as pets, and cats in a research setting. Dr. Abbie Viscardi served as the lead coach, with Eduarda Mazzardo Bortoluzzi (PhD Candidate in Animal Sciences) serving as the assistant coach. They met with students every week from the beginning of September to teach them animal welfare assessment techniques in preparation for the contest. At the competition, Kansas State University placed second in the Undergraduate Senior Division (out of 28 teams). Rhine placed third overall in her division (out of 44 students). Hill and van Buren also placed among the top 25%.
Joel Sanneman is the recipient of the 2022 President's Award of Excellence for Unclassified Professionals. He was selected by peers to receive the Distinguished Accomplishment Award. For more than 15 years, Sanneman has enhanced research campus-wide through his outstanding performance as manager of the CVM Confocal Microscopy Facility. He is also one of the winner's of the CVM's High Five Awards for Spring 2022.
Drs. Judy Klimek, Jeff Comer, Rob DeLong and Pradeep Malreddy are recipients of the CVM's JEDI (Justice & Equity, Diversity & Inclusion) Awards.
Dr. Jeff Comer and Ravi Thakkar were awarded an initial allocation of 48 hours on microscopes at the Pacific Northwest Center for Cryo-EM.
Presentations at national/international meetings
Dr. David Poole presented the History of Physiology Distinguished Lecture: "Skeletal Muscle Microcirculation: Misconceptions and Missed Perceptions" at the Experimental Biology Conference in Philadelphia.
Physiology students Kiana Schulze, Ramona Weber and Andrew Horn made KGRAD presentations.
Drs. Abbie Viscardi, Michael Kleinhenz and Hans Coetzee's "Evaluation of firocoxib, delivered transmammary to piglets, to alleviate pain associated with elective husbandry procedures" was part of the North American Regional Meeting of the International Society of Applied Ethology in Davis, Calif.
Dr. Rob DeLong gave invited talks at Penn State University, Michigan State University and an American Chemical Society webinar entitled, "RNA Therapeutics: The Evolving Landscape of Research, Challenges, and Opportunities."
Dongoh Lee had his abstract accepted for and presented a poster at the Experimental Biology Conference April 2-5.
Dr. Hans Coetzee provided 3 hours CE credit on pain assessment, pain management and anti-inflammatories at the Professional Dairy Producers of Wisconsin (PDPW) Annual Conference in Wisconsin Dells, Wis., on March 17.
Dr. Peying Fong presented a poster titled, "Slowly activating ionic and fast transient currents in CLC-6 chloride-proton antiporters" (Authors: Giovanni Zifarelli, Michael Pusch, Fong) at the 66th Biophysical Society Annual Meeting in San Francisco.
Dr. Rob DeLong served as co-presenter on a national panel for the American Chemical Society's "RNA Therapeutics: The Evolving Landscape of Research, Challenges, and Opportunities." He was also invited to submit a white paper to National Science Foundation on the topic of "Dark Dimensions of the RNA Regulome (D2R2)."
Dr. Stephanie Martinez was the organizer, moderator and panelist for an American Society for Pharmacology and Experimental Therapeutics Focus on Pharmacology 2022 Trainee Career Development Series webinar on the topic of "Finding your First Job."
Dr. Hans Coetzee presented on bovine anaplasmosis at the 5th American Association of Bovine Practitioners New Graduate Conference in New Orleans.
Dr. Mark Weiss was a keynote speaker at the 4th International Caparica Christmas Conference on Translational Chemistry 2021, held in Caparica, Portugal. His presentation was titled, "Using Extracellular Vesicles for Cancer Detection."
Drs. Andrew Curtis and Hans Coetzee presented the results of their research at the Conference of Research Workers in Animal Diseases meeting in Chicago.
Dr. Meena Kumari was invited by the Vice Chancellor, Prof Neelima Gupta and Prof JD Ahi to give a webinar at Dr. Harisingh Gour Vishwavidyalaya University in Central India. This webinar will be a part of their conference on "Neurobiology of Behavior: the Challenge and the Promise".
Maria Lou, PhD student working with Dr. Abbie Viscardi, presented a talk at the Merck Advancing Animal Welfare Together (AAWT) Symposium in Orlando, Fla., on her research about reducing pain and improving wound healing in piglets.
OUR INNOVATION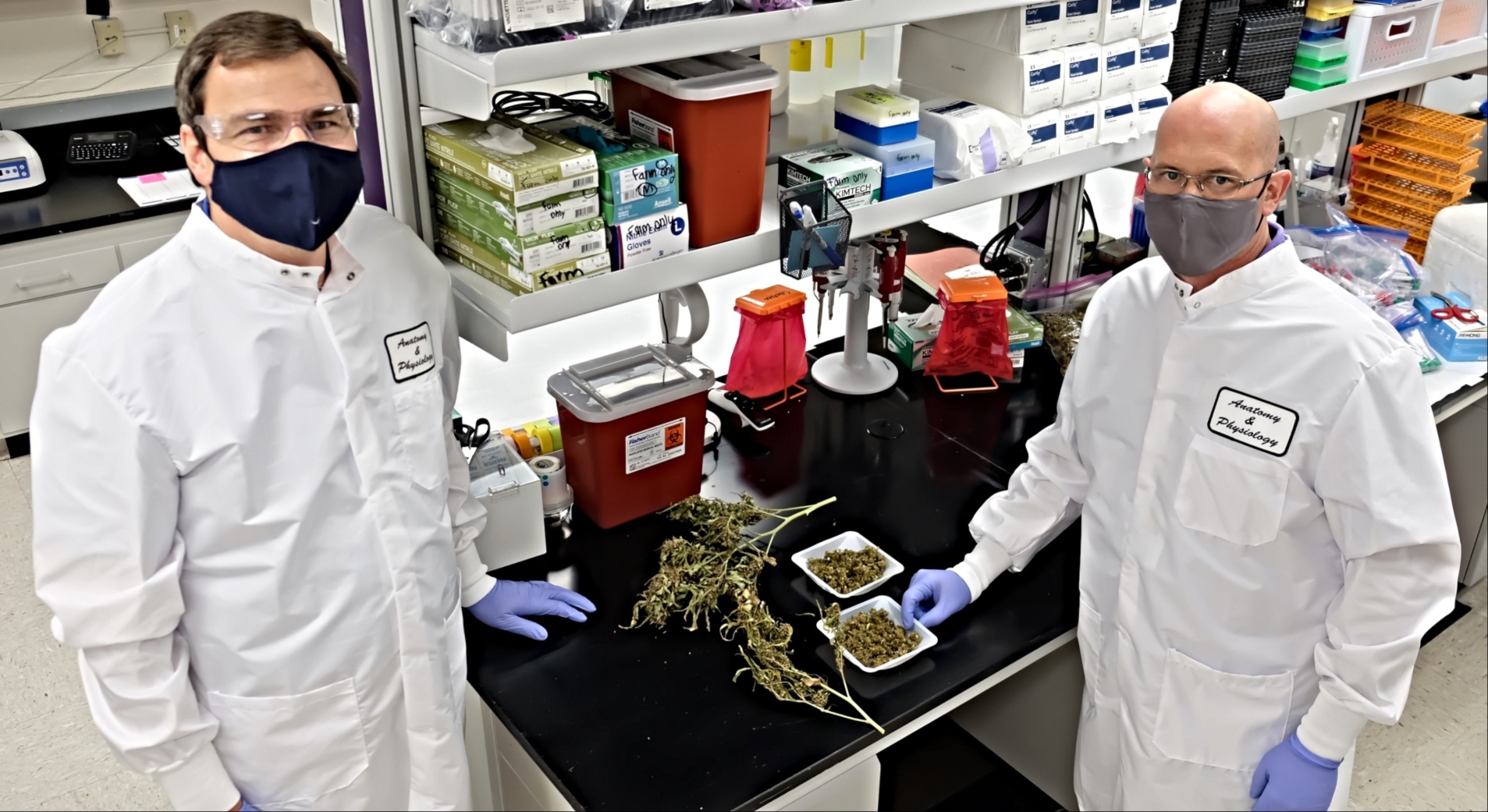 Drs. Hans Coetzee, left, and Michael Kleinhenz are drawing wide-ranging media attention for their studies on industrial hemp in cattle feed.
Dr. Coetzee's lab leads research on safety of hemp in cattle feed
A pair of studies at Kansas State University is bringing new insight to farmers and producers seeking to incorporate industrial hemp in cattle feed. After the 2018 Farm Bill legalized hemp production in the U.S., interest has grown in industrial hemp as an agricultural commodity, including as feed for animals. FDA approval, however, through the Association of American Feed Control Officials would be required before hemp could be fed to livestock or pets.
"Although hemp can be legally cultivated under license in Kansas, feeding hemp products to livestock remains prohibited because the potential for cannabinoid drug residues to accumulate in meat and milk has not been studied," said Dr. Hans Coetzee, professor and anatomy and physiology department head.
Read more here: https://www.k-state.edu/media/newsreleases/2020-09/industrial-hemp-cattle-feed.html.
OUR DEPARTMENT IN THE NEWS
Dr. David Poole provided information on three media outreach contributions:
10/6/2021 "Extraordinary Human Performances": Consultant for Michael Batchelder and Kerry Lambert. The History Channel and Prometheus Entertainment, Los Angeles.
10/8/2021 Kinesiology Today Article: "Wearing Covid-19 masks and physical activity: The science". Article by Patrick Wade (217-390-2261).
10/19/2021 Platinum Performance Webinar "Exercise-induced Pulmonary Hemorrhage in Performance Horses", RACE-AAEP Approved continuing education. With Dr. Warwick Bayly and Jesse Bengoa.
Wearing Covid-19 Masks: Blood Oxygenation and Exercise Capacity (KWCH - TV)
Dehorning Pain Management (Bovine Veterinarian)
Updated Ag Guide Expands on Pain Management (JAVMA)
Livestock Industry Studies Pain Management in Food Animals (Iowa PBS)
K-State Research Team Analyzes Industrial Hemp in Cattle Feed (Drovers)
K-State Research Team First to Analyze Safety of Industrial Hemp As Cattle Feed (KSN Wichita)
K-State Researches Possibility of Feeding Hemp to Cattle (KSNT Topeka)
K-State Studies Deadly Blue Green Algae (KSNT Topeka)