Anatomy and Physiology
We are a multi-disciplinary department with responsibilities in instruction, research and continuing education in the disciplines of gross and microscopic anatomy, cell and systemic physiology, pharmacology, neuroscience and animal behavior and welfare.
WHO WE ARE
Our mission: Cultivate an environment that fosters ingenuity, leadership and excellence in teaching, research and service.
Our vision: Build the finest veterinary biomedical science department.
Our Instagram: K-State Anatomy & Physiology (@ksudap) • Instagram photos and videos
Our Twitter: Department of Anatomy & Physiology (@KSUDAP) / Twitter
PHOTO HIGHLIGHTS FROM 2023 PHI ZETA DAY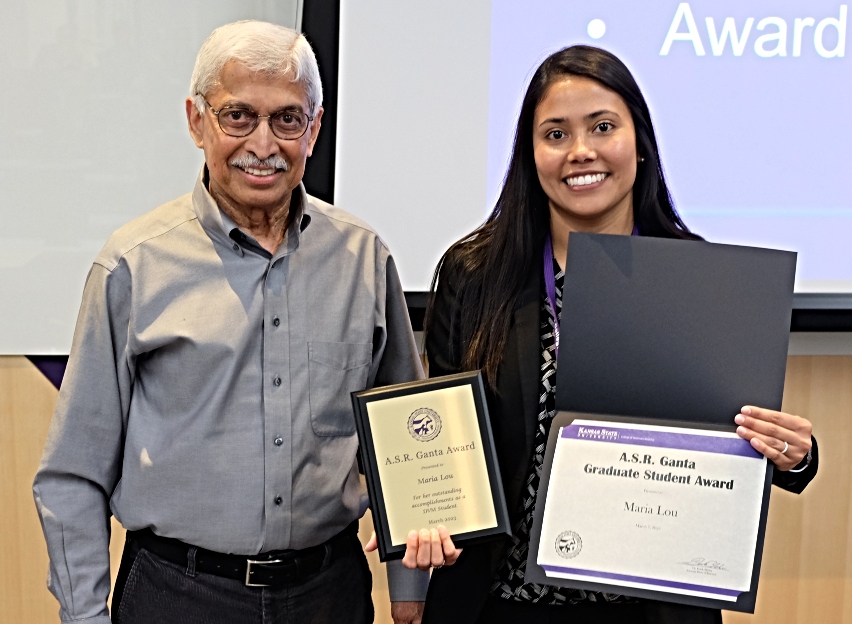 ABOVE: Maria Lou, right, PhD candidate in Dr. Abbie Viscardi's lab, won first prize in Applied/Clinical Research Oral Presentations at Phi Zeta Day on March 7 and earned the A.S.R. Ganta Graduate Award plaque and certificate presented by Dr. M.M. Chengappa.
BELOW: Chandler Hansen, far left, takes part in the poster presentation portion of Phi Zeta; Cesar Aparicio, center, explains the content of his poster to Dongoh Lee; and Sarah DeVader, far right, fields a question about her poster presentation.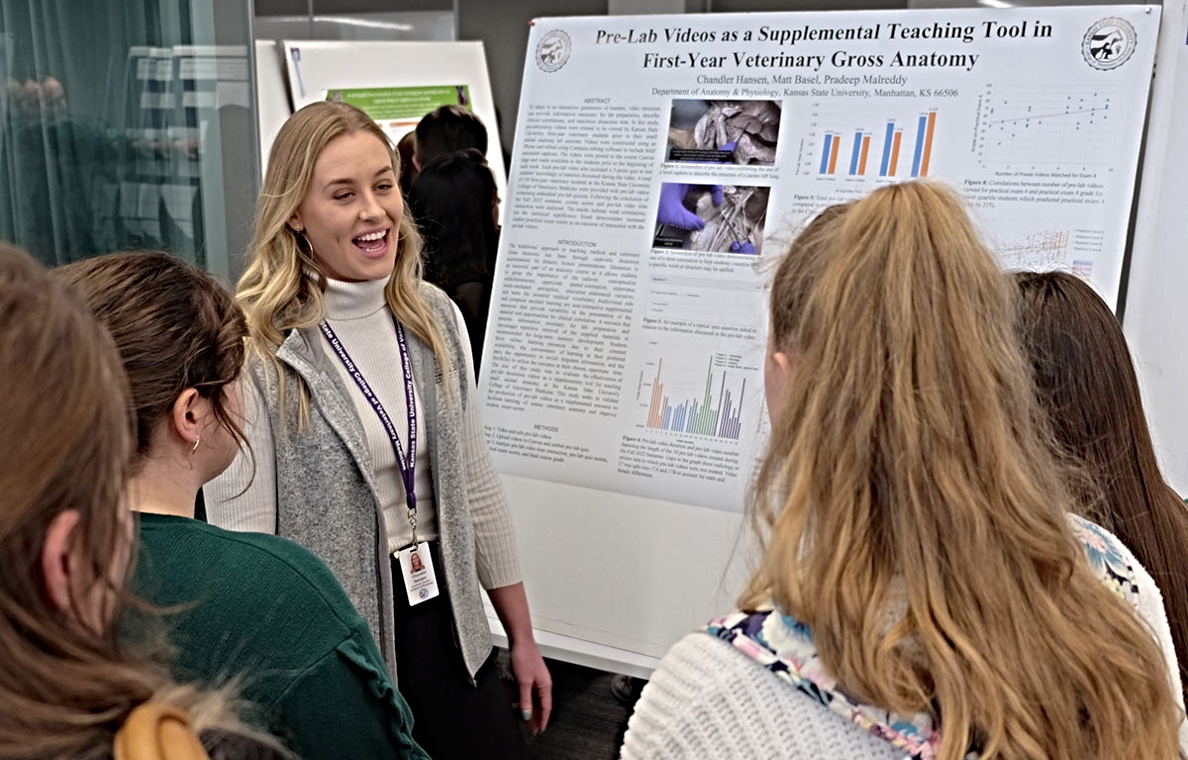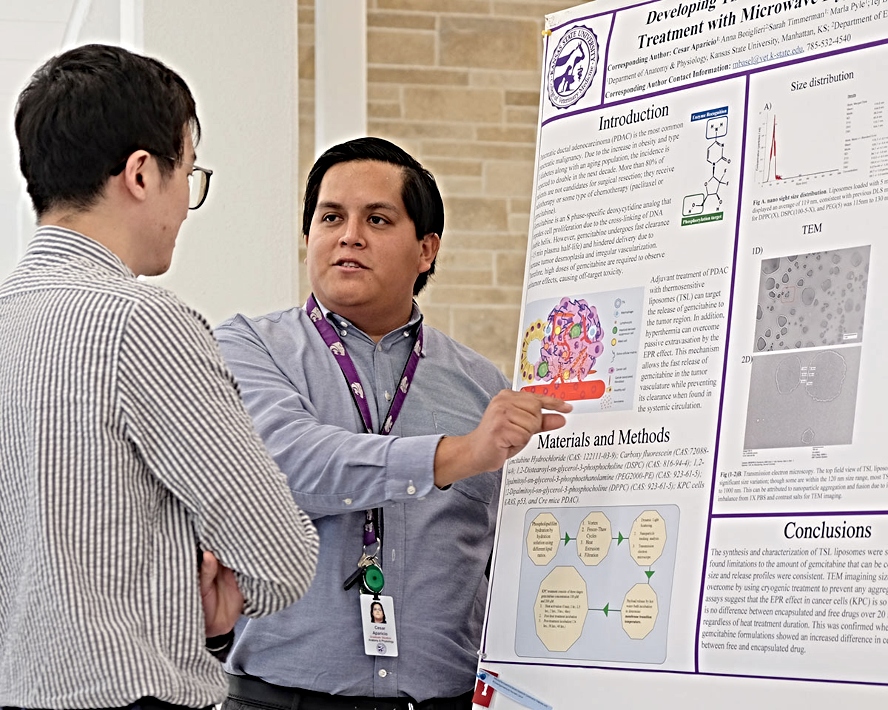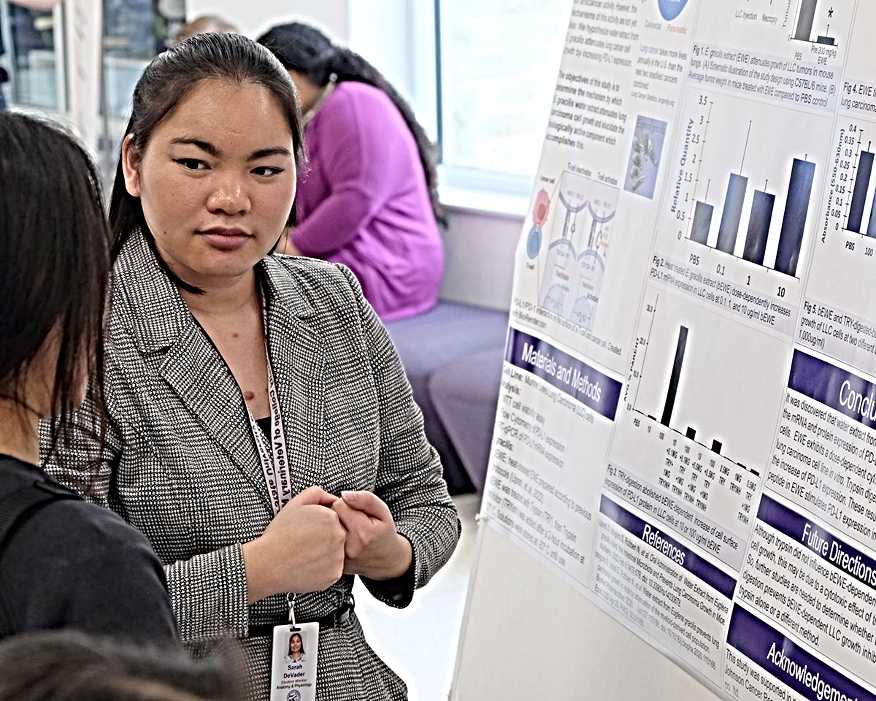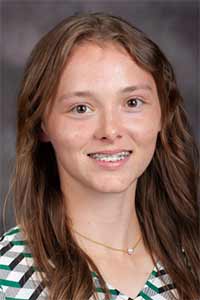 A&P students stand out, win
awards at Kansas State CVM's
annual Phi Zeta Day festivities
Congratulations to A&P students Mikaela Weeder, Maria Lou, Madeline Hall, Sarah Keck, Chandler Hansen, Bailey Fritz, Alyssa Toillion, Cesar Aparicio, Sarah DeVader, and Franchesca Rollerson-Clark and their respective faculty mentors and laboratory support staff for showcasing the groundbreaking research being pursued in our department at Phi Zeta Day on March 7 at the Kansas State University College of Veterinary Medicine.
Several students affiliated with research programs in A&P were recognized with awards:
Maria Lou, pictured above at left, PhD candidate in Dr. Abbie Viscardi's lab, won first prize in Applied/Clinical Research Oral Presentations; and earned the Ganta Graduate Award.
Bailey Fritz, pictured above at right, a concurrent DVM-PhD student in our department working with Dr. Mike Kleinhenz, won the Miller Pathology Scholarship. She was also initiated as a member of Phi Zeta based on her scholastic achievements.
Franchesca Rollerson-Clark, a VRSP student that worked in Dr. Stephanie Martinez's lab last summer, won third prize for the best Basic Sciences poster.
Astrid Carcamo-Tzic, a VRSP student who will be working with Dr. Butch KuKanich this summer, won the Benjamin Kurz Research Scholarship.
2023 CLARENBURG LECTURESHIP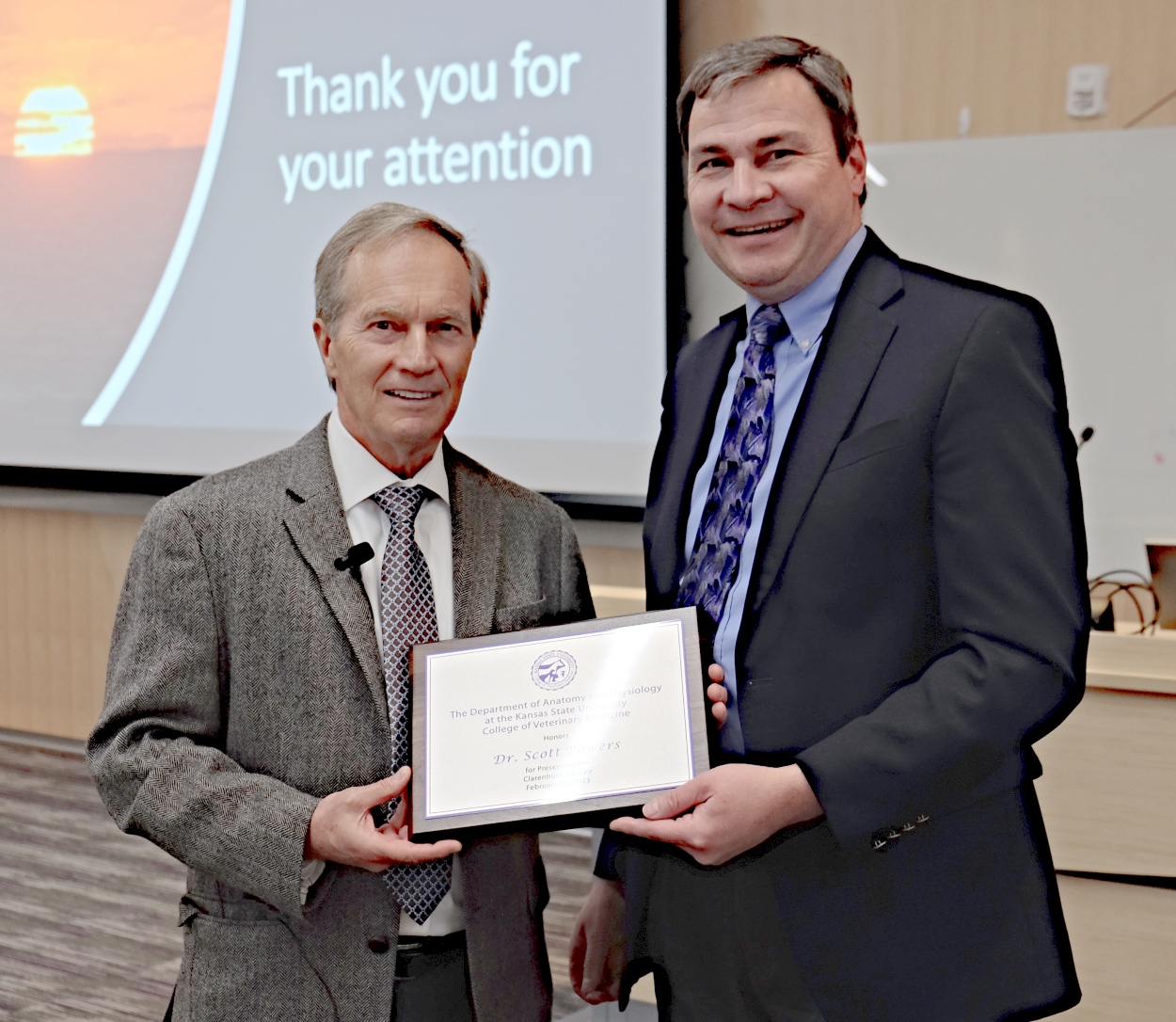 Dr. Scott Powers, left, of Stetson University delivered the 2023 Clarenburg Lectureship at Kansas State University on Feb. 28. He received a plaque commemorating the event from K-State Anatomy & Physiology Department Head Dr. Hans Coetzee. View Dr. Powers' seminar presentation here: 2023 Clarenburg Lecture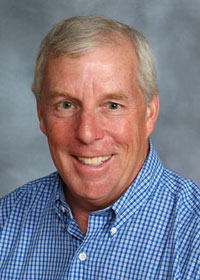 Dr. Tim Musch to become president
of American Physiological Society;
wins Dolph Simons Sr. Award
Dr. Tim Musch has been selected as the 2023 Dolph C. Simons Sr. Award winner in Biomedical Sciences. This award is one of the four research achievement awards established in 1981 through the University of Kansas Endowment Association. The KU Endowment Research Achievement Awards are KU's highest award for faculty accomplishments.
Dr. Musch was also recently named president-elect of the American Physiological Society.
2022 COPPOC ONE-HEALTH LECTURE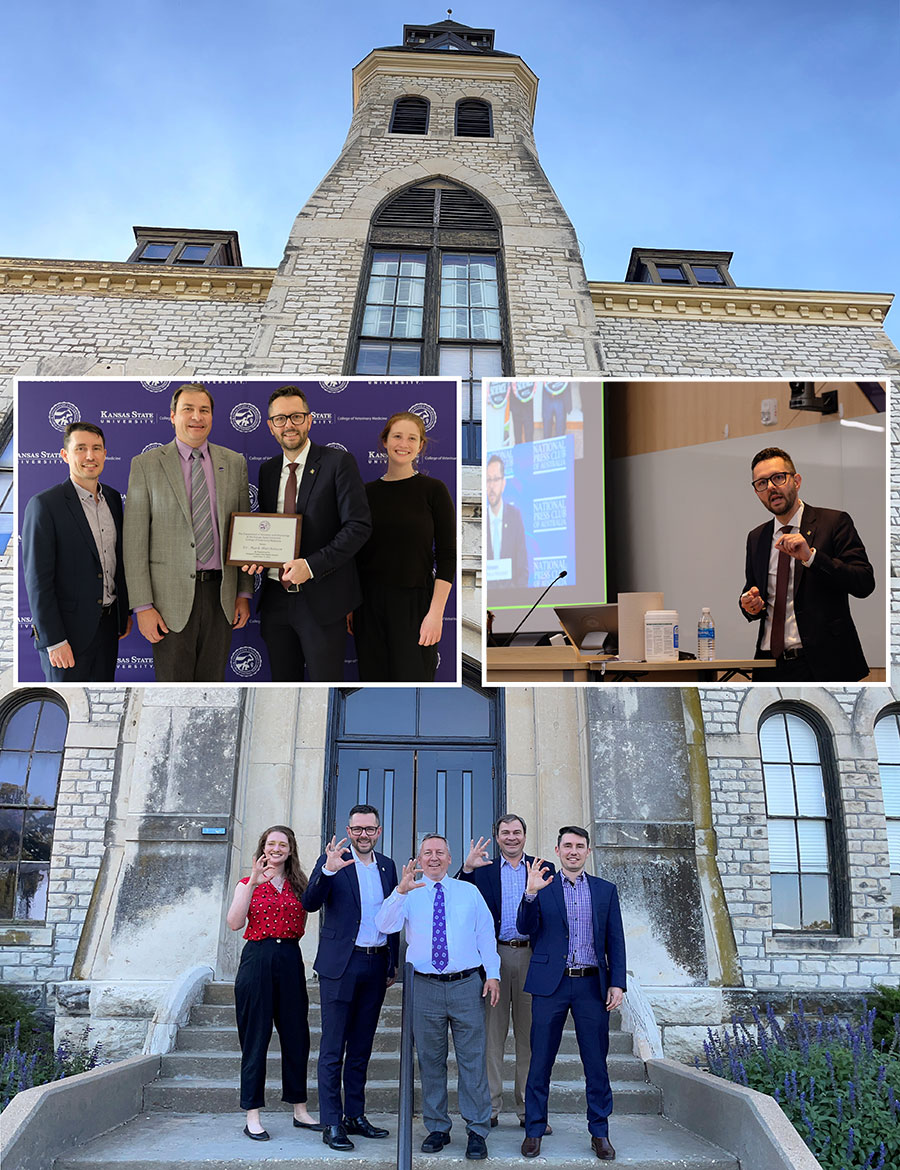 Dr. Mark Hutchinson (in inset, above right) delivered the Coppoc One-Health Lecture at Kansas State University on Sept. 13. He and two of his colleagues from Australia, Drs. Charlotte Johnston and Dan Barratt, along with K-State Anatomy & Physiology Department Head Dr. Hans Coetzee, met with KSU President Richard Linton (in center of photo on Anderson Hall steps) before the seminar presentation, after which Dr. Coetzee awarded Dr. Hutchinson a plaque to commemorate the inaugural Coppoc address (inset, above left). See the lecture online
STUDENT SPOTLIGHT: Amin Ahmadisharaf
Previous Degrees/Schools:
BC Computer Software Engineering, Qazvin University, Iran

Research Field:
Molecular Dynamic Simulation and Analysis

Mentor:
Dr. Jeff Comer

Hometown:
Tehran, Iran

Research Project:
Simulation of icosahedral boron compounds
OUR LEADERSHIP
Dr. Hans Coetzee honored with several major honors
Anatomy & Physiology Department Head Dr. Hans Coetzee who recently earned Kansas State University's highest faculty title, University Distinguished Professor, is also a recipient of a 2022-23 Distinguished Graduate Faculty Award and an Iman Award. Most recently, on March 1, he was also recognized by the graduate school as a 2022-23 Commerce Bank and W.T. Kemper Foundation Distinguished Graduate Faculty Award recipient. He is known worldwide for his work developing objective measures of pain in food-producing animals. He also researches bovine anaplasmosis and has developed a single-dose implant vaccine that provides long-term immunity against anaplasmosis infections.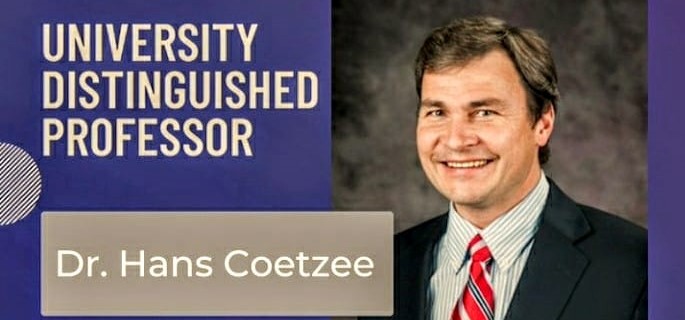 Awarded more than $21.2 million in research funding over the last 16 years, including more than $18 million from highly competitive federal sources, Dr. Coetzee has authored or co-authored more than 200 peer-reviewed manuscripts. He also is in high demand for consultation by livestock producers, practitioners, academic researchers and pharmaceutical companies on livestock pain assessment. He has presented his work at continuing education sessions and conferences around the world.
OUR ACCOMPLISHMENTS
Recent achievements by A&P faculty
Dr. Lynn Abel (pictured at right) has received the 2022 Boehringer Ingelheim Excellence in Teaching in the first year of the DVM curriculum, as voted on by first-year students.
Dr. Scott Fritz was recently featured on the Beef Cattle Institute's "Tox Talk" podcast.
Dr. Judy Klimek recently submitted her revisions for the equine dissection guide.
Dr. Matt Basel has been nominated by his colleagues for certification to direct doctoral students, making him eligible to serve as a chairman of doctoral supervisory committees.
Dr. Jishu Shi (pictured at right) is the inaugural recipient of the Dr. Wayne and Hilda Appleton Endowed Professorship. During his 14-year career at K-State, Dr. Shi has attained national and international recognition for his research focused on advancing our understanding of swine immunology, especially as this pertains to the development of vaccines and diagnostic assays to combat swine fevers. Dr. Shi is also the founder of The U.S.-China Center for Animal Health (now U.S.-Asia Center). Dr. Appleton graduated in the class of 1942 and served as a mixed animal practitioner and swine producer.
OUR DEPARTMENT IN THE NEWS
Wearing Covid-19 Masks: Blood Oxygenation and Exercise Capacity (KWCH - TV)
Dehorning Pain Management (Bovine Veterinarian)
Updated Ag Guide Expands on Pain Management (JAVMA)
Livestock Industry Studies Pain Management in Food Animals (Iowa PBS)
K-State Research Team Analyzes Industrial Hemp in Cattle Feed (Drovers)
K-State Research Team First to Analyze Safety of Industrial Hemp As Cattle Feed (KSN Wichita)
K-State Researches Possibility of Feeding Hemp to Cattle (KSNT Topeka)
K-State Studies Deadly Blue Green Algae (KSNT Topeka)