Anatomy and Physiology
We are a multi-disciplinary department with responsibilities in instruction, research and continuing education in the disciplines of gross and microscopic anatomy, cell and systemic physiology, pharmacology, neuroscience and animal behavior and welfare.
WHO WE ARE
Our mission: Cultivate an environment that fosters ingenuity, leadership and excellence in teaching, research and service.
Our vision: Build the finest veterinary biomedical science department.
Our Instagram: K-State Anatomy & Physiology (@ksudap) • Instagram photos and videos
Our Twitter: Department of Anatomy & Physiology (@KSUDAP) / Twitter
2022 COPPOC ONE-HEALTH LECTURE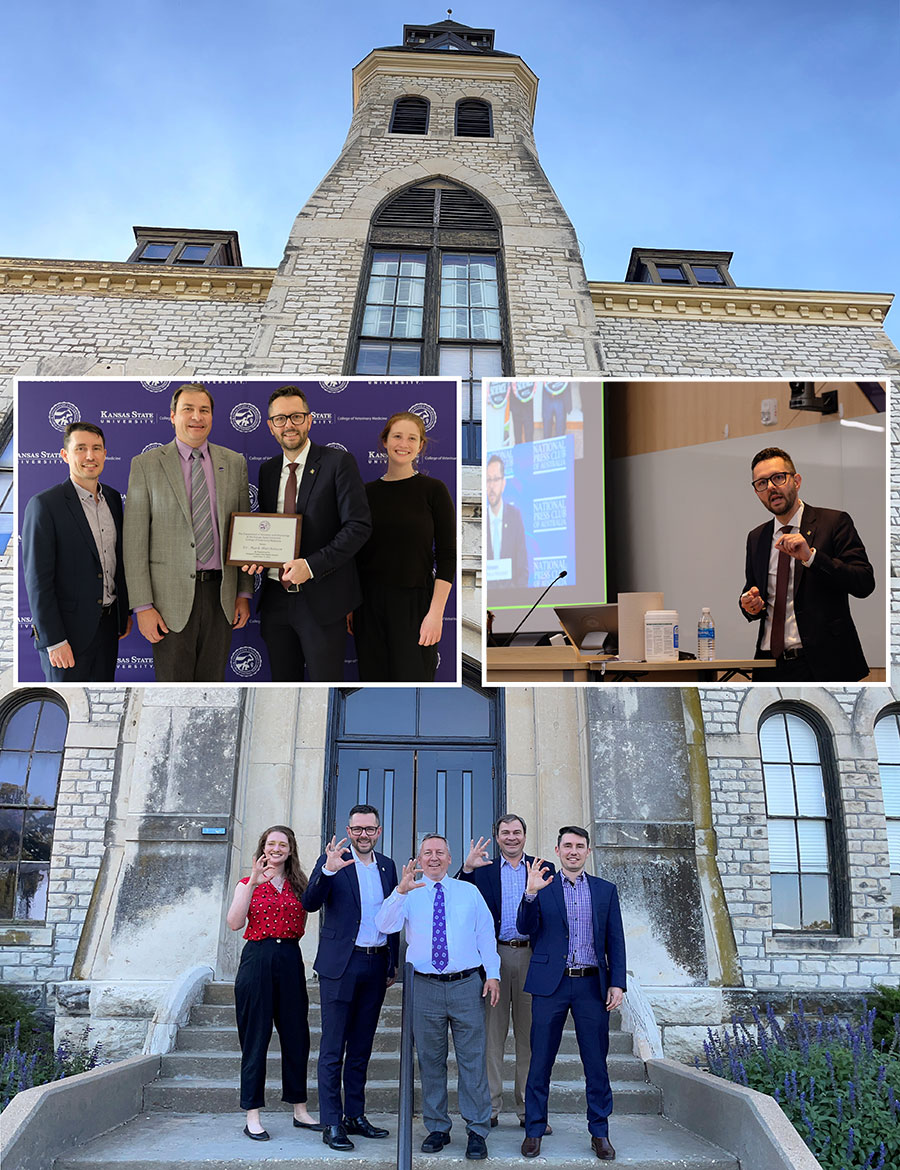 Dr. Mark Hutchinson (in inset, above right) delivered the Coppoc One-Health Lecture at Kansas State University on Sept. 13. He and two of his colleagues from Australia, Drs. Charlotte Johnston and Dan Barratt, along with K-State Anatomy & Physiology Department Head Dr. Hans Coetzee, met with KSU President Richard Linton (in center of photo on Anderson Hall steps) before the seminar presentation, after which Dr. Coetzee awarded Dr. Hutchinson a plaque to commemorate the inaugural Coppoc address (inset, above left). See the lecture online.
STUDENT SPOTLIGHT: Swine behavior & welfare student Maria Lou
Hometown/Mentor/Research project:
Miami, Fla./Dr. Abbie Viscardi/Pain management strategies

Her next step:
Maria has been admitted to candidacy in the department's Doctor of Philosophy program, with a focus on animal welfare.

Breaking news:
Maria is the winner of the Dr. Jane A. Westfall Graduate Student Fellowship for Women.
2022 GRADUATION
Congratulations to Dr. Scott Fritz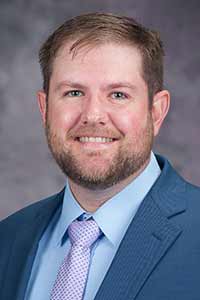 Dr. Scott Fritz, mentored by Dr. Steve Ensley, recently passed the certifying exam for the American Board of Veterinary Toxicology. The native of Cozad, Neb., who previously graduated with his BS in Biology from Hastings College (Neb.), and his DVM from Iowa State University, Ames, focused his research here on evaluating the toxic potential of cannabis in beef cattle.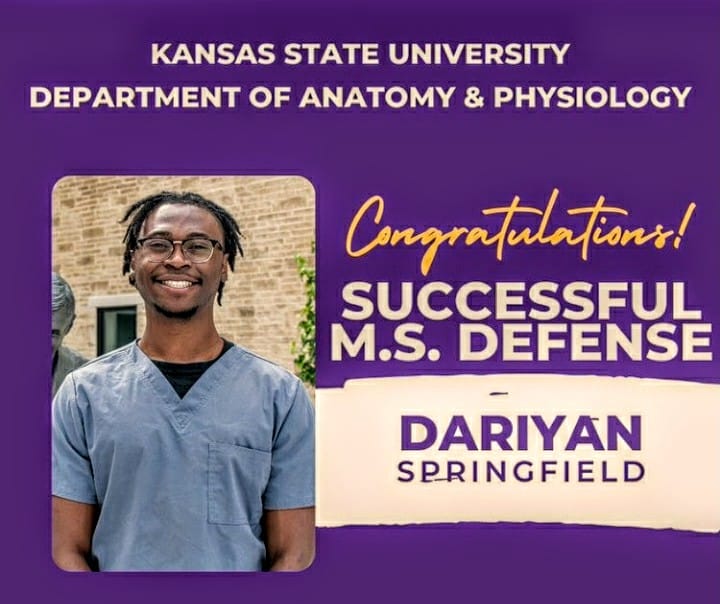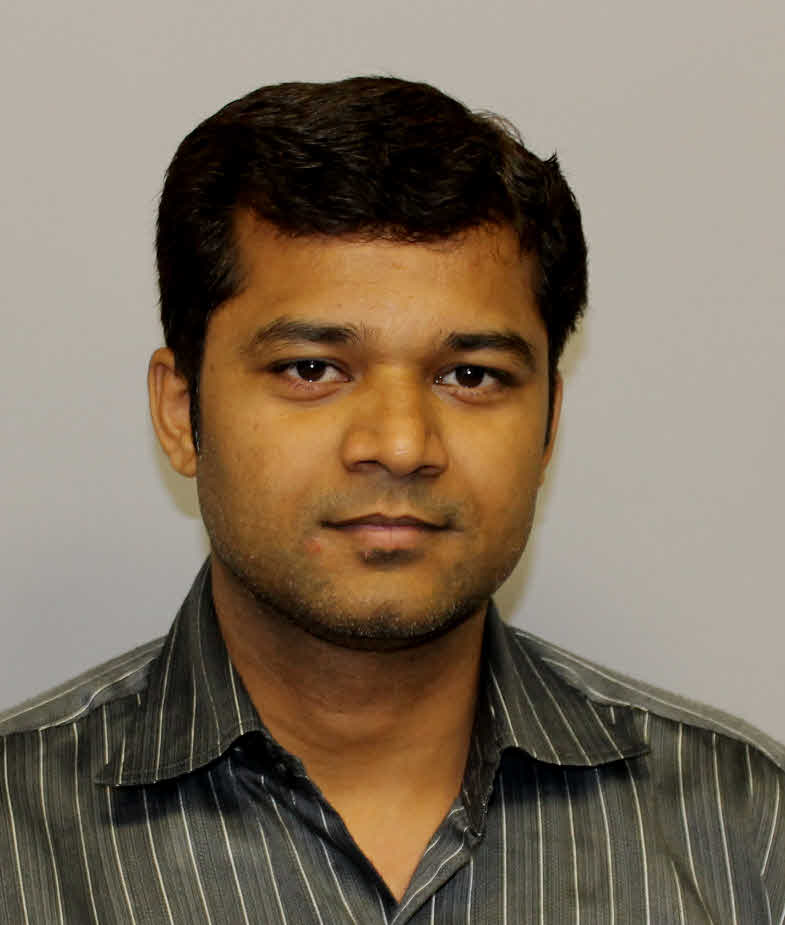 Congratulations to our PhD graduates
Andrew Curtis, Miriam Martin, Deepa Upreti (pictured, left) and Ravindra Thakkar (pictured, right) have successfully completed defense of their PhD presentations. Congratulations to all of you!
OUR LEADERSHIP
Dr. Hans Coetzee honored with pair of major awards
Anatomy & Physiology Department Head Dr. Hans Coetzee who recently earned Kansas State University's highest faculty title, University Distinguished Professor, is also a recipient of a 2022-23 Distinguished Graduate Faculty Award and an Iman Award. He is known worldwide for his work developing objective measures of pain in food-producing animals. He also researches bovine anaplasmosis and has developed a single-dose implant vaccine that provides long-term immunity against anaplasmosis infections.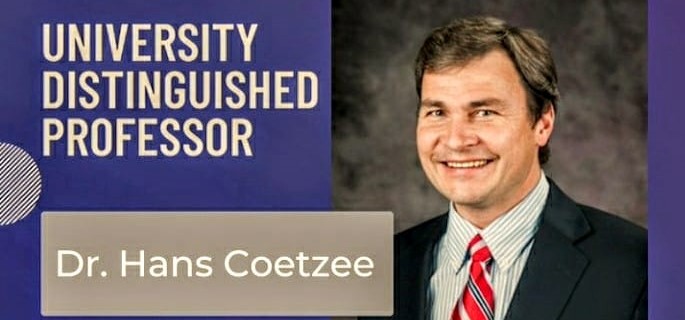 Awarded more than $21.2 million in research funding over the last 16 years, including more than $18 million from highly competitive federal sources, Dr. Coetzee has authored or co-authored more than 200 peer-reviewed manuscripts. He also is in high demand for consultation by livestock producers, practitioners, academic researchers and pharmaceutical companies on livestock pain assessment. He has presented his work at continuing education sessions and conferences around the world.
OUR STUDENTS

Fritz receives awards
Anatomy & Physiology student Bailey Fritz received a Graduate Student Excellence Award from Department Head Dr. Hans Coetzee. Fritz also recently won a 2022 Zoetis Foundation/Association of American Veterinary Medical Colleges Veterinary Scholarship and more money for being a dual PhD/DVM student.
Undergraduate researchers recognized for their hard work in labs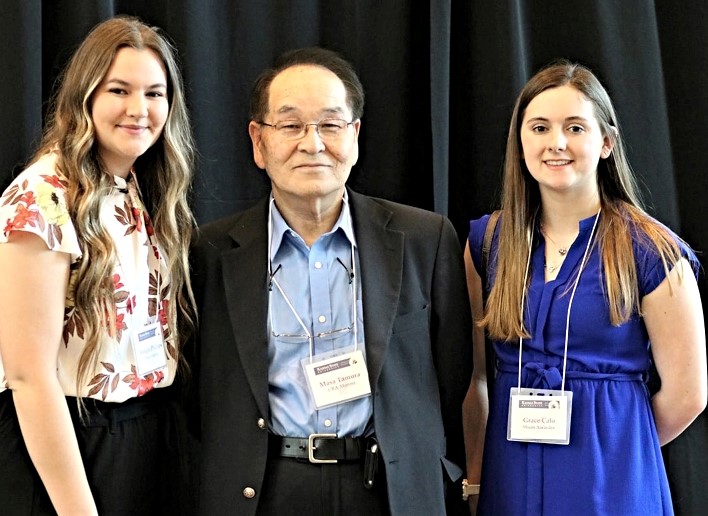 Juliet Nava (not pictured), researcher in Dr. Rob DeLong's lab, won Biology's Most Promising Student Award and a Coffman Excellence in Research Award. Morgan Phillips (pictured, far left), researcher under Dr. Masaaki Tamura (center), received a K-INBRE Summer Semester Scholar Award. Phillips and Grace Calo (right) won Johnson Cancer Research Awards.
OUR ACCOMPLISHMENTS
Recent achievements by A&P faculty
Dr. Lynn Abel (pictured at right) has received the 2022 Boehringer Ingelheim Excellence in Teaching in the first year of the DVM curriculum, as voted on by first-year students.
Dr. Matt Basel has been nominated by his colleagues for certification to direct doctoral students, making him eligible to serve as a chairman of doctoral supervisory committees.
Dr. Jishu Shi (pictured at right) is the inaugural recipient of the Dr. Wayne and Hilda Appleton Endowed Professorship. During his 14-year career at K-State, Dr. Shi has attained national and international recognition for his research focused on advancing our understanding of swine immunology, especially as this pertains to the development of vaccines and diagnostic assays to combat swine fevers. Dr. Shi is also the founder of The U.S.-China Center for Animal Health (now U.S.-Asia Center). Dr. Appleton graduated in the class of 1942 and served as a mixed animal practitioner and swine producer.
OUR DEPARTMENT IN THE NEWS
Wearing Covid-19 Masks: Blood Oxygenation and Exercise Capacity (KWCH - TV)
Dehorning Pain Management (Bovine Veterinarian)
Updated Ag Guide Expands on Pain Management (JAVMA)
Livestock Industry Studies Pain Management in Food Animals (Iowa PBS)
K-State Research Team Analyzes Industrial Hemp in Cattle Feed (Drovers)
K-State Research Team First to Analyze Safety of Industrial Hemp As Cattle Feed (KSN Wichita)
K-State Researches Possibility of Feeding Hemp to Cattle (KSNT Topeka)
K-State Studies Deadly Blue Green Algae (KSNT Topeka)