Anatomy and Physiology
We are a multi-disciplinary department with responsibilities in instruction, research and continuing education in the disciplines of gross and microscopic anatomy, cell and systemic physiology, pharmacology, and neuroscience.
Our mission: Cultivate an environment that fosters ingenuity, leadership and excellence in teaching, research and service.
Our vision: Build the finest veterinary biomedical science department.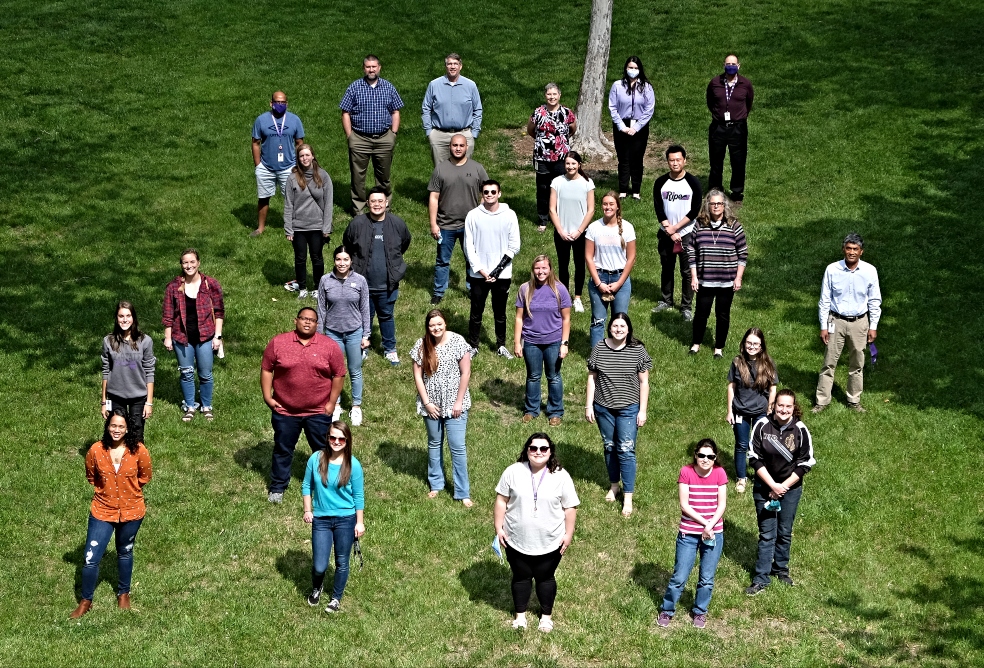 Members of the department's first-ever One-Year Master's class and their instructors celebrated completion of the program with a party and this socially distanced group photo on May 12 at Kansas State University. The class was also recognized during graduation ceremonies on May 14 (photo below). The One-Year Master's in Biomedical Science class of 2022 is currently open for enrollment. For more info, visit https://www.vet.k-state.edu/academics/graduate-programs/Programs/one-year-masters/.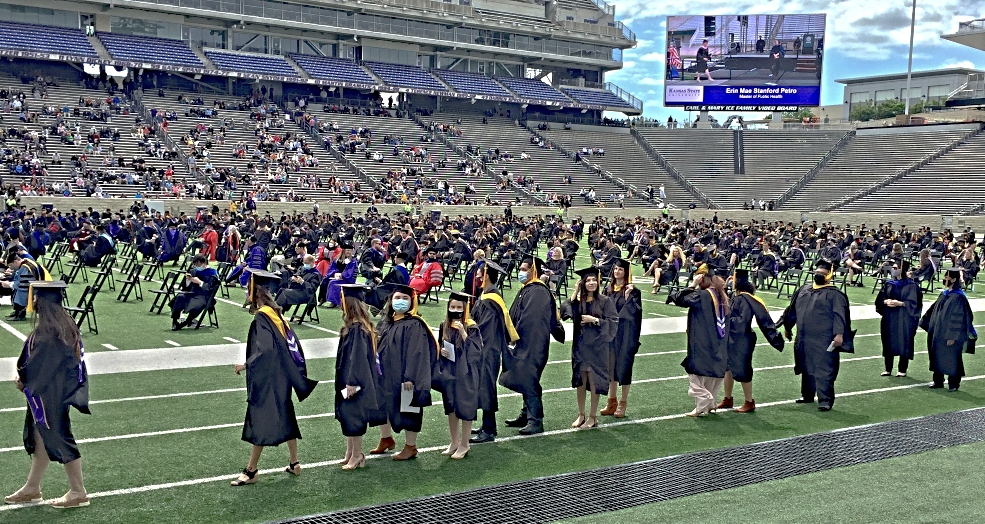 Recent accomplishments by A&P department faculty and students
Awards/Activities
Dr. Peying Fong has been appointed to the Early Careers Committee for the Biophysical Society, a three-year term (July 2021-June 2024). She has also been re-appointed as a senior editor for The Journal of Physiology (July 2021-June 2024).
Dr. David Poole presented the ACSM J.B. Wolffe Memorial Lecture June 2021, "How Do YOU Power Aerobic Exercise?" plenary lecture. He is also the new chairman of the Exercise and Environmental Physiology Section, American Physiological Society through 2024 and was recently named a "World Expert" in muscles by Expertscape, based on Expertscape PubMed-based algorithms placing him among the top 0.1% of scholars writing on the topic of muscles over the past 10 years.
Dr. Steve Ensley and his group (Drs. Geraldine Magnin, Steve Fritz and Yuntao Zhang) received award recognition at the FDA Center for Veterinary Medicine Honor Awards.
Five of the 14 students who received Johnson Cancer Research awards are users of the Confocal Core Facility. This is a tribute to the outstanding work that Joel Sanneman does in managing the facility. Deepa Upreti, GRA with Dr. Masa Tamura, was among those recognized.
Drs. Matt Basel, Judy Klimek and Butch KuKanich were among the nominees for the Zoetis Distinguished Veterinary Teaching Award which was presented at the Senior Honors Banquet.
Dr. Bruce Schultz was elected to the American Physiological Society – Cell and Molecular Physiology Section Vice-Chairman. This is a three-year term that began on May 1.
Recently Funded Grant Proposals
Dr. Steve Ensley, KSVDL VET-LRN Veterinary Diagnostic Laboratory Program, sponsored by the FDA, PI allocation of $115,532.
Dr. Stephanie Hall, Protective Effects of Exercise Against Alzheimer's Disease in a Transgenic Rat Model, sponsored by the NIH, PI allocation of $140,500.
Dr. Mark Weiss, 2021 JCRC Innovation Award, sponsored by the KSU Foundation/Johnson Cancer Research Center, PI allocation of $22,500.
Dr. David Poole, Targeting Skeletal Muscle Perfusion and Oxidative Capacity in HFpEF, sponsored by the NIH, PI allocation of $16,740.
Dr. Stephanie Hall, Cognitive and Neurobiological Approaches to Plasticity CNAP, sponsored by the NIH (K-State COBRE), PI allocation of $211,341.
Dr. Abbie Viscardi, Cognitive and Neurobiological Approaches to Plasticity CNAP, sponsored by the NIH (K-State COBRE), PI allocation of $211,341.
Presentations
Dr. Peying Fong presented a seminar, "Ion Transport in Thyroid Hormonogenesis," to the Dallhousie University Department of Physiology and Biophysics April 1-2.
Dr. Rob DeLong's group was invited for the second time to present at the NCI RAS symposium. The poster will have Dr. DeLong, Elza Mathew and Mary Lynn Higginbotham as co-authors and will be delivered orally, albeit recorded. The title is "Targeting RAS with RBD, TFO and aptamer physiometacomposite nanoparticle complexes".
Safety officer Marla Pyle wins Commitment to Excellence Award

Marla Pyle has won a College of Veterinary Medicine Commitment to Excellence Award for recently heading up the relocation of 10,000 square feet of lab space from Mosier Hall to Coles Hall. She has made significant contributions to enhancing lab safety and compliance in her 26 years of work at Kansas State University.
Dr. Tamura's PhD student Deepa Upreti receives 3 scholarships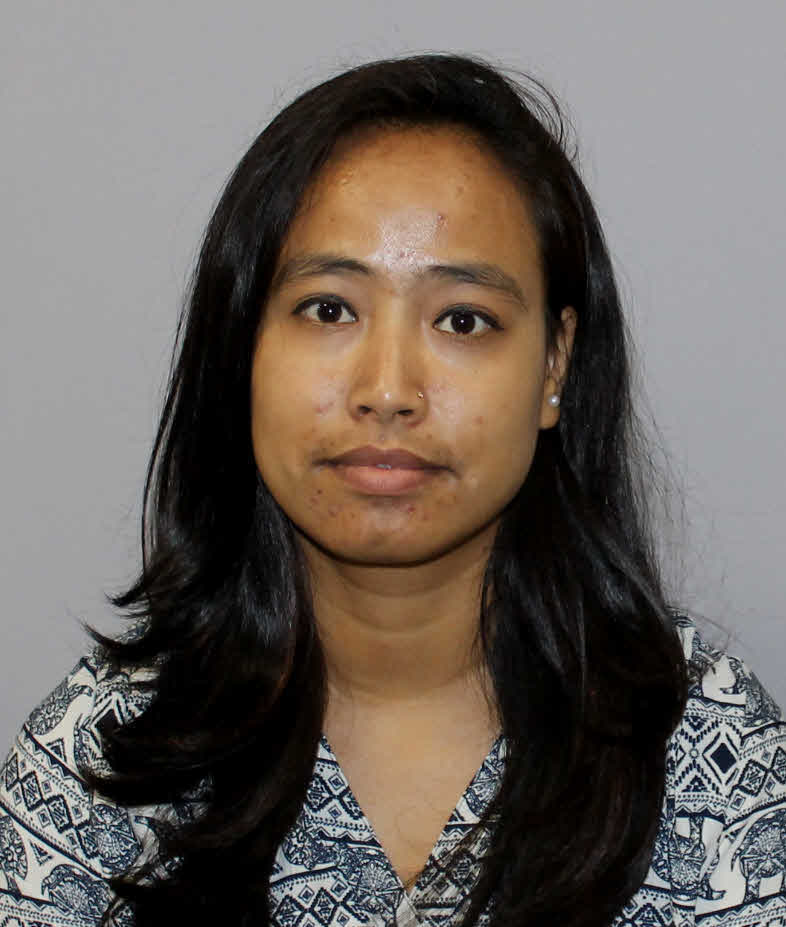 Deepa Upreti, a PhD student working in Dr. Masa Tamara's group, has received three scholarships from the College of Veterinary Medicine's Graduate Executive Committee: the Dr. Samuel M. Kruckenberg Award, the Marguerite L. Richardson Graduate Student Scholarship and the Dr. Leo and Gloria Whitehair Graduate Research Enhancement Endowment Award.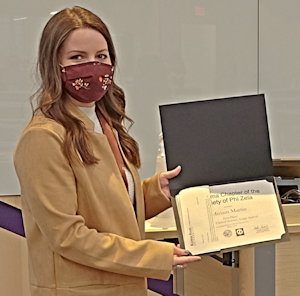 PhD student Miriam Martin wins 2 awards
PhD student Miriam Martin won the Applied/Clinical Science Oral Presentations Award and the ASR Ganta Graduate Student Award on March 2 during Phi Zeta Research Day festivities. The doctoral student has established a specialized research focus on the effects pain relievers have on improving quality of life for animals.
KuKanich award helps highlight department's Phi Zeta Day kudos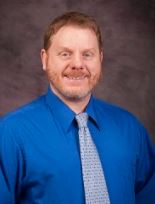 The Kansas State University Anatomy & Physiology Department enjoyed a successful Phi Zeta Day on March 2, during which Dr. Butch KuKanich won the 2021 Zoetis Research Award, the highest honor bestowed by the College of Veterinary Medicine to recognize faculty making outstanding contributions in research.
Students in A&P also excelled in Graduate Student Award categories. Miriam Martin, mentored by Department Head Dr. Hans Coetzee, and Maria Lou, mentored by Dr. Abbie Viscardi, placed first and second, respectively, in the Applied/Clinical Science Oral Presentations division. Martin, who gave two oral presentations during the festivities, also was selected to receive the ASR Ganta Graduate Student Award. Lauren Aldrich, mentored by Dr. KuKanich, took first place in the Applied/Clinical Science Small Animal Oral Presentations division. Alyssa Toillion, mentored by Dr. Coetzee, won first prize in the poster competition.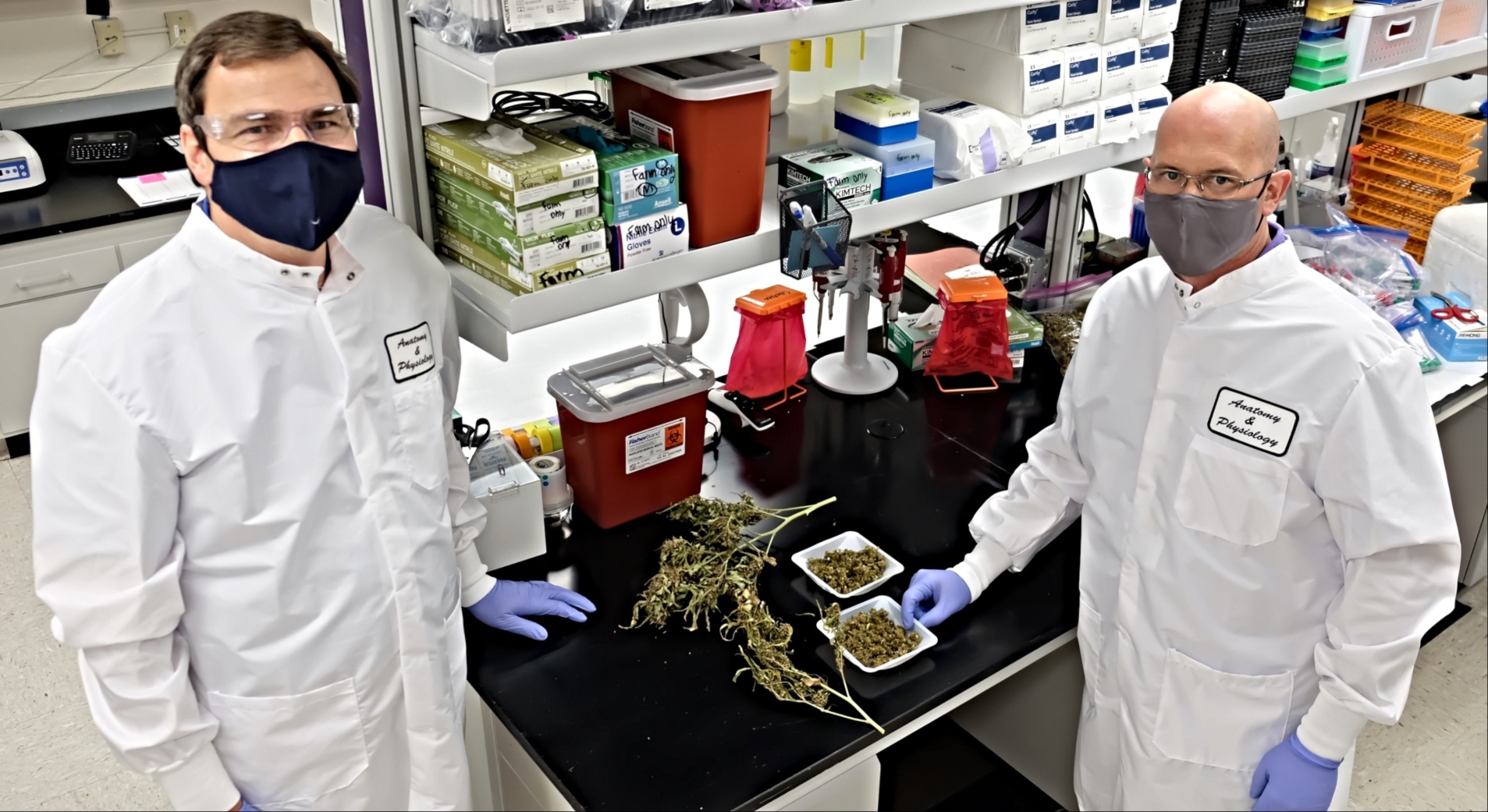 Drs. Hans Coetzee, left, and Michael Kleinhenz are drawing wide-ranging media attention for their studies on industrial hemp in cattle feed.
Dr. Coetzee's lab leads research on safety of hemp in cattle feed
A pair of studies at Kansas State University is bringing new insight to farmers and producers seeking to incorporate industrial hemp in cattle feed. After the 2018 Farm Bill legalized hemp production in the U.S., interest has grown in industrial hemp as an agricultural commodity, including as feed for animals. FDA approval, however, through the Association of American Feed Control Officials would be required before hemp could be fed to livestock or pets.
"Although hemp can be legally cultivated under license in Kansas, feeding hemp products to livestock remains prohibited because the potential for cannabinoid drug residues to accumulate in meat and milk has not been studied," said Dr. Hans Coetzee, professor and anatomy and physiology department head.
Read more here: https://www.k-state.edu/media/newsreleases/2020-09/industrial-hemp-cattle-feed.html.
Dr. Szladovits wins teaching award for fourth time in 13 years
Dr. Zsolt Szladovits has been selected as the 2020 recipient of the Boehringer Ingelheim First Year Teaching Excellence Award. He has now received this award four times in the last 13 years.
Dr. Comer achieves KSU College of Vet Med first with award win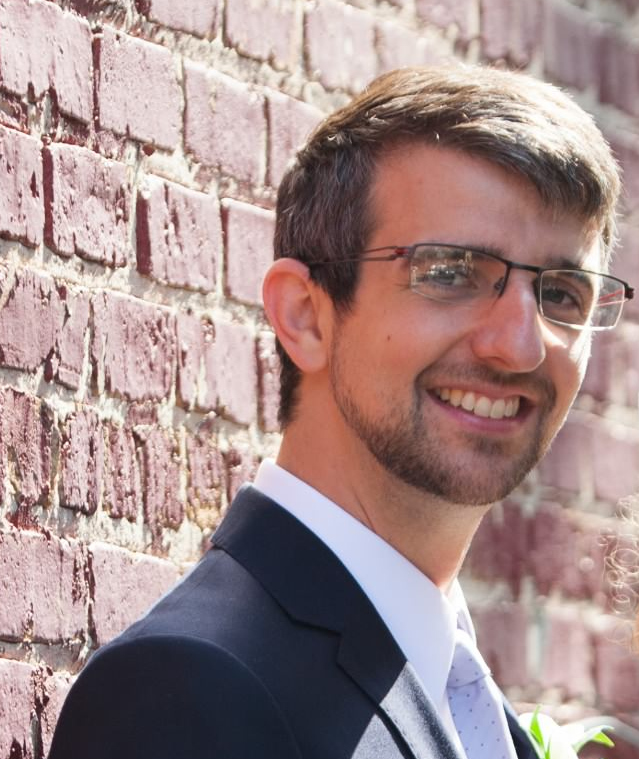 A Kansas State University researcher is the first in the College of Veterinary Medicine to receive a CAREER award from the National Science Foundation. Dr. Jeff Comer, associate professor of anatomy and physiology, has received a $450,513 award from the NSF Faculty Early Career Development, or CAREER, Program.