Whispering Garden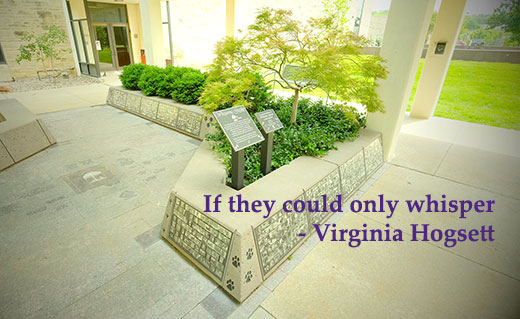 See close-ups of individual panels (pdf) to find pets memorialized in the Whispering Garden.
Celebrating over 10 years!
The Whispering Garden was created in Fall 2004. To date we have more than 1,700 entries. Help us keep our garden growing!
About the Whispering Garden
The Whispering Garden, located on the College of Veterinary Medicine campus, works in tandem with the Pet Tribute as a way to further honor the human-animal bond by supporting veterinary medicine at Kansas State University.
The Whispering Garden is an outdoor area between Trotter and Mosier Halls featuring heavy gauge aluminum panels that are mounted on decorative stone risers. Each panel has 69 different photos of companion animals, past and present, sent in by friends, family and veterinarians. A granite-lined pathway allows for visitors to walk through the Whispering Garden to remember, reflect and enjoy memories of lost pets, or the ones that are still part of their lives.
The inspiration for the Whispering Garden came from Virginia Hogsett, a long time friend of the College of Veterinary Medicine who had lost her terrier. She said that if she could only hear her dog whisper again she would be more at ease with her loss. The college decided to dedicate a special space where many can hear their beloved pet whisper once more.
Honor an animal companion
A minimum $75 contribution will give you the unique opportunity of honoring an animal companion by having a stainless steel photo displayed in the Whispering Garden. The donor will also receive a replica of the photo as a keepsake.
Complete the Pet Tribute form and choose a way to forward your photo:
Mail horizontal photo to address below OR
E-mail horizontal photo to address below (send largest file size available and do not manipulate the image)
Pet Tribute
KSU College of Veterinary Medicine
1800 Kimball Ave; Suite 200
Manhattan, KS 66506
whisper@vet.k-state.edu
785-775-2063
Whispering Garden Pavers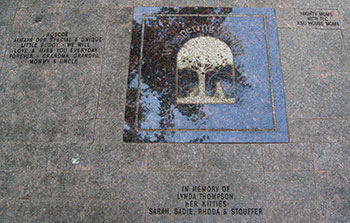 New for 2014, pet owners may purchase specially engraved pavers in the Whispering Garden. The pavers come in two sizes to allow messages of different lengths. See the current examples in the adjacent picture.
To order pavers, print and complete the Whispering Garden Paver form. Submit the form and your donation by mail.
Forever Keepsakes
We were very happy with the quality of the Forever Keepsake and found the order placement very easy. It was very difficult to lose Griz as he was our son's pet and our son is currently serving in Iraq. Telling him over the phone while he is fighting a war that his pet was gone was devastating.
- Wanda Kelsey
We love the Forever Keepsake. More importantly, we love the thought of memorializing Angus and being able to make a donation to the scholarship program so more animal lovers like Corbin, Dr. Childress and Dr. Chun can study veterinary medicine.
- Kenny Lunsway
We received the keepsake photo of Chester and want to thank you very much. We were pleased with the quality and plan to place it on his grave. Thank you for providing a service that allow pet owners to honor their friends after they have gone.
- Christine Trott