Development and Gifts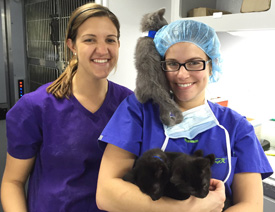 You can make a difference. Whether you're an animal-lover, an alumnus or a good friend to Kansas State University, your contributions helps the College of Veterinary Medicine and the Veterinary Health Center touch lives every day. We are dedicated to enhancing the health and well-being of animals and humans through excellence in education, research and professional practice. We are committed to serving the state, the nation and the world.
Reasons to give
Find out more about why the College of Veterinary Medicine needs your support, and what funding areas are a priority now. Read more:
Browse online giving options
Looking to make a gift online, but want to learn more about funds you can support first? See our special giving opportunities page. For a list of popular funds, see the KSU Foundation's "Give Online" page for the CVM. More information is also available at the KSU Foundation's Gift Planning website.
Giving to the College of Veterinary Medicine
There are a variety of opportunities for philanthropic investment to help create and sustain success in the College of Veterinary Medicine, such as:
Funds that benefit the college
Funds that benefit individual departments or programs
You may also consider supporting funds that serve to:
Lower the cost of education for DVM degree
Support exceptional teaching and enhanced learning