Dr. David Renter chosen for Dr. Robert MacDonald Professorship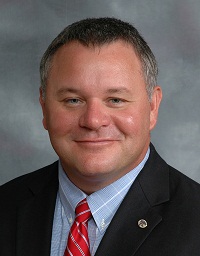 Dr. David Renter was recently appointed to the Dr. Robert MacDonald Professorship for his professionalism, character, and achievements in the field of safe food production from livestock. The purpose of this professorship is to perpetuate the memory of Dr. MacDonald, a 1940 alumnus of the College of Veterinary Medicine at Kansas State University. As the recipient of this endowed professorship, Dr. Renter is charged to reflect the integrity, devotion, and humane consideration that was exemplified by Dr. MacDonald throughout his career.
Dr. Renter has been a faculty member in the College of Veterinary Medicine since 2005, and is currently a professor of veterinary epidemiology. He is also the founder and director of the Center for Outcomes Research and Epidemiology, an interdisciplinary hub for collaboration that uses quantitative approaches to enhance animal health for the benefit of animals and our society. During his career, he has been instrumental in developing major animal health and food safety programs that have engaged students, practitioners, industry leaders, government agencies, and faculty from multiple institutions. His work has addressed issues important to Kansas, the nation, and the world; his leadership in this domain has been recognized internationally. Upon learning of this appointment, Dr. Renter said: "I am privileged to have the opportunity to further benefit the health of animals while protecting public health through the promotion of food safety. The most rewarding part of my career is seeing my former students carrying this work forward into their own leadership roles and making positive impacts on the veterinary profession, animal science, and society as a whole."
Dr. Renter's faculty page can be found here.
A historical context on Dr. MacDonald's life and the endowment created by his estate an be found here.