CORE Newsletter - January 2019
A Message from the Director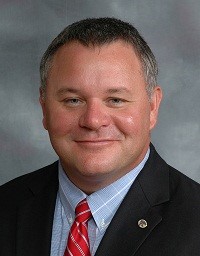 Greetings from the Center for Outcomes Research and Epidemiology (CORE). It was a good year for CORE in 2018, and we anticipate even bigger and better things for CORE and our collaborators in 2019!
In our last newsletter, we highlighted some of our excellent collaborations with industry partners and the positive impacts on student training, research, continuing education, and strategic development. These collaborations continue to be a cornerstone of our CORE mission and building blocks for future success.
Read more ...
One 2018 milestone was a successful College administrative review of our Center. It was a pleasure to take some time to share our accomplishments. Highlights for the 3-year review period included: development of new training programs, research initiatives and revenue streams; engagement in regional, national, and international animal health and public health outreach activities; and faculty involvement in nearly $40 million of grants, 178 peer-reviewed papers, and mentoring nearly 50 graduate students. Our feedback from administration was "excellent", and because we highly value collaboration, we were particularly proud that our Center was recognized as "much more than a collection of individuals".
It is those individuals – the excellent faculty, students, staff and collaborators – that enable our success. I am grateful to often hear that the best part of CORE is the "people I work with every day". Below we have highlighted two graduate students, the addition of new staff and faculty members, and a few achievements of the current people and alumni of CORE. In addition, we are very pleased that Drs. Natalia Cernicchiaro and Mike Sanderson have agreed to serve as Associate Directors of CORE, and that Drs. David Gnad (Managing Partner, Nebraska Veterinary Services) and Bruce Wagner (USDA Center for Epidemiology and Animal Health) have agreed to serve on our Advisory Council.
We are excited about the coming year and the great people, both internally and externally, that we get to work with. Please contact us to learn more about CORE and opportunities to collaborate or support our Center.
Thank you for your interest in CORE!
David Renter, Director of CORE,
drenter@vet.ksu.edu
Diana Valencia, PhD Student, CORE Research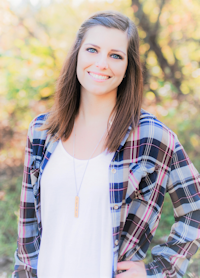 I am a new PhD student, as of May 2018, advised by Dr. Natalia Cernicchiaro within the CORE at Kansas State University (K-State). In 2015, I received my MS from K-State, under the supervision of Drs. Cernicchiaro and Renter, focusing on the epidemiology of Shiga toxin-producing E. coli in feedlot cattle. For the past three years, I worked in industry as part of a global bovine biologics research and development team. The focus of my PhD will be on veterinary epidemiology and outcomes-based research. Upon my return as a doctoral student, I have been involved in a few experimental trials through CORE in collaboration with researchers from industry and private sectors.
Read more ...
My multidisciplinary graduate research program is somewhat non-traditional as I am now co-sponsored by CORE/K-State and the Veterinary and Biomedical Research Center Inc. (VBRC). Through this program, I receive the curriculum (graduate courses, mentoring/training, dissertation, etc.) needed to complete a PhD, while concurrently obtaining hands-on research experience by participating in research studies conducted at VBRC. Besides being a very enriching opportunity for me, this partnership strengthens collaboration between VBRC and CORE, in terms of training, research, and funding prospects related to current opportunities in animal health and production.
My primary research project this past summer evaluated the efficacy of a direct-fed microbial (DFM) product in reducing fecal shedding of E. coli O157:H7 in feedlot cattle. Shiga toxin-producing E. coli, including serotype O157:H7, are foodborne pathogens of public health importance and are considered adulterants in raw, non-intact beef products. Cattle are known reservoirs of these pathogens, and shed them intermittently in their feces. While many factors may influence E. coli O157:H7 shedding, dietary interventions, such as DFM, have shown potential in reducing fecal shedding. The bacteria contained in the DFM are meant to out-compete E. coli O157:H7 in the animal's gastrointestinal tract and reduce the amount of E. coli O157:H7 subsequently shed in cattle feces. The objective of this study was to evaluate the efficacy of a commercially available DFM product in reducing E. coli O157:H7 shedding in commercial feedlot cattle prior to harvest. In each of two feedlots, cattle were randomly allocated to 20 pens, which either received the DFM product in their feed, or did not receive any DFM product. Fecal samples, collected from each pen for four consecutive weeks prior to harvest, were subjected to culture and molecular-based detection methods to identify, confirm, and quantify E. coli O157:H7.
Additionally, I have been involved in a randomized trial comparing effects of two antimicrobials for bovine respiratory disease (BRD) metaphylaxis on the health, performance, and economic return of auction market-derived calves backgrounded on pastures. I am also assisting with all aspects of an experimental study comparing the acceptance of two commercially available chewable tablets administered to canines. I welcome the diversity that CORE has to offer and enjoy being exposed to such a wide variety of real-world research, including multiple study designs, animal species, production systems, and collaborators.
Throughout my program, I plan to utilize my industry experience and build on my academic knowledge to design, conduct, and analyze experimental and observational studies to answer questions that are relevant, applicable, and vital to the field and animal health industry as a whole. In the future, I hope to return to industry or collaborate with industry partners on behalf of academia or private sector companies to continue performing meaningful research for the animal health industry.
Joaquin Baruch, PhD Student, CORE Research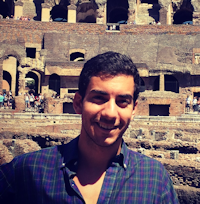 I received my DVM from the School of Veterinary Medicine at the University of the Republic in Uruguay in 2016. In January 2017, I started my PhD program at the College of Veterinary Medicine, Kansas State University, under the supervision of Drs. David Renter and Natalia Cernicchiaro. I am interested in learning about the beef production system in United States as well as about food safety and epidemiological research.
Read more ...
My PhD program focuses on the epidemiology of bovine respiratory disease (BRD) in beef cattle. Bovine respiratory disease is the most common and costly disease to the feedlot cattle industry in the United States. Much research has been previously conducted in order to better understand the epidemiology of this disease; however, gaps are still present relating to its diagnosis and risk factors. The objectives of my research are three-fold: 1) evaluate different diagnostic tools for BRD using a challenge model with two typical causative agents, 2) gather and synthesize data from existing peer review literature relating to risk factors for BRD in feedlot cattle, and 3) conduct a quantitative risk assessment for BRD health outcomes in feedlot cattle.
For my first objective, the premise was built on previous research conducted at CORE that demonstrated commonly used diagnostic practices for BRD fail to correctly classify disease; in fact, approximately 40% of the individuals that should be identified as sick do not receive treatment and 40% of non-BRD animals are treated. In order to evaluate tools to improve disease detection we conducted a challenge study in Holstein calves and studied nine (innovative and traditional) chute-side diagnostic tools. We found that all of them were able to detect disease progression in our studied population, and that most of them detected lung consolidation—an important condition for assessing disease severity. For my second objective we have gathered all relevant peer-reviewed published data pertaining to risk factors for BRD morbidity. No formal scoping review process has been conducted to gather peer-reviewed data for BRD risk factors; using knowledge synthesis methods, we identified 142 relevant publications. The information appraised from the literature and the overall estimates obtained from our scoping review will provide input for a quantitative risk assessment that will allow us to better classify cohorts of feedlot cattle based on their BRD morbidity risk, thereby helping producers make better data-driven decisions.
In the future, I hope to utilize the tools learned during my PhD program to help stakeholders make evidence-based decisions and optimize their efforts based on findings derived from data.
New Staff and Faculty join CORE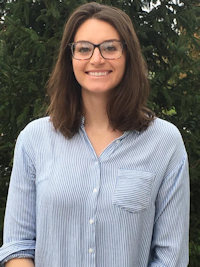 Dr. Andrea Dixon joined CORE in September. Andrea grew up in Sacramento, CA and received a BA with a double major in biology and history from the University of Central Missouri. She received her PhD at Washington State University, where she focused on population genetics and the evolutionary mechanisms constraining species range limits. She then went on to work as a post-doctoral researcher at Rothamsted Research, using next generation sequencing to investigate the population genetic structure of herbicide resistant black-grass, a winter-wheat crop weed, in the UK. She moved to Manhattan in July and joined CORE as a research associate in September 2018. Welcome Andrea!
Read more ...
Three faculty in the College of Veterinary Medicine officially joined CORE in 2018. Dr. Raghavendra Amachawadi's research interests are in antimicrobial resistance in gut commensals and foodborne pathogens of swine and cattle production systems. Dr. Gregg Hanzlicek's interests include designing and implementing bovine herd disease surveillance programs, bovine herd disease management, and production medicine record analysis. Dr. Ram Raghavan studies the frequency and distribution of vector-borne/zoonotic diseases over temporal and spatial scales.
Core Faculty and Students Engaged in National and International Conferences
CORE faculty and students participated in The 15th International Symposium of Veterinary Epidemiology and Economics (ISVEE) held November 12-16, 2018, in Chiang Mai, Thailand.
Read more ...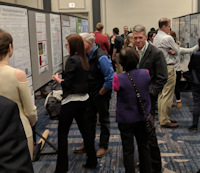 Dr. Joaquin Baruch, PhD student, received an ISVEE bursary award that included the symposium registration fee and accommodations while at the symposium. Hannah Seger and Dr. Aurelio Cabezas, PhD students, received travel awards from the College of Veterinary Medicine, Graduate Student Awards Committee. The ISVEE scientific committee accepted abstracts by Drs. Dustin Pendell (Professor, Department of Agricultural Economics) and David Renter, and graduate students, Dr. Aurelio Cabezas and Hannah Seger for oral presentations. In addition, five posters were presented by Drs. Joaquin Baruch, Ana Rute Oliveira and Natalia Cernicchiaro.
CORE was also well represented at The 99th Annual Conference of Research Workers in Animal Diseases (CRWAD) held December 1-4, 2018, in Chicago. Dr. Renter attended the USDA-NIFA Project Directors Meeting. CORE faculty, Drs. Chuck Dodd, David Renter, Mike Sanderson, and Victoriya Volkova, gave oral presentations. Dr. Tariku Beyene (post-doctoral fellow) gave two presentations and PhD students, Hannah Seger, Dr. Joaquin Baruch, Dr. Tara Gaire, Dr. Aurelio Cabezas and Diana Valencia each gave oral presentations. Diana Valencia also gave a poster presentation on her research, and received an award to assist with her travel expenses for the conference from the KSU Graduate Student Council. In addition, Dr. Nora Bello, on invitation from the Association of Veterinary Epidemiology and Preventive Veterinary Medicine (AVEPM), delivered a 2-day pre-conference short course on Applied Bayesian Modeling. The course was very well-received and attended (with over 30 registrants), and was co-sponsored by AVEPM and CORE
Awards and Recognition
Dr. Charley Cull Recognized as a Distinguished Young Alumni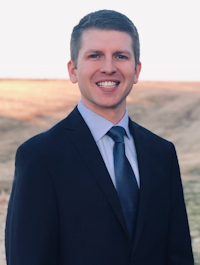 Dr. Charley Cull, former CORE graduate student, will be recognized at the 7th Annual Distinguished Young Alumni Award program! The K-State Alumni Association and Student Alumni Board sponsor this program to honor outstanding accomplishments of young graduates of Kansas State University.
Dr. David Renter chosen for Dr. Robert MacDonald Professorship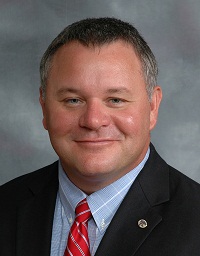 Dr. David Renter was recently appointed to the Dr. Robert MacDonald Professorship for his professionalism, character, and achievements in the field of safe food production from livestock. The purpose of this professorship is to perpetuate the memory of Dr. MacDonald, a 1940 alumnus of the College of Veterinary Medicine at Kansas State University. As the recipient of this endowed professorship, Dr. Renter is charged to reflect the integrity, devotion, and humane consideration that was exemplified by Dr. MacDonald throughout his career.
Dr. Renter has been a faculty member in the College of Veterinary Medicine since 2005, and is currently a professor of veterinary epidemiology. He is also the founder and director of the Center for Outcomes Research and Epidemiology, an interdisciplinary hub for collaboration that uses quantitative approaches to enhance animal health for the benefit of animals and our society. During his career, he has been instrumental in developing major animal health and food safety programs that have engaged students, practitioners, industry leaders, government agencies, and faculty from multiple institutions. His work has addressed issues important to Kansas, the nation, and the world; his leadership in this domain has been recognized internationally. Upon learning of this appointment, Dr. Renter said: "I am privileged to have the opportunity to further benefit the health of animals while protecting public health through the promotion of food safety. The most rewarding part of my career is seeing my former students carrying this work forward into their own leadership roles and making positive impacts on the veterinary profession, animal science, and society as a whole."
Dr. Renter's faculty page can be found here.
A historical context on Dr. MacDonald's life and the endowment created by his estate an be found here.
Recent CORE Seminars
Dr. Audrey Ruple, University of Purdue
The Center for Outcomes Research and Epidemiology hosted Dr. Audrey Ruple from the University of Purdue. Dr. Ruple presented a seminar titled "Comparative medicine – dogs can talk if you know how to listen" on December 12, 2018.
Dr. Audrey Ruple is recognized nationally and internationally as a thought-leader in the field of "One Health," the intersection of human, animal, and environmental health. Her diverse educational background and extensive experiences in companion animal epidemiology lend themselves to her research in both comparative/translational medicine and infectious diseases that occur at the human-animal interface. She obtained her DVM, MS, and PhD degrees from Colorado State University, is a Diplomate of the American College of Veterinary Preventive Medicine, and is a Member of the Royal College of Veterinary Surgeons. She is an advocate for equality both within and outside of the veterinary profession and serves as the Chair of the Equity and Diversity Committee for Purdue University.
Dr. Victor Del Rio Vilas, University of Surrey
The Center for Outcomes Research and Epidemiology (CORE) sponsored a seminar by Dr. Victor Del Rio Vilas "Operationalization of One Health in Eastern Africa: Organizational and Methodological Challenges" on October 23, 2018. Dr. Victor Del Rio Vilas (DVM, MBA, MSc (Epi), PhD) is at the Dept. of Epidemiology, School of Veterinary Medicine, University of Surrey (UK), and at the Centre on Global Health Security at Chatham House, London. Until January 2018, he worked at the World Health Organization (WHO) on the development of an epidemic vulnerability evaluation framework. Until November 2016, Dr. Del Rio was a consultant with the Pan American Health Organization (PAHO/WHO), based in Rio de Janeiro (Brazil) with regional responsibilities. In that capacity, Dr. Del Rio advised Ministries/Departments of Health across the region on epidemiology, surveillance and control measures for a number of diseases such as rabies, leishmaniasis, yellow fever and on zoonoses programmatic issues. He also contributed to WHO's global response to the outbreak of Ebola Virus Disease in Liberia in 2015, previously worked in Uzbekistan implementing the Biological Threat Reduction Program (Defense Threat Reduction Agency, US DoD), and as veterinary advisor and epidemiologist for UK´s Department for Environment, Food and Rural Affairs (Defra) and the Veterinary Laboratories Agency, respectively.
Dr. Bruce Wagner, USDA Center for Epidemiology and Animal Health (CEAH)
CORE hosted Dr. Bruce Wagner, the Director of the USDA Center for Epidemiology and Animal Health (CEAH), March 27-28, 2018. Dr. Wagner presented a seminar "The Center for Epidemiology and Animal Health: Mission, Scientific Focus, Collaborative Opportunities."