Current News & Events
CORE co-sponsored ISESSAH 2019 Conference
CORE co-sponsored the ISESSAH 2019 Conference held in Atlanta, GA July 20 & 23, 2019. Drs. David Renter, Dustin Pendell, Diana Valencia, and Joaquin Baruch served on the Scientific Committee. Dr. Dustin Pendell also served on the Local Organizing Committee.
Dr. David Renter chosen for Dr. Robert MacDonald Professorship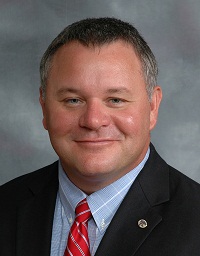 Dr. David Renter was recently appointed to the Dr. Robert MacDonald Professorship for his professionalism, character, and achievements in the field of safe food production from livestock. The purpose of this professorship is to perpetuate the memory of Dr. MacDonald, a 1940 alumnus of the College of Veterinary Medicine at Kansas State University. As the recipient of this endowed professorship, Dr. Renter is charged to reflect the integrity, devotion, and humane consideration that was exemplified by Dr. MacDonald throughout his career.
Dr. Renter has been a faculty member in the College of Veterinary Medicine since 2005, and is currently a professor of veterinary epidemiology. He is also the founder and director of the Center for Outcomes Research and Epidemiology, an interdisciplinary hub for collaboration that uses quantitative approaches to enhance animal health for the benefit of animals and our society. During his career, he has been instrumental in developing major animal health and food safety programs that have engaged students, practitioners, industry leaders, government agencies, and faculty from multiple institutions. His work has addressed issues important to Kansas, the nation, and the world; his leadership in this domain has been recognized internationally. Upon learning of this appointment, Dr. Renter said: "I am privileged to have the opportunity to further benefit the health of animals while protecting public health through the promotion of food safety. The most rewarding part of my career is seeing my former students carrying this work forward into their own leadership roles and making positive impacts on the veterinary profession, animal science, and society as a whole."
Dr. Renter's faculty page can be found here.
A historical context on Dr. MacDonald's life and the endowment created by his estate an be found here.
CORE Seminar - Dr. Audrey Ruple, University of Purdue
The Center for Outcomes Research and Epidemiology hosted Dr. Audrey Ruple from the University of Purdue. Dr. Ruple presented a seminar titled "Comparative medicine – dogs can talk if you know how to listen" on December 12, 2018.
Dr. Audrey Ruple is recognized nationally and internationally as a thought-leader in the field of "One Health," the intersection of human, animal, and environmental health. Her diverse educational background and extensive experiences in companion animal epidemiology lend themselves to her research in both comparative/translational medicine and infectious diseases that occur at the human-animal interface. She obtained her DVM, MS, and PhD degrees from Colorado State University, is a Diplomate of the American College of Veterinary Preventive Medicine, and is a Member of the Royal College of Veterinary Surgeons. She is an advocate for equality both within and outside of the veterinary profession and serves as the Chair of the Equity and Diversity Committee for Purdue University.
Dr. Charley Cull Recognized as a Distinguished Young Alumni
Dr. Charley Cull, former CORE graduate student, will be recognized at the 7th Annual Distinguished Young Alumni Award program! The K-State Alumni Association and Student Alumni Board sponsor this program to honor outstanding accomplishments of young graduates of Kansas State University.
CORE Faculty and Students Engaged in National and International Conferences
Dr. Victor Del Rio Vilas Presented a CORE Seminar October 2018
The Center for Outcomes Research and Epidemiology (CORE) sponsored a seminar by Dr. Victor Del Rio Vilas "Operationalization of One Health in Eastern Africa: Organizational and Methodological Challenges" on October 23, 2018. Dr. Victor Del Rio Vilas (DVM, MBA, MSc (Epi), PhD) is at the Dept. of Epidemiology, School of Veterinary Medicine, University of Surrey (UK), and at the Centre on Global Health Security at Chatham House, London. Until January 2018, he worked at the World Health Organization (WHO) on the development of an epidemic vulnerability evaluation framework. Until November 2016, Dr. Del Rio was a consultant with the Pan American Health Organization (PAHO/WHO), based in Rio de Janeiro (Brazil) with regional responsibilities. In that capacity, Dr. Del Rio advised Ministries/Departments of Health across the region on epidemiology, surveillance and control measures for a number of diseases such as rabies, leishmaniasis, yellow fever and on zoonoses programmatic issues. He also contributed to WHO's global response to the outbreak of Ebola Virus Disease in Liberia in 2015, previously worked in Uzbekistan implementing the Biological Threat Reduction Program (Defense Threat Reduction Agency, US DoD), and as veterinary advisor and epidemiologist for UK´s Department for Environment, Food and Rural Affairs (Defra) and the Veterinary Laboratories Agency, respectively.
Dr. Tariku Jibat Beyene Presented at the Applied Statistics in Agriculture Conference
CORE hosted Dr. Bruce Wagner, USDA Center for Epidemiology and Animal Health (CEAH)
CORE hosted Dr. Bruce Wagner, the Director of the USDA Center for Epidemiology and Animal Health (CEAH), March 27-28, 2018. Dr. Wagner presented a seminar "The Center for Epidemiology and Animal Health: Mission, Scientific Focus, Collaborative Opportunities."
University collaboration set to spark breakthroughs in human, animal health
Dr. Renter and CORE are involved in the 1Data collaborative project with K-State, K-State Olathe and UMKC. It establishes a new standard for analyzing human and animal health information and creates the next generation of approaches to curing or mitigating human and animal diseases.
CORE Special Seminar
The Center for Outcomes Research and Epidemiology hosted a special seminar titled "Towards reproducible research in animal health and production" on Friday, February 24, 2017, in the Mara Conference Center, 4th floor Trotter Hall. The seminar presenters were Dr. Nora Bello, Department of Statistics and Dr. David Renter, Department of Diagnostic Medicine/Pathobiology.