Dr. Thomas Furman - DVM 2004
2014 Outstanding Young Alumnus Award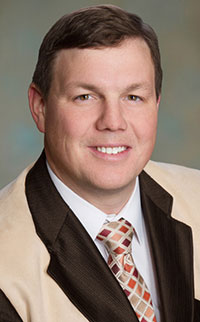 Dr. Thomas Furman, Alliance, Nebraska, was the 2014 recipient of the Outstanding Young Alumnus Award for his notable achievements since graduating from Kansas State University. The award was presented as part of the 76th Annual Conference for Veterinarians on June 1, 2014.
Dr. Furman earned a bachelor's degree in 2000 at the University of Nebraska-Lincoln, and his DVM from K-State University in 2004. He now practices large and small animal medicine, with special interest in surgery, equine dentistry and beef cattle management at the Animal Center in Alliance.
"I have felt very blessed to be in the family that is veterinary medicine," Dr. Furman said. "There is a camaraderie among my fellow colleagues unlike that of any other profession. Every day is an adventure that is rewarded with the feeling of being part of a profession that makes a major impact on the health and well-being of people's lives through their pets and the world's food supply. To receive an award like this from my alma mater leaves me humbled and honored. Thank you!"
"We are proud to recognize Dr. Furman for his strong commitment to veterinary medicine, especially in rural America," said Dr. Ralph C. Richardson, dean of the College of Veterinary Medicine. "He understands the responsibility of a veterinarian in helping to maintain optimum herd health for the livestock producer, the quality of life for companion animals, and the importance of veterinary medicine in maintaining a vibrant community. We believe he is a fine role model for younger veterinarians in an area of animal health that has become increasingly underserved."
After graduation form K-State, Dr. Furman went on a traveling internship for a year and a half. He spent three months in Las Vegas doing primarily small animal surgery with several board certified surgeons. The surgeries included knee, hip, fracture and soft tissue surgeries. He worked at the Oklahoma City Sale Barn pregnancy-testing cattle and then went on to Red Cloud, Nebraska, for training in multiple food animal surgeries and industry procedures.
Dr. Furman also spent time in Canada working with a feedlot-consulting practice that serviced 35 feedlots. While in Canada, he gained extensive training in equine dentistry from the veterinarian that invented the powerfloat. Back in the United States, Dr. Furman practiced at Littleton (Colorado) Equine Medical Center. He gained special training in colic management, lameness evaluation, and treatment. From there, he went to Piedmont, South Dakota, to perform reproductive work including artificial insemination, semen collection and embryo transfer with cattle and horses. In June 2005, Dr. Furman returned to Alliance to practice veterinary medicine, educate clients and operate a cattle ranch with his father, Dr. Jim Furman.
Dr. Thomas Furman currently holds veterinary licenses in the states of Nebraska, Wyoming, Nevada, and South Dakota. He has a beef cattle management certification from the University of Nebraska and serves on the Nebraska Veterinary Medical Association (NVMA) board of directors. He is a member of the American Veterinary Medical Association, Academy of Veterinary Consultants, Nebraska Cattlemen and the American Association of Bovine Practitioners. He is a board member of the Box Butte General Hospital, and he is currently working on a master's degree in epidemiology.
Dr. Furman and his wife, Stephanie, have two children: Frances and Logan.