Dr. Kathleen Ritzmann - DVM 2008
2018 Outstanding Young Alumnus Award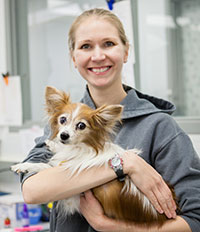 Dr. Kathleen Ritzmann, Madison, Nebraska, was the recipient of the 2018 Outstanding Young Alumnus Award for her notable achievements since graduating from Kansas State University. The award was presented by the K-State College of Veterinary Medicine and the K-State Veterinary Medical Alumni Association during the Alumni Awards Brunch at the Alumni Reunion Weekend held June 2, 2018.
Dr. Ritzmann, along with her husband Dr. Jeffrey Korus, own and operate the Madison Country Veterinary Clinic. She earned both a Doctor of Veterinary Medicine degree and a Master of Public Health at Kansas State University in 2008.
"I am very honored and humbled to receive this award," Dr. Ritzmann said. "I am so thankful that the profession of veterinary medicine has allowed me to make a meaningful impact on the lives of animals and people. I strive to make my family, my community and my profession proud by setting a good example for future colleagues. It is true what they say. If you find something you love doing, it is never work."
"Dr. Ritzmann is an excellent role model for veterinary students and other young practitioners," said Dr. Bonnie Rush, interim dean. "We greatly appreciate her enthusiasm and passion for the profession as well as her service to her community. We hope this award will serve to inspire Dr. Ritzmann to keep accomplishing great things in the future."
Dr. Ritzmann grew up in Silver Spring, Maryland. She held an internship with the USDA's Animal and Plant Health Inspection Service in the summer of 2008 and then worked as the shelter veterinarian for the Animal Protective League (APL) in Springfield, Illinois, starting in October 2008, before returning to Nebraska in 2017.
"I continue to consult with APL from Nebraska," Dr. Ritzmann said. "I joined the board for the Animal Shelter of Northeast Nebraska, where I perform spay/neuter for their shelter animals. We also started a barn cat program at Madison County Veterinary Clinic to control community cat overpopulation."
Dr. Ritzmann earned dual bachelor's degrees in animal sciences and general agriculture at the University of Maryland-College Park in 2004. She is a member of the Nebraska Veterinary Medical Association, Illinois State Veterinary Medical Association, American Veterinary Medical Association and American Association of Shelter Veterinarians.
Dr. Ritzmann and her husband have a daughter, Charlotte, who was born in 2015.