Dr. Chris Payton - DVM 2007
2017 Outstanding Young Alumnus Award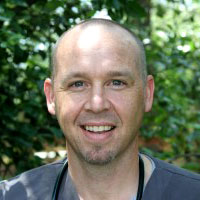 Dr. Chris Payton, Niles, Michigan, was the recipient of the 2017 Outstanding Young Alumnus Award for his notable achievements since graduating from Kansas State University. The award was presented by the K-State College of Veterinary Medicine and the K-State Veterinary Medical Alumni Association during the 79th Annual Conference for Veterinarians on June 4, 2017.
Dr. Payton, was born in Wichita, Kansas. He earned a bachelor's degree in 2001 and his Doctor of Veterinary Medicine degree in 2007, both from K-State. Dr. Payton also graduated from Options for Animals Chiropractic School and is certified nationally and internationally in chiropractic medicine for large and small animals. Dr. Payton is a certified veterinary acupuncturist for large and small animals endorsed by the Chi Institute of Chinese Medicine and the China National Society of Traditional Chinese Veterinary Medicine. He earned his Certified Canine Rehabilitation Practitioner from University of Tennessee in 2016.
"I am very humbled and consider this a privilege and an honor to accept the alumni recognition award," said Dr. Payton. "Like many other graduating classes from the K-State, I was fortunate to graduate with a talented group of veterinarians. Any one of my classmates could have received this award and I am very blessed to have been chosen. Like I tell most my clients, 'I get to come to work every day and do something I love and get paid for it.' "
"It is a great pleasure to be able to recognize Dr. Payton for success so early in his career," said Dr. Tammy Beckham, dean of the College of Veterinary Medicine. "He has already taken leadership roles in his state veterinary associations and provided service in an academic setting beyond the day-to-day work at the clinic where he practices. We hope this award will inspire him to a long and reward career as well to inspire aspiring veterinarians who come through our program."
Dr. Payton practices at the Western Veterinary Clinic in South Bend, Indiana, which cares for small, large and exotic animals. He works as a relief veterinarian at the Animal Emergency Clinic in Mishawka, Indiana. Dr. Payton is also the relief veterinarian for the University of Notre Dame and serves on its Institutional Animal Care and Use Committee.
Dr. Payton served as vice president for the Michiana Veterinary Medical Association from 2011-2014. His professional memberships include the Indiana Veterinary Medical Association, American Veterinary Medical Association and American Association of Equine Practitioners.
Dr. Payton and his spouse, Dana, were married in 2002 and have two daughters, Taylor and Alexandra.