Dr. Cameon Ohmes - DVM 2009
2019 Outstanding Young Alumnus Award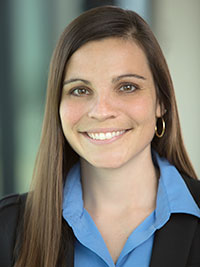 Dr. Cameon Ohmes, De Soto, Kansas, was the recipient of the 2019 Outstanding Young Alumnus Award for her notable achievements since graduating from Kansas State University. The award was presented by the K-State College of Veterinary Medicine and the K-State Veterinary Medical Alumni Association during the Awards Brunch at the Reunion Weekend held June 1, 2019.
Dr. Ohmes received her Doctor of Veterinary Medicine degree from Kansas State University in 2009, a master's degree in biomedical science from Kansas State University in 2014, and a Master of Business Administration from the Kelley School of Business, Bloomington, Indiana, in 2017.
Dr. Ohmes' training included an internship and residency in large animal internal medicine at Rood and Riddle Equine Hospital, Lexington, Kentucky, and Kansas State University leading to her board certification by the American College of Veterinary Internal Medicine. Upon completion of her residency, she joined the Veterinary Technical Services team at Bayer Animal Health to further her passion of influencing the health and well-being of animals on a large scale. Dr. Ohmes supports the marketing team and leads the post-approval research for the farm and companion animal businesses and also serves as an adjunct professor at the Lincoln Memorial University College of Veterinary Medicine, Harrogate, Tennessee, mentoring students through their clinical rotations.
"I am honored to receive this award with so many classmates and colleagues deserving of such recognition," Dr. Ohmes said. "My passion to help progress the veterinary profession, educate our future generations and influence the health and well-being of animals continues to drive the work that I do every day. Kansas State University has been an integral part of my life for so many years and I can't think of any other family and community I would rather be a part of. Without the endless support and encouragement of the mentors I have been fortunate to learn from and my family, the achievements in my career thus far would never have been possible."
"Dr. Ohmes represents veterinary medicine as a practitioner, clinical specialist, corporate innovator and instructor," said Dr. Bonnie Rush, interim dean. "She has an impressive list of accomplishments and service, including peer-reviewed publications and textbook chapters. We are excited to see what the future holds for Dr. Ohmes and are proud to present her with this early career award."
Dr. Ohmes holds leadership positions within the American College of Veterinary Internal Medicine, a sponsor board member of the Companion Animal Parasitology Council, and a member of the American Veterinary Medical Association, Kansas Veterinary Medical Association, the American Association of Bovine Practitioners, and the American Heartworm Society. During veterinary school, she was the recipient of numerous scholarship awards including the Dr. Albert L. Burroughs Memorial Graduate Student Scholarship, Schering-Plough Animal Health Award for Large Animal Internal Medicine and the Merck Veterinary Manual Award for Academic Achievement.
Dr. Ohmes has a lifelong interest in agriculture and the cattle industry. In addition to her veterinary pursuits, she is co-owner and manager of a cow-calf operation in De Soto with her husband Joseph Ohmes and their two daughters, Elena and Josie.
.