Dr. Cliff Mitchell - DVM 2001
2012 Outstanding Young Alumnus Award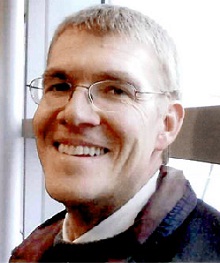 Dr. Cliff Mitchell, Cove, Utah, was the recipient of the 2012 Outstanding Young Alumnus Award. This was the first year for the presentation of the award. It recognizes a recent graduate who has outstanding contributions to the veterinary profession or their community, demonstrated leadership, humanitarian contributions to society and the profession. Dr. Mitchell was nominated for the award by his peers. The award was presented as part of the 74th Annual Conference for Veterinarians held June 3, 2012.
Dr. Mitchell earned his DVM from Kansas State in 2002. After graduation, he completed a six month internship in Richmond, Utah. Currently, Dr. Mitchell works with his father in private practice in Richmond, Utah. The practice treats exotic, small and large animals. Dr. Mitchell also serves as the president-elect of the Utah Veterinary Medical Association. He is an Eagle scout coordinator and scouting advancement chairman. He has been active in serving in volunteer church positions, including a two year mission to Brazil. In his free time he enjoys reading, gardening, scouting and hobby farming.
Dr. Mitchell said he is very honored to receive this award and is grateful for all the support by his family and friends.
"We are so pleased to begin a new program of recognizing some of our younger graduates," said Dr. Ralph Richardson, dean of the College of Veterinary Medicine. "Dr. Mitchell was an exemplary student while at Kansas State, and he has quickly earned a reputation as a skilled and dedicated practitioner. As a prominent member of his state veterinary medical association he has also shown that he is dedicated to serving the profession. We congratulate him and look forward to seeing him continue to succeed throughout his career."
Dr. Mitchell has been active with several professional organizations including: Utah Veterinary Medical Association, American Veterinary Medical Association, American Association of Bovine Practitioners and the Idaho Veterinary Medical Association. He has served as a board member to the UVMA (2006) and president of his local Veterinary Medical Association (2005).
Dr. Mitchell is married to Crystal (Conrad). They are proud parents of five daughters.