Dr. Jerome Vestweber
2001 E. R. Frank Award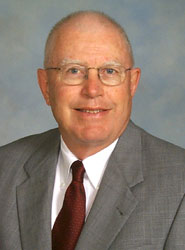 Dr. Jerome Vestweber received the college's 2001 E. R. Frank Award at the Annual Conference for Veterinarians reception that was hosted by the Veterinary Medical Alumni Association on Sunday evening, June 3.
Originally from Lakefield, Minnesota, Dr. Vestweber earned both a bachelor's and doctor of veterinary medicine degree from the University of Minnesota in 1962 and 1964, respectively. After serving in the U.S. Army as a Captain and working in private veterinary practice, he joined the faculty at K-State as an instructor of food animal medicine in 1967. He has remained at K-State since this time and served the college and university in many capacities. Upon completion of a master's degree in 1970 and a PhD in 1973 from K-State, he was promoted to Assistant Professor and Section Head of Agricultural Practices. He was promoted to Professor in 1981. He served as Acting Department Head of the Department of Surgery and Medicine from 1984-1985. For one-year, in 1993, he traveled to Ross University in St. Kitts, West Indies as a visiting professor of bovine medicine.
During his long employment at K-State, he has taught numerous courses in the DVM professional curriculum as well as graduate level courses. Throughout his career at K-State, he has trained over 30 graduate students and house officers. He is the author of over 120 publications and has conducted various continuing education courses.
Dr. Vestweber is active in several committees and organizations. His college and university service includes membership in the Department of Clinical Sciences Curriculum and Teaching Committee and the Promotion and Tenure Committee for the College. An active member since 1978, he has served as President and Secretary of the Society of Phi Zeta. He is also a long time member of the Society of Sigma Xi and Gamma Sigma Delta. He has been a member of the American Veterinary Medical Association, the Kansas Veterinary Medical Association, the American Association of Veterinary Clinicians and the American Association of Bovine Practitioners since the 1960s.