Dr. Dan Upson
2003 E. R. Frank Award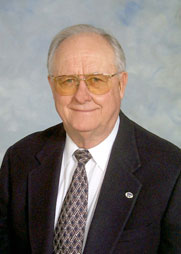 Professor Emeritus, Dr. Dan Upson, was named as the 2003 E. R. Frank Award winner from Kansas State University's College of Veterinary Medicine. This prestigious award, sponsored by the College of Veterinary Medicine and its Veterinary Medical Alumni Association, was presented at the 65th Annual Conference for Veterinarians Heritage Dinner on June 2, 2003 in Manhattan, Kansas, at the K-State Alumni Center.
Following his graduation from the College of Veterinary Medicine in 1952, Dr. Upson spent the next year working in Hutchinson, Kansas and then established his own practice in Pretty Prairie, Kansas. Returning to K-State in 1959, he became an instructor in the Department of Physiology, completed an MS in Physiology in 1962 and a PhD in Physiology in 1969. He taught veterinary students at K-State for 35 years, retiring with Emeritus status from the College of Veterinary Medicine in 1994. During his long tenure, he served in many capacities including professor and section leader in Veterinary Extension; for 18 years was the Director of the Veterinary Teaching Resource Center (which later became Veterinary Education Services and Outreach) and Assistant Dean for Instruction for 3 years.
His areas of professional veterinary specialization include Veterinary Clinical Pharmacology, Food Animal Pharmacology, Bovine Pharmacology, Safety and Wholesomeness of Food of Animal Origin and World Resources and Food for Man. He has authored or co-authored numerous professional journal articles, book chapters and a book, Upson's Handbook of Clinical Veterinary Pharmacology, in 1981.
Dr. Upson has received several awards for his outstanding dedication to the classroom and the veterinary profession: the Norden Distinguished Teaching Award in 1968, 1977 and 1991; the All University Undergraduate Teaching Excellence Award; the Outstanding Educators Award; the Kansas Veterinary Medical Association Veterinarian of the Year Award in 1982; and the Award of Excellence from the American Association of Bovine Practitioners in 1994.
Dr. Upson has been involved with numerous professional and honorary veterinary associations including the American Veterinary Medical Association, the American Academy of Veterinary Pharmacology and Therapeutics, the American Society of Veterinary Physiologists and Pharmacologists, the Academy of Veterinary Consultants, the Comparative Gastroenterology Society, the American Association of Bovine Practitioners, the American Men & Women of Science, the Veterinary Antimicrobial Decision Support System and the Kansas Veterinary Medical Association. He has held several prestigious positions within the KVMA: Trustee-at-Large, Board Member, Vice President, Program Chair, Chairman of the Board, President-Elect and President.
His honor society memberships include Phi Kappa Phi, Alpha Zeta (elected as a faculty member), Phi Zeta, Gamma Sigma Delta and Block and Bridle (Honorary).
Dr. Upson's interests and activities beyond the walls of the College of Veterinary Medicine are monumental. These additional university duties included: twice elected to Faculty Senate and served as President/Executive Committee Member; Board Member and President of KSU Alumni Association; Member of Board of Governors Advisory Council Member KSU Alumni Association; served on numerous university public relations and communications committees; Member, Head Football Coach Search Committee that brought Coach Snyder to K-State; twice appointed by Governor Graves to terms on the Kansas State Board of Pharmacy; currently serves as Board Member and Chairman of the Mike Ahearn Scholarship Fund; and served as Board Member of the Riley County/Manhattan Board of Health from 1996 to 2002.
Dr. Upson's volunteer work for athletics has brought him friends around the country. Through his sports officiating, primarily football, as a High School, Missouri Valley Conference and later a Big 8 Conference official, he started in 1959 officiating high school and college games including yearly trips to work many major college bowl games until 1985.
Currently Dan and his wife Stephanie, who graduated from K-State's College of Human Ecology in 1955, reside in Manhattan. The couple has three children Connie, Ron and Elizabeth, and five grandchildren.