Dr. Polly R. Schoning
2013 E.R. Frank Award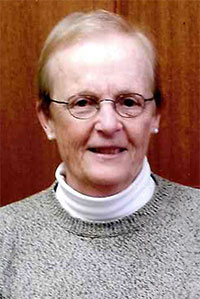 Dr. Polly R. Schoning, Manhattan, Kansas, was the recipient of the 2013 E.R. Frank Award as selected by the K-State College of Veterinary Medicine and Veterinary Alumni Association. The award was presented as part of the 75th Annual Conference for Veterinarians on June 2, 2013.
Dr. Schoning earned her bachelor's degree in 1962, DVM in 1964, master's degree in anatomy in 1970 and her Ph.D. in pathology in 1979, all from K-State. After receiving her DVM, Dr. Schoning first worked as a small animal clinician before becoming a bacteriologist for the Vermont State Department of Health in 1965, while also developing a small animal practice in Essex Junction, Vt. From 1967 to 1971, she was back at K-State as an instructor in anatomy while also working on her master's degree. In 1974, Dr. Schoning started as an assistant professor for the Department of Surgery and Medicine at K-State before becoming a full-time graduate student in 1977. After receiving her doctorate, she moved to the Department of Pathology as an assistant professor, later becoming a full professor. She retired in 2003 and is now professor emeritus in the Department of Diagnostic Medicine and Pathobiology.
"Being a veterinarian is the best thing in the world," Dr. Schoning said. "I have never thought of myself as a teacher, but thoroughly enjoyed working with students. Listening to and encouraging them towards their dreams was always fun."
"Dr. Schoning always demonstrated true commitment and dedication to veterinary education throughout her career, showing exceptional loyalty to Kansas State University and the College of Veterinary Medicine," Dean Ralph Richardson said. "After retiring, she has found new endeavors that keep her very busy, showing an energy and enthusiasm that continue to inspire us and make us proud."
Dr. Schoning is a lifetime member of both the American College of Veterinary Pathologists and the American Veterinary Medical Association. In addition to her professional commitments, she was a member of the Kaw Valley Girl Scout Council on the board of directors, starting in 1989 until she became president from 1992 to 1995. She has also served on the board of directors for the Green Mountain Club in Vermont. Her passion for hiking led to memberships in the Appalachian Trail Conservancy and Maine Appalachian Trail Club, as well as the book she authored, "The Appalachian Trail by Day Hikes: Tips for the Timid." She has completed hiking both the Applachian Trail and the Long Trail.
Dr. Schoning has been married to Douglas O. Schoning for nearly 50 years. They have three children: Mary Elizabeth, Kathleen Jean and David Douglas, as well as four grandsons: Dawson Douglas, Cooper Lee, Walker David and William Walter.