Dr. David A. Schoneweis
1997 E.R. Frank Award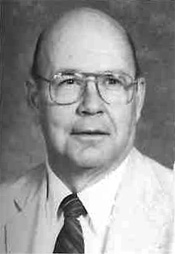 Dr. David A. Schoneweis, Professor Emeritus of clinical sciences, is being recognized for his service as a veterinarian and an educator. He earned his doctorate in veterinary medicine from Kansas State University College of Veterinary Medicine in 1956 and a MS in Surgery and Medicine in 1971.
Dr. Schoneweis has been cited as an unselfish teacher who always made clients and students his top priority. Schoneweis was nominated for this award by one of his former students, Dr. Thomas Jernigan of Council Grove, Kansas, (KSU DVM 1979). Tom said, "Dr. Schoneweis is a veterinarian and educator that had a significant impact on my attitude and ambitions as a student. I have practiced for 15 years now and still refer to many of his teachings. When asked to nominate a candidate for the E.R. Frank Award, I thought of none other than him."
Dr. Schoneweis received his DVM from Kansas State University in 1956, served in the Army Veterinary Corps for two years before teaching clinical sciences for six years at Oklahoma State University. After two years in private practice in Lawrence, Kansas, he joined the KSU faculty of the College of Veterinary Medicine in 1966, teaching food animal medicine for 30 years.
His specialty in swine medicine has earned Dr. Schoneweis national recognition. He received the American Association of Swine Practitioners (AASP) 1997 Meritorious Service Award, recognizing his work as a teacher and his contributions to the organization.
A charter member of the ASASP, Dr. Schoneweis has served on its national board of directors and on its Swine Nutrition committee, which has presented several workshops at national meetings. He was faculty adviser to K-State's student chapter until his retirement in 1996. He also has been a member of 10 other professional societies including the Kansas Pork Producers Council and the Blue Valley Pork Producers.
Dr. Schoneweis was responsible for developing one of the top animal exhibits at the Kansas State Fair, the Birthing Center. He also was instrumental in starting a similar exhibit at Kansas City's American Royal.