Dr. Robert M. Phillips
2007 E.R. Frank Award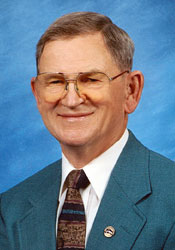 Dr. Robert M. Phillips, retired, was selected as the 2007 recipient of the E.R. Frank Award by K-State's College of Veterinary Medicine and its Veterinary Medical Alumni Association. This award was presented at the 69th Annual Conference for Veterinarians on June 4, 2007.
"I was fortunate to study surgery from Dr. Frank," Phillips said. "Dr. Frank wrote the textbook used in class; it was used in other universities in the United States. It is an honor to receive this award in memory of a distinguished and respected faculty member like Dr. Frank."
Phillips was born in 1924 in Saskatchewan, Canada. When his father suffered a work accident, the family moved home to Elk County, Kan. After a few years, they moved to Wichita, where Phillips graduated from East High School in 1942. He worked in the defense plants and attended Wichita's Friends University before enlisting in the Army. After serving in World War II as an air corps mechanic and assistant crew chief, Phillips returned from Europe and earned a doctor of veterinary medicine degree from K-State in 1951.
Phillips along with classmate Dr. Gene Porter purchased a mixed practice in Fergus Falls, Minn. Phillips then moved to Oberlin, Kan., in 1953 where he ran a mostly large animal practice until 1969.
Because of the advances in the veterinary field, Phillips decided to enter graduate school. He earned a doctorate in medical microbiology at the University of Georgia, Athens, in 1972. He then took a position at Jensen-Salsbery Laboratories, Kansas City, Kan., where he developed a trivalent equine encephalomyelitis vaccine and supervised many vaccine testing procedures.
In 1975, Phillips accepted a virology position at the diagnostic lab at K-State's College of Veterinary Medicine. Phillips, with cooperation from Dr. Harish Minocha in veterinary medicine and Dr. Richard Consigli in the Department of Biology, established a functional virus diagnostic lab. Over the years, many new diagnostic tests and virus-isolation procedures were developed and new equipment was installed.
Phillips retired in August 1994 and became a very active professor emeritus. In January 2000, Dr. Deborah Briggs, director of the rabies lab, left on sabbatical and eventually quit, leaving a difficult vacancy to fill. At risk of closing, Phillips was prompted out of retirement to reassume directorship of the lab based on his expertise in rabies diagnostics. A one-year commitment stretched to 2 1/2 years before his replacement was appointed and trained.
"I enjoyed that group in the rabies lab," Phillips said. "I was supposed to be the director, but they did all the work. They knew what to do and how to do it. I felt fortunate to be there and enjoyed my whole time."
Phillips published numerous articles on microbiology and served on or chaired several committees on large animal diseases. He received the SmithKline Beecham Award for Research Excellence in 1999 and the prestigious E. Walter Morrison Award from the K-State Student Foundation in 2002.
Robert and wife, Opal, raised four children, Thomas, Jeffrey, Mary and Paul. The couple has six grandchildren.