Dr. Patricia Payne, DVM 1971
2021 E.R. Frank Award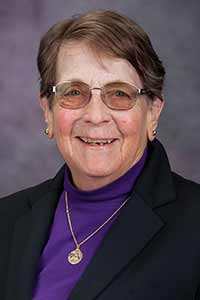 Dr. Patricia Payne, Manhattan, Kansas, was selected as the recipient of the 2021 E.R. Frank Award by the Kansas State University College of Veterinary Medicine and its Veterinary Medical Alumni Association. Dr. Payne was being recognized for her time as a faculty member at K-State and service as director of the Diagnostic Parasitology Laboratory. She is also well-respected in the college for her dedication in training puppies for KSDS Assistance Dogs Inc.
This award was presented as part of the Alumni Awards Brunch during the Alumni Reunion Weekend held Sept. 25, 2021. The E.R. Frank Award is presented to a faculty member who displays meritorious service to the college as well as the same professional essence of Dr. Frank, who was a longtime faculty member in equine surgery and a K-State alumnus. Nominees must have at least a 15-year relationship with the college, possess a noteworthy record of service and display an unassuming and unpretentious manner throughout their careers.
"Wow — what an unexpected honor! This award is humbly accepted with gratitude and many thanks," Dr. Payne said. "Veterinary medicine has brought many amazing people and animals into my life. This profession has supported me financially and provided the freedom to choose an active and comfortable life. It was truly a privilege to work in the KSUCVM and interact with our students, faculty, staff and administrators."
"Many of us picture Dr. Payne leading one of the KSDS Labrador retrievers through the hallways of our campus on her way to class," said Dr. Bonnie Rush, dean of the college. "She was an exceptional educator in the classroom and laboratory. She was invested in individual student success and mentored students long after they left her class. In addition, her collaborative research in flea control had an incredible impact on pet health and welfare. We are delighted to have this opportunity to recognize Dr. Payne."
Dr. Payne received her Doctor of Veterinary Medicine degree from Kansas State University in 1971. She practiced small animal medicine in Virginia for 23 years before returning to K-State to earn a Ph.D. in parasitology in 2000. She is a diplomate of the American College of Veterinary Internal Medicine in the field of parasitology. She retired from K-State in 2015 and now holds emeritus faculty status.
"I teamed up with Dr. Michael Dryden for the clinical veterinary parasitology course in the fall of the second-year of the professional veterinary curriculum," recalled Dr. Payne, who was a Wakonse Teaching Fellow. "I was also the course coordinator for Integration III [taught in the second-year curriculum]. The parasitology review session for fourth-year students would roll around every three weeks where we presented current parasitology information including new parasiticides and hot topics."
Dr. Payne is a member of several professional organizations, including the American Veterinary Medical Association, Kansas Veterinary Medical Association, American Association of Veterinary Parasitologists and the American Heartworm Society, where she served on its board of directors from 2010 to 2019 and was an editor from 2013 to 2019.
"I became involved with the KSDS Puppy in Training Program in June 2003," Dr. Payne said. "Our first pup Maize, came to the college as a 10-week old female yellow Labrador pup. She stayed by my side until the spring of 2005 and attended classes and seminars throughout the college. She put smiles on the faces of faculty, students and staff daily and was available for post-exam hugs at all times.
"Maize later passed the rigorous health exam and went on to be a partner for a disabled person. She will always carry part of my heart and will be missed by all of her friends here at the college. Since then Asheni, Tinsel, Calais, Barstow, Champagne, Bing and Clutch have followed in her paw prints bringing joy and humor into the lives of students and faculty alike."