Dr. John L. Noordsy
1995 E.R. Frank Award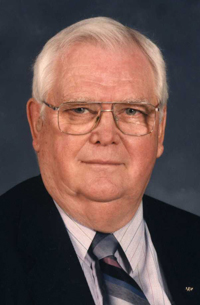 Dr. John L. Noordsy was a distinguished professor of large animal medicine and surgery during his thirty years on the KSU faculty of veterinary medicine.
Prior to his tenure at the College, he practiced in Marion, South Dakota. in a mixed animal practice. Dr. Noordsy joined the faculty in surgery and medicine in 1960. He served from 1976 through 1984 as Assistant Dean of the College and in 1987-88 was Acting Dean of the College. He retired in 1990 as Associate Dean of Academic Affairs and Alumni Relations.
Dr. Noordsy earned his bachelors of science degree from South Dakota State University in 1944, a doctorate in veterinary medicine from K-State in 1946. He did his graduate studies at Iowa State University in Pathology and received his master's degree from K-State in1962.
Dr. Noordsy has been involved in many professional and educational organizations throughout his life. From 1946-48 he was a member of the Research Institute at Iowa State University, Veterinary College, and was a member of the South Dakota Livestock Committee in 1946. Dr. Noordsy was associated with many organizations such as Gamma Sigma Delta, Sigma Xi, Phi Zeta, the American Veterinary Medical Association (AVMA), and the American Association of Bovine Practitioners (AABP). He served on the AVMA Council on Veterinary Service and was Chairman from 1980-86, on the AVMA Committee on Animal Technology and Training, and the AVMA Scientific Program-Bovine Section Coordinator from 1988-93 and District Director, Vice-President and President of the AABP. He served as the Secretary-Treasurer of both the South Dakota Veterinary Medical Alumni Association and the KSU Veterinary Medical Alumni Association. Dr. Noordsy has been author and co-author of several veterinary textbooks and professional publications. He has produced numerous continuing education videos.
Dr. Noordsy was a member of the Lion's International in Marion, SD and in Manhattan, KS. He served as President of that organization in 1955. He was Ruling Elder of his church in Marion, SD and in Manhattan. He has been a member of the Rotary International since 1984, Manhattan Chamber of Commerce since 1960, and the KVMA Outreach from 1988 to present. He was President of Gamma Sigma Delta. He served as a member and President of the Board of Education in Marion, SD from 1954-59. He was a representative of the Boy Scouts of America and served on the Executive Board both in Marion and Manhattan.
Dr. John Noordsy has received recognition and awards in his long career in the veterinary profession including: the Norden Distinguished Teacher Award was given in 1969 and again in 1973, he was the recipient of the KSU Distinguished Teacher Award from Standard Oil Company in 1973, featured in the Who's Who in Veterinary Science and Medicine and Who's Who in Education-Midwest, and the AABP Honorary Distinguished Membership in 1992. The AVMA Certificates of Appreciation were given to him each year from 1979 through 1993. Dr. Noordsy was also the recipient of the South Dakota Veterinary Medicine Association Certificate of Appreciation in 1960.
Dr. John Noordsy and his wife, Patricia, are members of the KSU President's Club and College of Veterinary Medicine's Ambassadors Gallery. The Noordsys have established an endowed scholarship to promote proficiency in food animal medicine. His commitment to the college and to veterinary medicine is well known. He has dedicated his life to promoting Kansas State University and to enhancing the teaching of large animal medicine and surgery.