Dr. Susan Nelson, DVM 1989
2022 E.R. Frank Award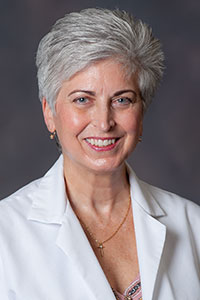 Dr. Susan C. Nelson, Manhattan, Kansas, was selected as the recipient of the 2022 E.R. Frank Award by the Kansas State University College of Veterinary Medicine and its Veterinary Medical Alumni Association. Dr. Nelson was being recognized for her time as a faculty member at K-State.
This award is presented as part of the Alumni Awards Brunch during the Alumni Reunion Weekend held June 5. The E.R. Frank Award is presented to a faculty member who displays meritorious service to the college as well as the same professional essence of Dr. Frank, who was a longtime faculty member in equine surgery and a K-State alumnus. Nominees must have at least a 15-year relationship with the college, possess a noteworthy record of service and display an unassuming and unpretentious manner throughout their careers.
"It is truly an honor to receive this award, especially since it is for a profession that I truly love!" Dr. Nelson said. "I knew since I was 5 years old that being a veterinarian was what I wanted to do. Like many young, aspiring veterinarians to be, I thought my day would be filled with caring and treating animals; but it didn't really occur to me that these animals come with humans as well."
Dr. Nelson earned a bachelor's degree in biology at Hastings College and then obtained her Doctor of Veterinary Medicine degree in 1989 from Kansas State University. She worked as an associate veterinarian in private small animal practice in Manhattan for 14 years before joining the small animal clinical faculty at K-State in 2003.
"Being very much an introvert, the thought of having that much interaction with the owners was a bit daunting; however, I quickly learned that developing these relationships was also a very gratifying part of my profession," Dr. Nelson said. "Through these interactions, how strong the human-animal bond can be became very apparent; and so my desire to help my clients and their pets in any way I could grew even stronger. As the years progressed, I also found that I enjoyed teaching others about how to care for animals and interact with their owners as well, so I joined the faculty at the VHC.
Dr. Nelson is well-known for frequently sharing pet healthcare tips, carried in a variety of newspaper and media outlets, on topics such as rabies prevention, weight and diet management, weather and emergency preparedness, and seasonal safety advice.
"Dr. Nelson's passion for animal care and student instruction is inspirational," said Dr. Bonnie Rush, Hodes Family Dean. "She has been an ambassador for veterinary medicine and for the Veterinary Health Center at Kansas State University, serving as our 'go-to' veterinarian for timely owner education for pet health issues through media outlets. She is a frequent visitor to area schools, sharing her passion for the profession to foster future veterinarians. She exemplifies the ER Frank Award through her commitment to the profession and willingness to helps other succeed."
Dr. Nelson is a member of the Kansas Veterinary Medical Association, American Veterinary Medical Association, American Society of Veterinary Behaviorists, American Heartworm Society and American Association of Veterinary Clinicians.
In 2020, Dr. Nelson was presented with the Dr. William and Deanna Pritchard Veterinary Service and Outreach Award. In 2018, she was presented with a Jr. Faculty Mentoring Award. The K-State Office for the Advancement of Women in Science and Engineering, known as KAWSE, recognized Dr. Nelson in 2017 during the annual Women of Distinction Ceremony. She was presented with the Pet Trust Professorship in 2006 and was the Manhattan Area People's Choice Veterinarian of the Year in 2001.
Dr. Nelson and her husband, Hank, have two children, Carter and Katie.
"My husband has always been amazed that I still truly love to go to "work", as many do not feel the same about what they do to earn a living," Dr. Nelson said. "As I look back over the years, and ahead for whatever remaining years I have as a working veterinarian and instructor; I can say that I have been truly blessed to be a member of this great profession! Thank you very much for awarding me this great honor."