Dr. T.G. Nagaraja
2023 E.R. Frank Award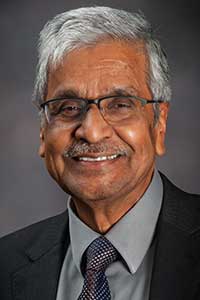 Dr. T.G. Nagaraja, Manhattan, Kansas, was selected as a recipient of the 2023 E.R. Frank Award by the Kansas State University College of Veterinary Medicine and its Veterinary Medical Alumni Association. Dr. Nagaraja was recognized for his time as a faculty member at K-State.
This award was presented as part of the Alumni Awards Brunch during the Annual Conference for Veterinarians held June 5, 2023. The E.R. Frank Award is presented to a faculty member who displays meritorious service to the college as well as the same professional essence of Dr. Frank, who was a longtime faculty member in equine surgery and a K-State alumnus. Nominees must have at least a 15-year relationship with the college, possess a noteworthy record of service and display an unassuming and unpretentious manner throughout their careers.
"I am thankful to the Veterinary Medical Alumni Association for this recognition," Dr. Nagaraja said. "I am truly honored and humbled to receive this award because of the prestige associated with the name, Dr. E R. Frank, and his legacy as a distinguished alumnus of the College of Veterinary Medicine."
"Dr. Nagaraja is an outstanding researcher, scientist, instructor and colleague," said Dr. Bonnie Rush, Hodes Family Dean. "His years of service and accomplishments speak for themselves. He's someone who doesn't seek the limelight, so we wanted to take this opportunity to show our appreciation in the college for all that he has done. He is truly admired by colleagues and students."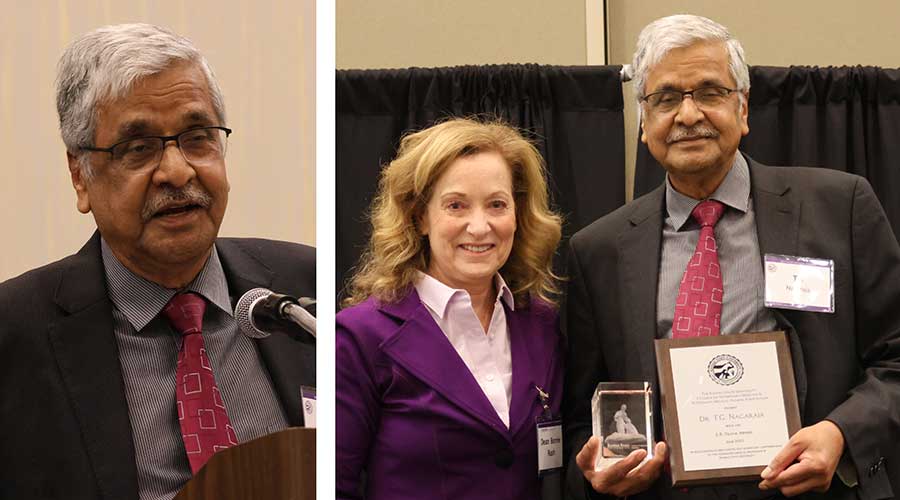 Dr. Nagaraja earned a Bachelor of Veterinary Science degree in 1970, and a Master of Veterinary Sciences in Veterinary Microbiology in 1972, both from Mysore Veterinary College, University of Agricultural Sciences, Bangalore, India. He earned a Ph.D. in microbiology from the Division of Biology at K-State in 1979, and joined the faculty in the Department of Animal sciences in 1980 and joined the College of Veterinary Medicine in 1998.
His research expertise is in gut microbiology, focused primarily on the role of rumen microbes in function and dysfunctions of the rumen, and on foodborne pathogens, particularly Shiga toxin-producing Escherichia coli and salmonella in cattle.
He was appointed as a University Distinguished Professor in in 2008, received the Dr. Ron and Rae Iman Outstanding Faculty Award for research from the K-State Alumni Association in 2012; the Commerce Bank and W.T. Kemper Foundation Distinguished Graduate Faculty Award from K-State in 2018; the "Distinguished Veterinary Microbiologist of the Year" Award from the American College of Veterinary Microbiologists (ACVM) in 2019, and in 2021, he was inducted as a Fellow of the Conference of Research Workers in Animal Diseases.