Dr. Derek A. Mosier
2014 E.R. Frank Award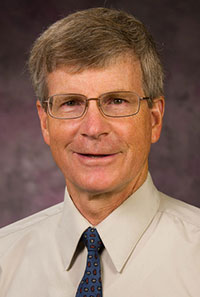 Dr. Derek A. Mosier, Manhattan, Kanas, was the recipient of the 2014 E.R. Frank Award by the K-State College of Veterinary Medicine and Veterinary Alumni Association. The award was presented as part of the 76th Annual Conference for Veterinarians held June 1, 2014.
Dr. Mosier earned his DVM degree at K-State in 1978. He followed with a master's degree in physiological science in 1982 and a Ph.D. in pathology in 1985, both from Oklahoma State University, Stillwater. He is currently a professor of pathology in the Department of Diagnostic Medicine/Pathobiology in the K-State College of Veterinary Medicine, a position he has held since 1990.
"It is a great honor to be associated with an award given in the memory of Dr. Frank," Dr. Mosier said. "This award, particularly, is more a reflection of the positive influences of my family, colleagues and students, rather than any contribution I could have made on my own."
"Dr. Mosier has been an exceptional instructor in our college," Dean Ralph Richardson said. "He is a second-generation member of a family of nine veterinarians and works in a building that carries his family's name, yet he is always quick to give credit to others around him. Dr. Mosier embodies what the E.R. Frank Award represents, so it's extremely gratifying for us to give him this well-deserved recognition."
Dr. Mosier's teaching talents have been acknowledged through the Norden Distinguished Teaching Award in 1990, 1994 and 2005. He received the Bayer Animal Health Teaching Excellence Award in 2008 and 2012, and the Student American Veterinary Medical Association Award for Teaching Excellence in the Basic Sciences in 1990. The K-State Alumni Association recognized Dr. Mosier with its Dr. Ron and Rae Iman Award for Teaching Excellence in 2009.
Dr. Mosier was board certified by the American College of Veterinary Pathologists, and he has served as the organizations secretary/treasurer from 2005-2009, as president-elect from 2009-2010 and president from 2010-2011. He was the president of the Phi Zeta national chapter from 1998-2001, and he is a member of the American Veterinary Medical Association.
Dr. Mosier and his wife, Jessica, have one son, Benjamin.