Dr. David S. Hodgson
2009 E.R. Frank Award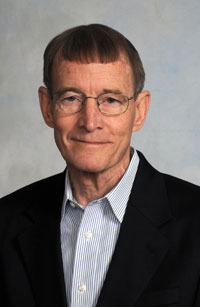 Dr. David S. Hodgson, Manhattan, was selected as the 2009 recipient of the E.R. Frank Award by K-State's College of Veterinary Medicine and its Veterinary Medical Alumni Association. This award was presented at the annual All College Convocation on April 10, 2009.
"The support and academic environment in the College of Veterinary Medicine has been professionally gratifying for me," Dr. Hodgson said. "The opportunity to work with talented and dedicated colleagues on a daily basis has been the highest reward. I am honored to receive the ER Frank Award and to be compared in some way to Dr. Frank considering the many ways he contributed to the veterinary profession in his quiet and unpretentious manner."
Dr. Ralph Richardson, dean of the College of Veterinary Medicine, said, "I believe that Dr. Frank would have been pleased to have Dr. Dave Hodgson receive this award. Just like Dr. Frank, Dr. Hodgson demonstrates a quiet yet authoritative presence when he is approaching his work. Humility is a characteristic of both. Dr. Hodgson's recent trips to provide assistance for the veterinary education program at Kabul University in Afghanistan demonstrate selflessness and caring for both animals and people. His desire to advance the profession in every way possible has inspired us all as his colleagues and friends at K State. This award is well-deserved."
Dr. Hodgson grew up in central Kansas on the family farm homesteaded by his great grandparents in 1871. He obtained his DVM degree from Kansas State University in 1968. After service with the military in Vietnam and California, he was in a mixed veterinary practice in Lyons, Kan., for 10 years. Following two years of teaching and training veterinary technicians at Colby (Kan.) Community College, Dr. Hodgson returned to K-State to pursue graduate studies in physiology. An intense interest in anesthesia led to a residency in veterinary anesthesia at the University of California-Davis. Dr. Hodgson is a diplomate and past president of the American College of Veterinary Anesthesiologists. He was a faculty member at Texas A&M University and Colorado State University prior to his return to K-State in the Department of Clinical Sciences in 1989. Dr. Hodgson was instrumental, with Dr. Rose McMurphy, in establishing an outstanding veterinary anesthesia service at K-State.
Dr. Hodgson has become a recognized national expert in anesthesia equipment design, function and use. His research interests include cardiopulmonary effects of various anesthesia manipulations in horses and other species. Dr. Hodgson's innovative ideas have been directed toward enhancing patient care and safety. Design and fabrication of novel anesthetic delivery devices have been a career long interest. Helping students think critically and scientifically about clinical anesthesia related issues has been especially satisfying.
In 2007, Dr. Hodgson traveled to Afghanistan for six months to teach veterinary students at Kabul University and to treat patients daily at the Kabul University Veterinary Clinic. He returned to Afghanistan for two months in 2008 and two months in 2009.
Dr. Hodgson added, "Representing the faculty, staff, students and friends in the K-State College of Veterinary Medicine in a war torn and poverty stricken country has been a challenge and source of great satisfaction."