Dr. Michael W. Dryden
2015 E.R. Frank Award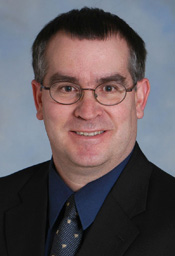 Dr. Michael W. Dryden, Manhattan, Kansas, was the recipient of the 2015 E.R. Frank Award presented during the 77th Annual Conference for Veterinarians on June 7, 2015­.
Dr. Dryden earned a bachelor's degree in 1982 and a DVM degree in 1984, both at Kansas State University. He later earned a master's degree in 1988 and a Ph.D. in 1990, both from Purdue University, West Lafayette, Indiana. He currently is a University Distinguished Professor of Veterinary Parasitology in the Department of Diagnostic Medicine/Pathobiology in the College of Veterinary Medicine.
Dr. Dryden is head of a research team that has been involved in three areas: 1) biology and control of fleas and ticks infesting dogs and cats, 2) investigations into the interactions and disease transmission between urban wildlife, domestic pets and humans and 3) epidemiology and control of gastrointestinal parasites of dogs and cats. He has published or currently has in-press more than 130 scientific manuscripts and review articles, nine book chapters and one pictorial atlas of parasitology. He has presented more than 1,000 invited continuing education seminars/lectures in 21 different countries and presented and/or co-authored more than 100 scientific papers at national and international scientific meetings.
"It is an honor to have been selected to receive the E.R. Frank Award for meritorious service to the college and to the veterinary profession," Dr. Dryden said. "As a K-State alumnus and former practicing veterinarian in Kansas, I have always understood my responsibility as a faulty member in the college to serve the veterinarians in Kansas and the profession as a whole. As a land grant university we must never forget to serve our constituents through our research, teaching and service missions."
"Dr. Dryden has an outstanding national reputation in the field of parasitology that has earned him the nickname, 'Dr. Flea,'" Dean Ralph Richardson said. "He is regularly and frequently cited by news media in stories related to tick and flea treatments for pets, and he is highly sought as a speaker at national and international conferences. His dedication to the profession embodies what the E.R. Frank Award is all about, so are we are very proud to recognize Dr. Dryden with this award."
Dr. Dryden has held several national professional offices including the National Conference on Urban Entomology from 1992-1995. He was a board member of the International Ectoparasite Symposium in 1996-1997, a co-chair of the International Ectoparasite Symposium Scientific Program in 2002-2003, and a founding member of the Companion Animal Parasite Council from 2002-2005.
Dr. Dryden has received several professional, teaching, research and service awards including the Pfizer Award for Research Excellence in 1995, the Kansas Veterinary Medical Association's KSU-Distinguished Service Award in 2005, the Bayer Animal Health Teaching Excellence Award in 2006, the Frick Professor of Veterinary Medicine (an endowed professorship) in 2006, the Entomological Society of America NC Branch Recognition Award in Urban Entomology in 2007, the Excellence in Teaching Award from the American College of Veterinary Dermatology in 2010 and the 2010 Veterinarian of the Year presented at the Purina® Pro Plan® 56th Annual Show Dogs of the Year® Awards, presented by Dogs In Review® at the Grand Hyatt in New York City. In 2011, Dr. Dryden was designated a Charter Diplomate in Parasitology in the American College of Veterinary Microbiology and in 2014, he received the Dr. William and Deanna Pritchard Veterinary Service and Outreach Award for Exemplary Service and Outreach from the K-State College of Veterinary Medicine.
Dr. Dryden and his wife, Joan, have two children: one son, Shawn, who lives in Manhattan with his wife, Mindy (Bates) Dryden, and granddaughters, Harper and Carson; and one daughter, Sarah, who also lives in Manhattan.