Dr. Hugh Butler
2000 E.R. Frank Award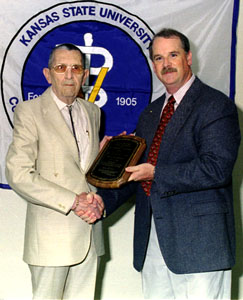 Dr. Hugh Butler served as a professor of surgery at K-State from 1968 until his retirement in 1986. He was among the first veterinary surgeons in the United States to adopt an advanced Swiss system (A-O Plating) of using plates and screws for artificial hip replacement in dogs. Butler also earned recognition for his research in kidney transplantation. He and Dr. Joe Desch performed the first two successful renal transplants in dogs.
The author of numerous publications and refereed papers on his work, Butler has been a member of several professional and educational organizations, including the American Society of Nephrology, American Society of Veterinary Physiology and Pharmacology, American Heart Society, American Veterinary Medical Association, and a charter member of the American College of Veterinary Surgeons. He also is a member of several honorary societies, including Alpha Psi, Phi Zeta, and the Sigma Xi Association.
Butler earned a bachelor's degree in applied science from Montana State College, and a doctor of veterinary medicine degree and a master's degree in physiology, both from Washington State University.