Dr. Mike Apley, DVM 1987
2022 E.R. Frank Award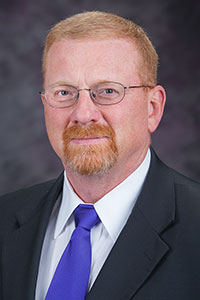 Dr. Mike Apley, Manhattan, Kansas, was selected as the recipient of the 2022 E.R. Frank Award by the Kansas State University College of Veterinary Medicine and its Veterinary Medical Alumni Association. Dr. Apley was being recognized for his time as a faculty member at K-State.
This award is presented as part of the Alumni Awards Brunch during the Alumni Reunion Weekend held June 5. The E.R. Frank Award is presented to a faculty member who displays meritorious service to the college as well as the same professional essence of Dr. Frank, who was a longtime faculty member in equine surgery and a K-State alumnus. Nominees must have at least a 15-year relationship with the college, possess a noteworthy record of service and display an unassuming and unpretentious manner throughout their careers.
"It is an honor to be placed in the company of the previous recipients of the E.R. Frank award and such a privilege to have been able to serve on the faculty at the K-State CVM for the last 17 years," Dr. Apley said. "One of the highlights for me has been coordinating the clinical pharmacology course where I have been able to work with so many of our talented clinical faculty."
"Dr. Apley has set an excellent example for students through his instructional expertise and research efforts," said Dr. Bonnie Rush, Hodes Family Dean. "Dr. Apley has the instructional agility to share the same research finding with global experts and elementary school students and convey a message in a manner where it is clearly understood by both groups. We are truly very lucky to have Dr. Apley as a member of our faculty, especially for his pharmacology and feedlot medicine courses, true favorites among the students. He is more than deserving of the E.R. Frank Award."
Dr. Apley received a bachelor's degree in 1981, a Doctor of Veterinary Medicine degree in 1987 and a Ph.D. in clinical pharmacology in 1992, all from K-State. He started his career in veterinary medicine with a general practice in central Kansas, then moved to a feedlot consulting/contact research practice in Colorado. Before becoming a professor at K-State in 2005, he was a faculty member at Iowa State University College of Veterinary Medicine.
As the holder of the E.J. Frick Professorship in Veterinary Medicine, Dr. Apley currently teaches in pharmacology and food animal courses, and also coordinates the advanced feedlot production medicine course. His research efforts include food animal therapeutics, pharmacokinetics and pharmacodynamics of veterinary drugs, and antimicrobial resistance.
Dr. Apley is a member of several professional organizations, including the American Association of Bovine Practitioners, where he served as president from 2017-2018, the Academy of Veterinary Consultants, where he served as president from 2004-2005, and the American College of Veterinary Pharmacology, of which he served as president from 2007-2009. Currently, he serves as the vice chair of the Presidential Advisory Council on Combating Antibiotic-Resistant Bacteria.
"The breadth of expertise across all disciplines in this college is truly amazing and the examples of service to our students, our alumni, and animal owners around the world is inspiring," Dr. Apley said. "It's a great place to work and a great place to live."