Dr. Frederick Oehme
2011 E.R. Frank Award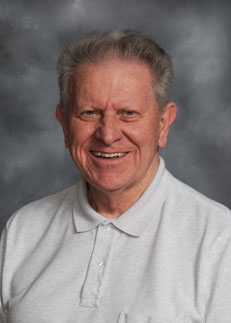 Dr. Frederick Oehme, Manhattan, Kansas, is the 2011 recipient of the E.R. Frank Award. This award is presented as part of the 73rd Annual Conference for Veterinarians held June 5.
"The E.R. Frank Award has always held a special significance for me," Dr. Oehme said. "When I was recruited in 1959 by Dr. E.J. Frick to join the K-State faculty, one of the bonuses was to train in large animal surgery with Dr. Frank. For me the past decades have been a continuing learning experience - and I trust my input has contributed to the learning and development of the 52 classes of students I've had the privilege of instructing. It has allowed me to be a part of the ongoing legacy of Dr. E.R. Frank and to the surgical and clinical standards he established so many years ago."
"This award is a tribute to the passion and commitment Dr. Oehme has had throughout his career at K-State," said Dr. Ralph Richardson, dean of the College of Veterinary Medicine. "He has developed an international reputation for excellence in veterinary toxicology and, at the same time, exemplified what it means to be a team player, working with colleagues and students to foster an environment for academic excellence. We take great pride in celebrating not only Dr. Oehme's professional career, but his personal character and compassion for others in our college."
Dr. Oehme, who was born in Leitzig, Germany, earned his bachelor's degree and DVM in 1958 from Cornell University. He received his master's degree in toxicology and medicine from Kansas State University in 1962. Dr. Oehme has a degree in pathology from Justus Liebig University located in Giessen, Germany. He also earned a Ph.D. in toxicology from the University of Missouri in 1969.
After receiving his DVM, Dr. Oehme went to work at a private practice in Maryland for a year. While earning his master's degree at K-State, he worked as an assistant and associate professor in clinical medicine from 1959 to 1966. During his time at K-State, Dr. Oehme was a visiting professor at the Justus Liebig University-Giessen in Germany. In 1966, Dr. Oehme went to the University of Missouri for three years to work on his doctorate. He returned to K-State in 1969 as the director of comparative toxicology laboratories and held this position until his retirement in 2009. In 1973, Dr. Oehme also became a toxicology professor and taught for the next 36 years. After retiring, he has remained active in his professional activities and mentoring young colleagues when called upon.
Dr. Oehme has been an active leader of many professional organizations. He is a diplomate for the American Board of Toxicology and the American Board of Veterinary Toxicology. He is a past president of the Society of Toxicology, American Academy of Clinical Toxicology and the World Federation of Clinical Toxicology and Poison Control Centers. Dr. Oehme served as a fellow for the American Academy of Veterinary and Comparative Toxicology, and is a fellow and diplomate for the Academy of Toxicology Services.
Dr. Oehme is married to Pam. They have five children; Steve, Susan, Debra, Heidi and April.