Dr. Harish Minocha
2018 E.R. Frank Award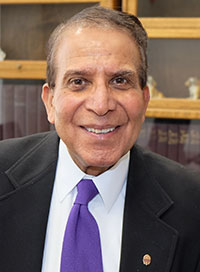 Dr. Harish Minocha, Manhattan, Kansas, was selected as the recipient of the 2018 E.R. Frank Award by the Kansas State University College of Veterinary Medicine and its Veterinary Medical Alumni Association. He was recognized for his distinguished 47-year career, 37 years of which were spent at Kansas State University.
This award was presented during the Alumni Awards Brunch at the Alumni Reunion Weekend held June 2, 2018. The E.R. Frank Award is presented to a faculty member who displays meritorious service to the college as well as the same professional essence of Dr. Frank, a longtime faculty member in equine surgery and a K-State alumnus. Nominees must have at least a 15-year relationship with the college, possess a noteworthy record of service and display an unassuming and unpretentious manner throughout their careers.
"I am honored to be nominated and selected to receive the Dr. E.R. Frank Award," said Dr. Minocha. "My 33 years of service at Kansas State University has been most rewarding. I have enjoyed conducting research and teaching DVM students. It has been a privilege to work with colleagues and make so many professional friends. I feel elated every time I meet my students who have been so successful professionally and have achieved high recognition."
"Dr. Minocha is an icon for this college," said Dr. Bonnie Rush, interim dean of the college. "His passion and dedication for virology research and education have been steadfast throughout his career and well into his retirement years. He is a regular attendee for our departmental seminars and college functions, and he is legendary for his ability to serenade the crowd with a classic Sinatra or Bennet tune. We're very proud to bestow this award in recognition of a true gentleman and distinguished educator."
Dr. Minocha received his bachelor of veterinary science degree (BVSc) in 1955 from Punjab University, India, and worked at the National Research Institute on bovine and equine diseases. He came to K-State in 1961 and earned a master's degree in microbiology in 1963 and a doctorate in virology from the Department of Bacteriology in 1967. From 1966 to 1970, he was an assistant professor at North Carolina State University. He was awarded an NIH grant to work on tumor viruses, and he returned to K-State in 1970 as an associate professor of virology in the College of Veterinary Medicine.
"My mentors taught me the art of investigation in veterinary medicine research and how to interact with students for mutual learning," Dr. Minocha said.
In 1976, Dr. Minocha studied herpes viruses during a sabbatical at Saint Justin Children's Hospital in Montreal, Canada. He was promoted to full professor at K-State in 1977 and was awarded the College of Veterinary Medicine's Excellence in Research Award. His research primarily focused on respiratory diseases of cattle and bovine immune-deficiency viruses and influenza virus, and was supported throughout his career by grants from the NIH and USDA-NRI.
Dr. Minocha represented the state of Kansas on the national bovine respiratory disease technical committee for 30 years. He published extensively and was the major adviser for 32 graduate students. He served as panel member of study sections for USDA-NRI competitive grants. In recognition of his national and international reputation for research and graduate programs, he received the 1987 Beecham Award for Excellence in Research. For his contributions to research and academics, Dr. Minocha was elected as a fellow of the American Academy of Microbiology by the American Society for Microbiology. He has life membership in the KSU Alumni Association and served as trustee for three years.
As an instructor, Dr. Minocha taught Veterinary Virology to DVM student and Advanced Virology to graduate students. He was an ancillary professor of virology in the Division of Biology in K-State's College of Arts and Sciences. From 1989 to 1997, Dr. Minocha served as the first associate dean for research and graduate affairs for the College of Veterinary Medicine. He returned to full-time teaching and research in 1997 and then retired in 2003.
"I had 32 graduate students who worked in my laboratory and received masters or Ph.D. degrees," Dr. Minocha said. "I am fortunate to see them holding high academic/industry positions in the U.S. and abroad. We veterinarians are proud of imparting excellent education to students and this legacy will continue."
"Dr. Minocha had a profound impact on me as a student, and we have maintained a strong friendship and working relationship ever since," said Dr. Kelly Lechtenberg, of Oakland, Nebraska, who earned his DVM degree in 1987 and a Ph.D. in 1988 at K-State. In 2003, Dr. Lechtenberg honored this mentorship and friendship by creating the Dr. Harish C. and Ved K. Minocha Scholarship to help graduate students in the College of Veterinary Medicine.
Dr. Minocha and his wife, Ved, have four children: Meena, Hans, Nick and Pam. The Minochas also funded a scholarship in honor of his parents, Dr. Bishan Das and Ram Bai Minocha Scholarship in Veterinary Medicine. This award goes to fourth-year students in good academic standing who has the top per class score in the curriculum of virology and has maintained an interest in virology.