Dr. Marty Vanier - DVM 1981
2017 Distinguished Alumnus Award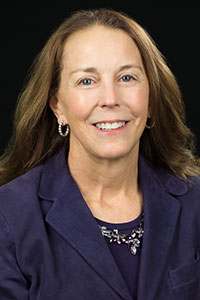 Dr. Marty Vanier, Manhattan, Kansas, is the recipient of a 2017 Distinguished Alumnus Award from the Kansas State University College of Veterinary Medicine and Veterinary Medical Alumni Association. This award recognizes Dr. Vanier for her outstanding achievements, humanitarian service and contributions to the veterinary profession. The award was presented during the 79th Annual Conference for Veterinarians on Sunday, June 4, 2017.
"The K-State College of Veterinary Medicine has long been known for training and developing leaders in veterinary medicine whether they be practitioners, researchers, faculty members, those involved in organized veterinary medicine or those working in interdisciplinary fields" said Dr. Vanier. "The Veterinary Medical Alumni Association has honored many of these leaders. I am thrilled and deeply honored to be selected to join this group. I am very proud of our college and the work it is doing in research, training students and assisting our alumni in advancing veterinary medicine."
"Our college is very proud to recognize Dr. Vanier for her accomplishments, service and outstanding dedication to the veterinary profession," said Dr. Tammy Beckham, dean of the veterinary college. "She has been an exceptional leader in the areas of food safety and biosecurity. Dr. Vanier is also a tremendously generous and gracious person who has been a great friend to our college, the university and our Manhattan community. This award allows us an opportunity to express our respect and appreciation for all she has done."
Dr. Vanier was raised on a central Kansas ranch that bred both registered and commercial horned Hereford cattle. As a youth she participated in all aspects of ranch operations. Dr. Vanier earned her Doctor of Veterinary Medicine from Kansas State University in 1981. After graduation, she moved to the Washington, D.C., area and began her career in veterinary pharmaceutical and food safety policy. Dr. Vanier joined the Animal Health Institute (AHI), the trade association representing the veterinary pharmaceutical industry. As science coordinator, she was responsible for staff support for the Institute's Committees and Task Forces addressing regulatory, legislative and scientific problems. In 1987, Dr. Vanier became deputy director for Information and Legislative Affairs in USDA's Food Safety and Inspection Service.
Dr. Vanier returned to K-State in 1989 to become a research assistant for the Food Safety Consortium in the Department of Animal Sciences and Industry. From 1992 to 1999, she also served as executive director of the Kansas Agricultural Alliance, a coalition of statewide agricultural commodity and agribusiness organizations. In 2003, Dr. Vanier moved to K-State's National Agricultural Biosecurity Center and served as director of operations. Dr. Vanier became the director of strategic partnership development for the National Bio and Agro-defense Facility Program Executive Office in 2015.
Dr. Vanier is a member of several veterinary specialty associations and has served in a variety of committee and leadership positions in the Kansas Veterinary Medical Association (KVMA). Her leadership in KVMA includes; chairman of the legislative committee, trustee-at-large, 2012-2013, representative to Kansas State Animal Response Team 2012-13, Vice-President 2013-14, President-Elect 2014-15. In 2015-2016, Dr. Vanier served as KVMA president. She is also a member of American Veterinary Medical Association, American Association of Bovine Practitioners, American Association of Equine Practitioners, Kansas Livestock Association and the Cosmos Club, Washington, D.C.
Dr. Vanier served 20 years as the recruitment adviser for the K-State chapter of Kappa Kappa Gamma. Dr. Vanier is also a founding board member of the Ranchland Trust of Kansas and the Fairchild Terrace Scholarship Foundation. She serves as president of the foundation, which is now a fund within the Manhattan Community Foundation.
Awards and honors include: KVMA President's Award, 2002, 2012 and 2014, Veterinarian of the Year Award, 2009, Commandant's National Security Program, U.S. Army War College, 2017.
Dr. Vanier was married to Bob Krause, former Kansas State University administrator, who passed away in December 2015.