Dr. Vaughn A. Seaton - DVM 1954
2005 Distinguished Alumnus Award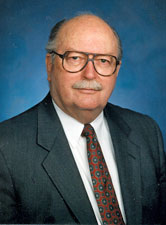 Dr. Vaughn A. Seaton, Ames, Iowa, received the Kansas State University College of Veterinary Medicine Veterinary Medical Alumni Association's 2005 Distinguished Alumnus Award for outstanding achievements, humanitarian service and contributions to the veterinary profession.
The college and the VMAA presented the award at Heritage Evening during the 67th Annual Conference for Veterinarians June 6, 2005 at the K-State Alumni Center.
Dr. Howard Erickson, professor of physiology at the College of Veterinary Medicine, has known Seaton for many years and believes he is truly deserving of the award. "On behalf of the college and our VMAA, I consider Dr. Seaton one of the true leaders of our profession. He has been a leader specifically in the field of diagnostic medicine, and he has also contributed greatly to his community," Erickson said.
Seaton grew up in the Abilene, Kan., area. He joined the United States Army in 1946 at the age of 18, where he obtained the rank of sergeant. He graduated from K-State in 1954 with a bachelor's degree in biological sciences and his doctor of veterinary medicine. He received a master's degree in veterinary pathology from Iowa State University in 1957. After serving as an associate professor of pathology at Iowa State for several years, Seaton was promoted to professor and head of the Veterinary Diagnostic Laboratory in 1964, a position he held until his retirement in 1994.
Seaton has served as president of several professional organizations including the Iowa Veterinary Medical Association, American Association of Veterinary Laboratory Diagnosticians and the Western Veterinary Conference. He was the founding president of the World Association of Veterinary Diagnosticians and a consultant to the National Academy of Science. Seaton was appointed by the Iowa governor to the Iowa Board of Health, where he served as vice president from 1971 to 1977. He has also been a member of the board of directors of the Iowa State University Press, the Ames Chamber of Commerce and the Ames Library Board of Trustees.
Seaton is aware of the impact his contributions and involvement have made in the field of veterinary medicine. "I've had an interesting career, and I hope a productive one," he said.
Seaton has authored or co-authored 18 publications and is currently active in several organizations including an organization for children with speech problems.
He is currently retired as professor emeritus and enjoys spending time with his two sons and grandchild.