Dr. Duane R. Peterson - DVM 1945
2001 Distinguished Alumnus Award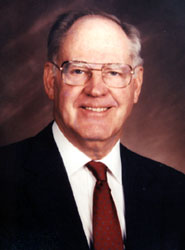 Dr. Duane R. Peterson received the college's 2001 Distinguished Alumnus Award at the Annual Conference for Veterinarians reception that was hosted by the Veterinary Medical Alumni Association on June 3, 2001 in Manhattan, Kansas. He was recognized for his outstanding achievements and contributions to the veterinary profession.
Originally from Assaria, Kansas, Dr. Peterson earned a doctor of veterinary medicine degree from K-State in 1945. After graduation, he worked as a livestock inspector for the State of Illinois and then went on to work in general veterinary practice. He returned to K-State in 1946 as an Instructor in Anatomy. After a brief position as Assistant Professor at the University of Missouri Department of Physiology, he transferred to Oklahoma State University where he remained for more than 30 years until his retirement in 1986. He has served O.S.U. in many official capacities - he was a charter member of the faculty, department head, interim dean and now professor emeritus. He served unofficially as a mentor, counselor and motivator to hundreds of veterinary students. He completed a master's degree in Anatomy and Physiology from K-State in 1959.
Dr. Peterson has been elected and served in several professional organizations including Secretary, Vice-President and President of the American Association of Veterinary Anatomists and a Charter Member of the Executive Board for the American College of Veterinary Toxicologists. He also has served in many positions within the Oklahoma Veterinary Medical Association including Vice-President and President. Other professional memberships include the American Veterinary Medical Association, the Association of Veterinary Medical Colleges and the Oklahoma Education Association.
Throughout his career, Dr. Peterson received many honors and awards for his contributions to the veterinary profession from Oklahoma State University as well as the state of Oklahoma. Notably, he received the O.S.U. Alumni-Blue Key Outstanding Teacher Award in the College of Veterinary Medicine a total of five times. He received the Norden Distinguished Teacher Award in 1964 and 1980 and was acknowledged as an Outstanding Educator in America in 1970. He was recognized with the honor of Outstanding Teacher for the entire university in 1971. In 1989, the Oklahoma Veterinary Medical Association named him the Oklahoma Veterinarian of the Year. Most recently, a residential hall that stands adjacent to the veterinary medical facilities at Oklahoma State University was named in his honor in November 2000.