Dr. Vern Otte - DVM 1975
2021 Distinguished Alumnus Award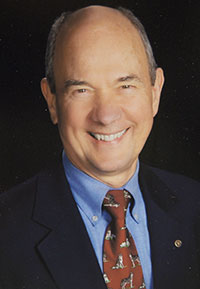 Dr. Vern Otte, Leawood, Kansas, has been selected by the Kansas State University College of Veterinary Medicine's Alumni Association for its 2021 Distinguished Alumnus Award, to be presented as part of the Alumni Awards Brunch during the Alumni Reunion Weekend on Sept. 25. This award is in recognition of his outstanding achievements, humanitarian service, and contributions to the veterinary profession.
Dr. Otte, originally from Great Bend, Kansas, earned a bachelor's degree in 1964 and a Doctor of Veterinary Medicine degree in 1975, both at Kansas State University. After graduation, he practiced at Raritan Hospital for Animals (Edison, New Jersey) until 1977. He then owned and practiced at the State Line Animal Hospital, Leawood, from 1977 to 2014, at which time he sold the practice to his associate. He remained active until retiring from practice in 2017. Dr Otte became Board Certified by the American Board Veterinary Practitioners in 1983 and has been granted Emeritus Status by ABVP. Dr. Otte has been a trail veterinarian for the Iditarod Sled Dog Race in Alaska for 11 years.
"I was truly overwhelmed and surprised when I received the call that I was to be honored as the 2020 Distinguished Alumnus," Dr. Otte said. Due to the pandemic, the award was postponed until 2021. "I will always be grateful to Dean Trotter for allowing me and the other non-traditional applicants the opportunity to attend veterinary school. There were many veterans in our class who have made great practitioners, just as Dean Trotter predicted. I honestly feel that I owe my success to the faculty at K-State who provided a positive learning experience for me and gave me the confidence to begin practice when I graduated. I am proud of my profession and of Kansas State and I'm always proud to say that I graduated from K-State. The reply is often, 'That's the best, isn't it?'"
"Dr. Otte has had an extremely distinguished career, and continues to serve the profession, mentor young veterinarians, and maintain a strong connection with K-State," said Dr. Bonnie Rush, dean of the College of Veterinary Medicine. "We are indebted to him for his military service and are inspired by his professional service. After a pandemic delay, we are delighted to finally have a chance to properly recognize Dr. Otte among his classmates and peers."
Dr. Otte served over 36 years on Active Duty and Reserve. He was commander of three veterinary units, including one activated during Operation Desert Storm. He was the Staff Veterinarian in a medical Brigade, 3rd Army, and USAR Command. He was the first commander of the 445th Medical Detachment which became the premier veterinary detachment in the Reserve veterinary service. His final position was as Chief of the Veterinary Corps for Mobilization and Reserve. Dr. Otte participated in 13 medical missions in Central and South America and Africa vaccinating and deworming the local populations' animals and providing expertise for various local concerns. He received numerous awards including the Meritorious Service Medal with Oak Leaf Cluster. Dr. Otte has been inducted into the Order of Military Medical Merit. He retired in 2003 as a Colonel.
Dr. Otte has been an active member of the American Veterinary Medical Association, serving on its PAC for eight years, including one year as Chair. He was been the delegate/alternate delegate from Kansas from 2000 to 2017 and was a member of the AVMA Legislative Advisory Committee from 2014 to 2017. He was on the AVMA Council of Education Site Visit Team from 2017 to 2019. He currently serves as Chair of the American Association of State Veterinary Board RACE Committee.
Dr. Otte has also been a member of the Kansas Veterinary Medical Association, Kansas City Veterinary Medical Association, and American Animal Hospital Association. He was president of the Kansas Veterinary Medical Association in 1998, president of the Kansas City Veterinary Medical Association in 1987, public relations Chair for the American Board of Veterinary Practitioners from 1984-1987 and served on the Kansas Board of Veterinary Examiners for 12 years, including two years as Chair.
In 2000, Dr. Otte was named the Kansas Veterinarian of the Year, and in 2015, he received a K-State Alumni Recognition Award from the College of Veterinary Medicine.
He has been a member of the Overland Park (Kansas) Rotary for 43 years, serving on its board of directors and as vice president. He is an elder at John Knox Kirk, and has been a docent at the Kansas City Zoo and presently volunteers at the Museum at Prairie Fire. He is also a former commander of the Greater Kansas City Military Order of World Wars.
Dr. Otte has two children: Jodie and Brian and four grandchildren. He and his wife, Brenda, reside in Leawood, Kansas.