Dr. Martha O'Rourke - DVM 1966
2018 Distinguished Alumnus Award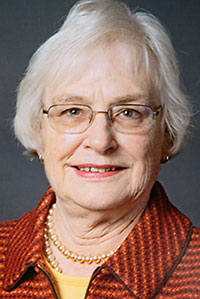 Dr. Martha O'Rourke, Toms River, New Jersey, was a recipient of a 2018 Distinguished Alumnus Award from the Kansas State University College of Veterinary Medicine and Veterinary Medical Alumni Association. This award recognizes Dr. O'Rourke for her outstanding achievements, humanitarian service and contributions to the veterinary profession. The award was presented during the Alumni Awards Brunch at the Alumni Reunion Weekend held June 2, 2018.
Originally from Hoisington, Kansas, Dr. Martha Dunn O'Rourke earned both a bachelor's and Doctor of Veterinary Medicine degree from Kansas State University in 1964 and 1966, respectively. While in college she was known to her class by the nickname Marty.
After graduation Dr. O'Rourke (then Dr. Dunn) moved to the East Coast to pursue a career in small animal medicine. She completed the basic science course in ophthalmology at New York University Post Graduate School of Medicine in 1970. She is currently owner and president of the Small Animal Veterinary Associates PA in Toms River. She became board certified by the American Board of Veterinary Practitioners in companion animal medicine in 1983 and was recertified in 1990 and 2004. She elected emeritus status in 2003.
"I've been in practice 52 years and I have never wanted to do anything different," Dr. O'Rourke said. "This profession has been very good to me, and I'm proud to say I've owned my own practice for 46 years. It's wonderful to be recognized by my veterinary college, especially considering I attended at a time when I was one of the only women in my class. I appreciate being able to continue working, because I enjoy interacting with my three associates (associate veterinarians) and my staff. It is a pleasure to go to work in the morning."
"It is a great privilege to recognize Dr. O'Rourke with this award, given her notable career of outstanding service and dedication to the profession," said Dr. Bonnie Rush, interim dean of the College of Veterinary Medicine. "In addition to being an excellent role model as a veterinarian, Dr. O'Rourke selflessly volunteered at the World Trade Center on Sept. 11, 2001 and responded to an avian influenza outbreak in Virginia in 2002. This alumni award helps underscore her leadership in public health and animal health."
Dr. O'Rourke has served as the first woman president of the New Jersey Veterinary Medical Association from 1991-1992 and the Jersey Shore Veterinary Medical Association from 1980-1981. She was an Eastern regional member of the American Veterinary Medical Association Political Action Committee Policy Board from 1993-1990 and was elected Secretary/Treasurer from 1995-1997. Dr. O'Rourke was a founding trustee and served as secretary of the New Jersey Veterinary Foundation Scholarship Committee from 1975-1980 and has been at- large of the organization since 1996. She was a charter member of the Jersey Shore Veterinary Emergency Service since its inception in 1979. She has also served as a safety officer of a veterinary medical team (VMAT-2) (a group that addresses national disasters and the care of animals in those areas). Dr. O'Rourke was active in the service from 1998 to 2013 and with the National Veterinary Response Team (formed in 2007) until 2013.
Dr. O'Rourke was honored by the Jersey Shore Veterinary Medical Association as Veterinarian of the Year in 1986, 1999, and 2002, and the Association of Women Veterinarians as Practitioner of the Year in 1994. She was honored by Kansas State University in 2001 with an alumni recognition award at the annual meeting of the American Veterinary Medical Association (AVMA) in Boston, Massachusetts. Dr. O'Rourke received a Distinguished Service Award from the New Jersey Veterinary Medical Association in 2006. In 2013, she established the Upson Lectureship at K-State in honor of Dr. Dan Upson, one of her professors who had been especially helpful when she was a struggling freshman student and needed a nudge in the right direction. She is a life member of the K-State Alumni Association and a member of the KSU Foundation's President's Club and 1863 Circle.
Dr. O'Rourke worked for six weeks in the Ngorongoro Conversation Area of Tanzania on a voluntary basis. She was asked to investigate the unusually high level of calf mortality in Massai cattle herds by a Wildlife biologist she met on a photographic safari. She took her 9-year-old daughter at the time and they experienced rustic camping in tents adjacent to Massai villages, cooking on an open fire, no refrigeration or clean water supply. Her work showed a correlation between the deaths and an increase in tick borne disease when infestations of ticks resulted from a shortage of tick dip in the area. The calves were dying of East Coast Fever.
Dr. O'Rourke's husband, Lawrence Simpson, passed away in 2004. She has two adult children: Matty and Brian, and a granddaughter who was born in 2014.