Dr. Fayne Oberst
1998 Distinguished Alumnus Award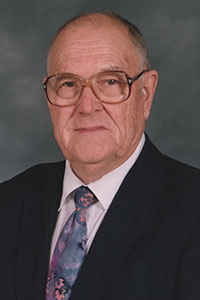 Kansas State University College of Veterinarian Medicine alumni received awards from the college June 7, 1998 at the Annual Conference and Veterinary Medical Alumni Association Banquet at the Manhattan Holiday Inn/Holidome.
Dr. Fayne Oberst, Barefoot Bay, Florida, was the recipient of the Distinguished Alumnus Award for his outstanding achievements in the field of veterinary medicine.
Oberst received his doctorate of veterinary medicine in July 1943 from K-State. He held many positions at the university including temporary assistant instructor, 1943-47; assistant professor, 1947-48; associate professor, 1948-54; and professor in the Department of Surgery and Medicine, 1954-62. He has also held positions at the University of Missouri, Michigan State University and Oklahoma State University.