Dr. Michael Moore - DVM 1968
2018 Distinguished Alumnus Award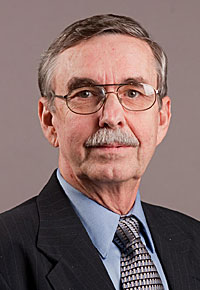 Dr. Michael Moore, Surprise, Arizona, was selected by the Kansas State University College of Veterinary Medicine for its 2018 Distinguished Alumnus Award. The award was presented during the Alumni Awards Brunch at the Alumni Reunion Weekend held June 2, 2018.
Dr. Moore, originally from Courtland, Kansas, earned his DVM in 1968 from K-State. After graduation, he went to work as a veterinarian at an animal hospital in Superior, Nebraska. After six months, Dr. Moore joined the army and served as a captain for two years before returning to the animal hospital in Superior where he practiced until 1998. He joined Novartis Animal Health (then known as Grand Laboratories) in 1999 as the territory manager, custom vaccine/feedlot adviser, manager trainer and professional services veterinarian. Dr. Moore retired from Elanco Animal Health in 2016. He was a frequent speaker to local livestock associations and has represented the American Veterinary Medical Association (AVMA) at the Livestock Publications Council conventions.
"My DVM degree from the Kansas State University College of Veterinary Medicine has given me the opportunity to pursue a fulfilling career," Dr. Moore said. "The personal attention demonstrated by the faculty and staff created an atmosphere for learning not only the scientific and medical knowledge but also the skills necessary to work with people in practice, industry and organized veterinary medicine. As I look back I appreciate those people like Drs. John Noordsy, Russell Frey, Dave Schoneweis and Bruce Wren, just to name a few, who instilled the desire to learn and continue to seek knowledge. With this background, I have been lucky to be able to spend my career in a profession that I truly loved and enjoyed."
"We're very pleased to have this opportunity to recognize Dr. Moore upon the 50th anniversary of his graduation from our College of Veterinary Medicine," said Dr. Bonnie Rush, interim dean. "This award shines the light on the numerous ways he has served the veterinary profession – from practice, to military service and leadership in a wide variety of local and national associations and beyond."
Dr. Moore has been a member of the AVMA, American Association of Bovine Practitioners, Nebraska Veterinary Medical Association (NVMA), American Association of Industrial Veterinarians, Kansas Veterinary Medical Association (KVMA), Nebraska Board of Examiners for Veterinary Medicine and the American Association of Corporate and Public Service Veterinarians. In these organizations he has held several leadership positions, including president of the NVMA in 1989 and president of the K-State Veterinary Medical Alumni Association from 2010-2011 and a member of its board of directors. Dr. Moore represented the NVMA on the House of Delegates of the AVMA and served on the original Public Relations Council. He has also served as chairman of the board of directors for Professional Veterinary Products in Omaha, Nebraska. While in practice, Dr. Moore was active in his community serving on the local school board and city council.
In the military, Dr. Moore received the Army Commendation Medal in 1970. He has also been recognized with the Service to Agriculture Award from Nebraska Ag Educators, Friend of 4-H awards from Nuckolls County Extension Council, Veterinarian of the Year and Commercial Rep of the Year from the NVMA and Commercial Rep of the Year from the KVMA.
Dr. Moore and his wife, Judy Jo (Trussell), have three children: Dr. Eric Moore (DVM 1994), Dr. Jon Moore and Dr. Katina Moore; and six grandchildren.