William L. Mengeling -DVM 1960
1999 Distinguished Alumnus Award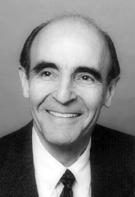 William L. Mengeling, a veterinary microbiologist and virologist from Ames, Iowa, was the recipient of the Distinguished Alumnus Award for his outstanding achievements in the field of veterinary medicine. He was the research leader of the Virology Swine Research Unit at the National Animal Disease Center of the U.S. Department of Agriculture's Agriculture Research Service in Ames. He was responsible for administering an annual budget of $1.9 million for his unit.
Mengeling's record of accomplishments has been called "unparalleled." He is an internationally recognized authority on several swine diseases. He developed a fluorescent antibody test for hog cholera; discovered porcine parvovirus and developed a vaccine to protect pigs against this disease; and has been a research leader on porcine reproductive and respiratory syndrome.
Mengeling earned a bachelor's degree in 1956, a DVM in 1960, and a Master's in Microbiology in 1966 from Iowa State University, and holds a PhD from Iowa State University. He became a diplomate of the American College of Veterinary Microbiologists in 1973.