Dr. Ronald J. Marler - DVM 1973
2013 Distinguished Alumnus Award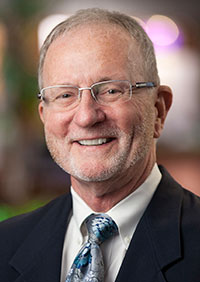 Dr. Ronald J. Marler, Scottsdale, Ariz., was the recipient of the 2013 Distinguished Alumnus Award from the K-State College of Veterinary Medicine and Veterinary Medical Alumni Association. This award recognizes Dr. Marler for his outstanding achievements, humanitarian service and contributions to the veterinary profession. The award was presented as part of the 75th Annual Conference for Veterinarians on June 2, 2013.
Dr. Marler received his bachelor's degree in 1971 and DVM in 1973 from K-State. A short time after graduating, Dr. Marler joined the U.S. Army Veterinary Corps as a captain and then returned to K-State to complete a Ph.D. in veterinary pathology in 1978. Dr. Marler, who served as dean of the College of Veterinary Medicine at K-State from 1994 to 1997, is recognized as an expert in drug development and pharmaceutical pathology and toxicology. He is board certified by the American College of Veterinary Pathologists and American Board of Toxicology.
"It is especially gratifying to be recognized by one's peers and colleagues," Dr. Marler said. "I owe much of my success to those around me at the many stages of my career, not the least of which was the faculty and administration of one of the premier colleges of veterinary medicine. While my individual success has been influenced by multiple experiences and mentors, the underlying foundation for that success has always been based on the opportunities our profession has afforded me."
"Dr. Marler has served both our college and the veterinary profession in admirable fashion," said Dr. Ralph C. Richardson, current dean of the College of Veterinary Medicine. "His leadership skills and scientific expertise provide a great example of success and professionalism for tomorrow's leaders in veterinary medicine. It's even more rewarding to bestow this recognition to a fellow dean of the college."
Dr. Marler's industrial career began in the late 1970s with Mead Johnson Pharmaceuticals as a veterinary pathologist. By 1981, he had moved on to the toxicology laboratories of Merrell Dow Pharmaceuticals while also working as an adjunct professor for Butler University's College of Pharmacy. Dr. Marler worked with Merrell Dow Pharmaceuticals in a variety of positions, including: project leader, senior research toxicologist, group leader and head of the department of toxicology as well as director and vice-president of Global Drug Safety. In 1994, he returned to his alma mater to become dean for the K-State College of Veterinary Medicine.
Dr. Marler returned to industry in the mid-1990s and quickly rose to a senior executive level at Covance Laboratories. He joined the Mayo Clinic in 2004, and has held multiple positions including director of core research facilities, associate director for research, director of the clinical procedural skills laboratory and executive director of clinical trials business operations. As part of Mayo Clinic's executive-on-loan program, Dr. Marler was privileged to serve as the CEO of Colorado State University Ventures and CEO and CSO of Bridge Laboratories. He is currently professor of Experimental Therapeutics and Molecular Pharmacology, director of the Animal Histology and Pathology Core, director of the Center for Procedural Innovation, and senior adviser for non-clinical drug development. Dr. Marler also has a successful preclinical drug development consulting practice.
Dr. Marler and his wife, Verna, split their time between their homes in Scottsdale and Payson, Ariz. They have two sons: Aaron and Kyle.