Dr. Nels N. Lindberg - DVM 2001
2017 Distinguished Alumnus Award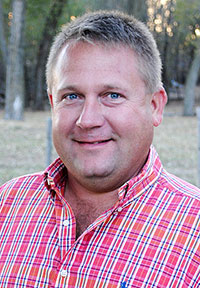 Dr. Nels N. Lindberg, Great Bend, Kansas, is the recipient of a 2017 Distinguished Alumnus Award from the Kansas State University College of Veterinary Medicine and Veterinary Medical Alumni Association. This award recognizes Dr. Lindberg for his outstanding achievements, humanitarian service and contributions to the veterinary profession. The award was presented during the 79th Annual Conference for Veterinarians on Sunday, June 4, 2017.
"This award is not about me or my success, because without my wife, my parents and family, the awesome staff at the Animal Medical Center, my dear friends and mentors, and all the clients that entrust us with their animals and operations, we would not be where we are" Dr. Lindberg said. "We believe in creating big change by being obsessively preoccupied with serving the needs of others. I am humbled, honored and filled with great gratitude."
"Dr. Lindberg's passion and commitment for the veterinary profession is second to none," said Dr. Tammy Beckham, dean of the veterinary college. "He has already been recognized early in his career by the Kansas Veterinary Medical Association for his contributions to the profession, and he continues to serve this state and his community at a very high level. It is with great pride that we take this opportunity to recognize him with this award."
Dr. Lindberg was raised in Lewis, Kansas, where he graduated high school before attending Fort Hays State University. He then attended Kansas State University where he met his wife, Karen, and graduated from the College of Veterinary Medicine in 2001. The Lindbergs moved to Great Bend that year, where he started his veterinary career before moving to Dodge City in 2003. Two years later, an opportunity to purchase Animal Medical Center brought Dr. Lindberg and his family back to Great Bend.
Dr. Lindberg focuses on feedlot consultation, while still enjoying all aspects of veterinary medicine. He is a partner in Production Animal Consultation, an independent consulting group focused and actively engaged in feedlot consultation, data collection and analysis, animal care and welfare, technologies development, and research for the beef industry. His area of expertise is in the area of Business Management Leadership Development. PAC is a leader in the industry of independent Feedlot Consultation, Cattle Handling, Animal Welfare, and Advanced Technologies. The group of consultants oversees over 1.4 million head of cattle on feed.
Dr. Lindberg has published several articles in peer-reviewed publications and is asked to speak all over the country at veterinary conferences and training events. He was sought out by the 2012 graduating class from the Kansas State University College of Veterinary Medicine, the only college at the university that allows its students to select its commencement speaker.
Dr. Lindberg shares his expertise with numerous organizations, serving on Advisory Boards for the Bayer Animal Health, Norbrook Manufacturing, Novartis Animal Health, and Elanco Animal Health. He is a member of the American Veterinary Medical Association, American Association of Equine Practitioners, American Association of Bovine Practitioners, Kansas Veterinary Medical Association and the Academy of Veterinary Consultants.
Outside of his professional service, Dr. Lindberg is active at First Christian Church, serving as the chairman of its board and sitting on several committees. He also serves as a director for Peoples State Bank, Leonardville State Bank and Big Mac Bancshares. Dr. Lindberg is an Eagle Scout and a longtime supporter of the Boy Scouts of America.
In 2014, Dr. Lindberg was honored by the Great Bend Chamber of Commerce and Economic Development with the NextGen Leader of the Year award. In 2015, he was named the Veterinarian of the Year by the Kansas Veterinary Medical Association.
The Lindbergs have twin siblings: Nash and MacKenzie. Their family pets are toy Aussies named Sam and Blue, and two cats named Winter and Nosey.