Dr. Janver Krehbiel - DVM 1962
2022 Distinguished Alumnus Award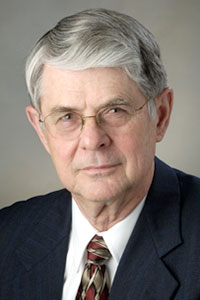 Dr. Janver D. Krehbiel, Okemos, Michigan, has been selected by the Kansas State University College of Veterinary Medicine's Alumni Association for a 2022 Distinguished Alumnus Award. This award is in recognition of his outstanding achievements, humanitarian service and contributions to the veterinary profession. The award will be presented June 5 during the college's Alumni Reunion Weekend.
Dr. Krehbiel was born in Pretty Prairie, Kansas, and grew up on a family farm. He attended Bethel College, in North Newton, Kansas, for two years, before transferring to Kansas State University where he earned his Doctor of Veterinary Medicine degree in 1962. Now retired, Dr. Krehbiel enjoyed a 42-year career as an instructor in veterinary pathology and administrator for the Michigan State University (MSU) College of Veterinary Medicine.
"I am highly honored with this award and appreciate this recognition very much," Dr. Krehbiel said. "I have fond memories of my educational experience at Kansas State University (KSU) and feel privileged with the opportunities it provided. I thank the wonderful faculty, staff, and fellow students at KSU for the preparation for a most enjoyable career."
"Dr. Krehbiel helped establish one of the country's top pathology programs at Michigan State University," said Dr. Bonnie Rush, Hodes Family Dean. "His natural leadership resulted in administrative service as chair of the Pathology Department and acting dean of MSU's college of veterinary medicine. His career as an educator has been extraordinary. We are pleased to recognize him through this award."
After graduation, Dr. Krehbiel worked in private practice in Mesa Arizona and in Al Cajon California. From 1964 to 1966 he served in the Veterinary Services in the United States Air Force as base veterinarian at Anderson Air Force Base, Guam. Subsequent to this tour of duty, Dr. Krehbiel accepted a position as an instructor in the department of small animal surgery and medicine at the College of Veterinary Medicine, Michigan State University. He was a clinical instructor for three years and spent one year in the Department of Pathology in the Veterinary Diagnostic Laboratory at MSU.
While working in pathology, Dr. Krehbiel completed a master's degree in 1969 and received an award from the National Institute of Health for a special postdoctoral fellowship to pursue his Ph.D. degree, which he completed in 1972.
As a faculty member at Michigan State, Dr. Krehbiel enjoyed instructional responsibilities as a small animal clinician, diagnostic pathologist, and clinical pathologist. His primary administrative duties included 10 years as director of the clinical pathology laboratory, and service as acting and associate chair of the Department of Pathology.
Dr. Krehbiel is a diplomate of the American College of Veterinary Pathologists (ACVP) with certification in both anatomic and clinical pathology. He served as president of the American Society for Veterinary Clinical Pathology and chairperson of the ACVP Examination Committee. He was appointed associate dean for academic and student affairs in 1989, a position he held until 2006. In 1998, Dr. Krehbiel was given additional responsibilities as senior associate dean and he also served the college as acting dean for the year 2005. From 2006 to 2008, he was appointed director of international programs for the Michigan State University veterinary college. At the end of 2008 he retired as emeritus professor from the Department of Veterinary Pathology and associate dean for academic programs, College of Veterinary Medicine, MSU.
Dr. Krehbiel has been involved in organized veterinary medicine and his professional activities include roles as president of the Michigan Veterinary Medical Association, chairperson of the Association of Academic Deans for the American Association of Veterinary Medical Colleges, chairperson of the American Veterinary Medical Association (AVMA) informatics committee, chairperson of the National Board of Veterinary Medical Examiners and six years as a member of the Council of Education. In 2007, he was elected to the AVMA executive board from District V, representing Michigan, Ohio, Kentucky, and West Virginia. He chaired the AVMA foresight Report Task Force and served on the Steering Committee for the North American Veterinary Medical Education Consortium (NAVMEC). In July 2011 he was elected vice chair of the AVMA executive board and served as chairperson from 2012-2013. July 2016 he was elected to the American Veterinary Medical History Society and served as a board member from 2017-2020.
Dr. Krehbiel was selected for the 1998 Distinguished Honorary Alumni Award from the College of Veterinary Medicine at Michigan State University. In 2001, he received the Kenneth McKersie Service Award from the Michigan Veterinary Medical Association. He was chosen for the Distinguished Postdoctoral Veterinary Alumnus Award from Michigan State in 2002. In 2004, the Kansas State University College of Veterinary Medicine presented him with an alumni recognition award at the AVMA convention.
Dr. Krehbiel and his wife Linda enjoy their family of three children and four grandchildren. He continues his love of music as a 40-year, founding member, of the Arts Chorale of Greater Lansing, supports the Lansing Symphony Orchestra, and is an active member of the Okemos Presbyterian Church. Dr. Krehbiel is presently collaborating with a colleague, Dr. Fredrick Derksen, as they chronicle the history of the past 50 years of the College of Veterinary Medicine at MSU.