Dr. Peter Kennedy
2000 Distinguished Alumnus Award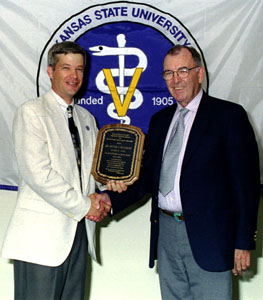 Dr. Peter Kennedy, Davis, California, professor emeritus of pathology at the School of Veterinary Medicine, University of California at Davis, is the recipient of the college's 2000 Distinguished Alumnus Award for outstanding achievements and contributions to the veterinary profession. He received his honor at the annual conference of the K-State Veterinary Medical Alumni Association, June 4, 2000 at K-State.
Dr. Peter Kennedy earned his Doctor of Veterinary Medicine degree from K-State in 1949 and his PhD from Cornell University. He has taught at the University of California at Davis since 1953.
He is a veterinary pathologist who is internationally recognized for his work in fetal and endocrine diseases of domestic animals. He is a distinguished member of the American College of Veterinary Pathologists, serving as President in 1970. He is the author of numerous publications and co-author of a leading textbook on veterinary pathology. He has been awarded several prestigious fellowships including a Fulbright-Hays Fellowship to the University of Melbourne in 1968 and a Rockefeller Fellowship at the University of Nairobi.