Dr. Jack W. Judy Jr. - DVM 1958
2008 Distinguished Alumnus Award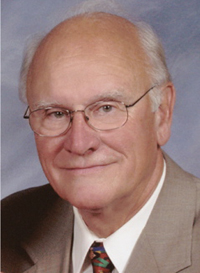 Dr. Jack W. Judy Jr., Williamston, Mich., received the 2008 Distinguished Alumnus Award from the K-State College of Veterinary Medicine and its Veterinary Medicine Alumni Association.
The award was presented Monday, June 2, 2008 as part of the 70th Annual Conference for Veterinarians at K-State.
The Distinguished Alumnus Award is given to a veterinarian who has had an outstanding career and who has contributed to the success of the veterinary profession through service and professional organizations.
Dr. Judy is a professor emeritus at Michigan State University. He teaches courses in veterinary business management in the Department of Small Animal Clinical Sciences.
"Recognition by my colleagues and college has been a humbling experience and capped my career in veterinary medicine," Dr. Judy said. "K-State gave me the opportunity to get where I am today, and I am forever indebted to the College of Veterinary Medicine. My first big thrill was being accepted into the college. The call informing me of this recognition was an equal to that thrill. I would not change a thing in my career as a veterinarian. I have enjoyed every phase of my life in various areas veterinary medicine. The future of this profession is even brighter than when I became a part of it. "
"Dr. Judy is one of the leading veterinary educators in the nation," said Dr. Ralph Richardson, dean of the K-State College of Veterinary Medicine. "He is also a consummate researcher and administrator, having been involved in virtually every aspect of the veterinary profession during his long and noteworthy career."
Dr. Judy attended Wabash College, Crawfordsville, Ind., from 1949 to 1952 and studied zoology. He then attended Purdue University, West Lafayette, Ind., where he earned a bachelor's degree in agricultural economics in 1954. Dr. Judy then earned a DVM at K State in 1958. He went into general practice in Greencastle, Ind., until 1961, when he studied veterinary physiology at Iowa State University, Ames, until 1962. Dr. Judy earned a Ph.D. in agricultural economics at Purdue in 1968, with a business management major and pathology minor.
While working on his Ph.D., Dr. Judy was a veterinary instructor in anatomy, veterinary science and agricultural economics. He left Purdue and became a professor and head of the Department of Medicine and Surgery in the College of Veterinary Medicine at the University of Georgia, Athens, from 1969 to 1971.
He then became professor of veterinary clinical medicine, continuing education and taught in the Center for Zoonoses and Comparative Medicine at the College of Veterinary Medicine at the University of Illinois, Urbana, from 1971 to 1976. He was the acting head of the Department of Veterinary Clinical Medicine from 1974 to 1976.
Dr. Judy then joined the College of Veterinary Medicine at Michigan State where he was the associate dean for Hospital Administration and Facilities Planning in its College of Veterinary Medicine until August 1991. He served as acting dean at Michigan State from September to December 1982.
Dr. Judy has published numerous research articles on veterinary economics and many other topics. He received the Best Instructor Award from Purdue University's Student Government in 1969. Dr. Judy was on the Outstanding Teaching List at the University of Illinois in 1972, 1973, 1974, 1975 and 1976. He received the Veterinary Service Award from the Michigan Veterinary Medical Association in 1985. Dr. Judy was given the Outstanding and Dedicated Service Award from the Michigan State University Veterinary Alumni Association in 1986. In 1994, he received the American Association of Veterinary Clinicians' Clinical Faculty Achievement Award. Dr. Judy was also given the Excellence in Teaching Award, from the Class of 1997 at the Michigan State University College of Veterinary Medicine Annual Awards Banquet in 1995. He received the Pioneer Award from the Association of Veterinary Practice Management Consultants and Advisors in 2005.
In addition to these awards, Dr. Judy has been a visiting professor at Tuskegee (Ala.) University, Purdue University, University of Saskatchewan, Saskatoon, Canada, and the University of Illinois. He is a member of several state and national veterinary medical associations and has served on more than 10 national committees. He also made national and international presentations in several states including Kansas, plus abroad in places such as China, the Bahamas, Costa Rica, Kenya and the former U.S.S.R.
Dr. Judy and his wife, Nan, have six children: Charles, Martha and Douglas, Jackie, Michael and Brian. They have eight grandchildren and two great-grandchildren.