Dr. Steven C. Henry - DVM 1972
2002 Distinguished Alumnus Award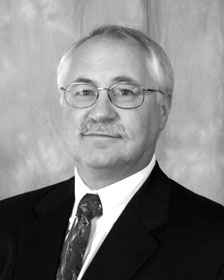 Manhattan -- Dr. Steven C. Henry, a graduate of Kansas State University's College of Veterinary Medicine, was honored as the recipient of the college's 2002 Distinguished Alumnus Award. The prestigious award, which is sponsored by the Veterinary Medical Alumni Association, was presented at the 64th Annual Conference for Veterinarians dinner on June 3, 2002 in Manhattan, Kansas. He was recognized for his outstanding achievements and contributions to the veterinary profession.
Dr. Henry earned two degrees from K-State. He completed a bachelor's degree in veterinary medicine in 1970 and a doctorate of veterinary medicine in 1972. His career, which to date has spanned more than 30 years, specializes in diseases and health management of pigs. His experience is primarily in disease prevention and diagnosis and in optimizing swine herd productivity for his clients. While swine specialty is his emphasis, he has always been a general clinician with a multi-species veterinary practice.
Following graduation, the Longford, Kansas native joined Dr. Arthur Beat (KSU '52) in Illinois and practiced there for four years as a general practitioner. In 1976 he returned to his home area, Abilene, Kansas and joined Drs. F. R. Jordan (KSU '64) and M. L. Whitehair (KSU '74) in the Abilene Animal Hospital, P.A., which was founded in 1945 by Dr. F. W. Jordan (KSU '39). Dr. Henry and his partners, associates and staff provide multi-species veterinary services. The swine division of their practice provides clinical and consultation services to the industry throughout North and South America, Asia and Australia. Additionally, Dr. Henry and partner Dr. Lisa Tokach (MN '90) operate a swine farm management business, the Kansas Swine Alliance. KSA manages a number of production facilities for Kansas producers. He is also a pork producer associated with his family's farm, which produces specialized boars for AI studs.
Dr. Henry is a Fellow of the Morris Animal Foundation and a Diplomate of the American Board of Veterinary Practitioners in Swine Health Management. In 1994 he was selected as the first recipient of the coveted Allen D. Leman Science in Practice Award. The award, in memory of the swine veterinary pioneer and mentor Dr. Al Leman, is presented annually to an outstanding swine clinician. In 1983 he was singled out for the Allied Industry Award by the Kansas Pork Producers Council.
He was honored as Swine Practitioner of the Year by American Association of Swine Practitioners in 1981 and served as President of the association in 1982. In 2002 he was awarded the Howard Dunne Memorial Award by the American Association of Swine Veterinarians in recognition of his contributions and outstanding service to the swine industry. Dr. Henry has served on the FDA Center for Veterinary Medicine's Advisory Committee and the American Veterinary Medical Association's Council on Biologic and Therapeutic Agents. He also served as Chairman of the Drug Availability Committee of the AVMA and as Chair of the Expert Panel on Canine and Feline Vaccines. Other involvements include Kansas Veterinary Medical Association, American Society of Agricultural Consultants and National Academies of Practice. He served on various committees for the National Pork Producers Council. He has published extensively in professional and industry publications and has authored a number of book chapters in veterinary literature.
The swine specialist's involvement with the K-State College of Veterinary Medicine has spanned decades. Beginning in 1980 and continuing through the early 1990s, he presented an annual seminar on the subject of swine medicine to senior veterinary students and served as a role model for future veterinarians by volunteering his time to interact with freshman students during orientation each August. Additionally, he returns regularly to his alma mater to instruct continuing education courses for practicing veterinarians, students and swine producers.