Dr. Jim Dale - DVM 1967
2019 Distinguished Alumnus Award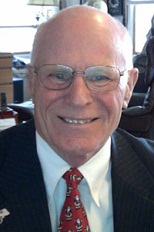 Dr. James (Jim) E. Dale, Golden, Colorado, was selected as a recipient of a 2019 Distinguished Alumnus Award from the Kansas State University College of Veterinary Medicine and Veterinary Medical Alumni Association. This award recognizes Dr. Dale for his outstanding achievements, humanitarian service and contributions to the veterinary profession. The award was presented during the Alumni Awards Brunch at the Alumni Reunion Weekend held June 1, 2019.
Dr. Dale received his Doctor of Veterinary Medicine (DVM) degree from K-State in 1967. He was raised on a small farm/ranch near St. John, the home of recent K-State basketball player Dean Wade. Dr. Dale's brother and sister are also K-State grads. Dr. Dale is a Diplomate of the American College of Veterinary Preventive Medicine.
After graduation Dr. Dale practiced in Lawrence until called to the Air Force. He likes to say he joined for two years and stayed 30. Dr. Dale had assignments all around the globe. His last assignment was as chief of prevention operations in the Office of the Air Force Surgeon General, Headquarter Air Force.
In addition to his DVM, Dr. Dale has a Master of Public Health degree, an executive MBA and a graduate certificate in veterinary homeland security. Further, he is a graduate of Squadron Officers School, Air Command and Staff College, Air War College, and National Defense Security Management College. He retired as a full colonel, and his military decorations include five awards of the Meritorious Service Medal and the Legion of Merit.
"I love K-State," Dr. Dale said. "I am so honored to be recognized by the VMAA as the 2019 Distinguished Alumnus. I'm thankful for the unbelievable opportunities that veterinary medicine, the Air Force and my folks gave me. I'm eternally grateful that my folks, the late Lewis and Louise Dale of St. John and Great Bend, Kansas, who sent me to K-State, and that I'm a member of the special class of 1967."
"Dr. Dale's outstanding record of military and public service provides an inspiring example for future veterinarians," said Dr. Bonnie Rush, interim dean of the College of Veterinary Medicine. "Although retired, he keeps active by serving his state and local community through municipal boards and commissions. We recognized Dr. Dale in 2013 at the Western Veterinary Conference in Las Vegas, and we are proud to have an opportunity to recognize him at his alma mater in Manhattan."
Following retirement, Dr. Dale served for 12 and a half years as the director of environmental health for Jefferson County Public Health in Golden, Colorado. He was active in national and state public health organizations serving as the president of both the Colorado Public Health Association and Colorado Directors of Environmental Health. He served on the Executive Board of the American Public Health Association and as chair of the Council of State Public Health Associations. He is a member of the Colorado Veterinary Medical Association and American Veterinary Medical Association.
Active in Golden, Dr. Dale is currently on the Golden City Council. He has served on the city Planning Commission, Budget Advisory Committee, Sustainability Advisory Board and Visitor Center Board. He sings in his church choir.
Dr. Dale maintains his Kansas roots as he, his brother and his sister, still own their small ranch/farm which is leased by a K-State family. His veterinary school classmates told him Air Force guys "weren't busy," so he has organized the five-year class reunions for the class of 1967 for a "long, long time."
Dr. Dale is married to LouAnne Taylor Dale, a Washburn University graduate, whom he met in Turkey, where he was stationed while she was teaching Air Force kids. They have two children and four grandchildren. The Dales enjoy travel, skiing and snorkeling. Dr. Dale is an avid golfer and sports fan.