Dr. James R. Coffman - DVM 1962
2011 Distinguished Alumnus Award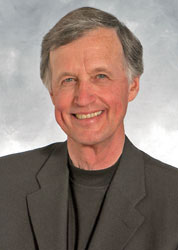 Dr. James R. Coffman, Manhattan, Kansas, was the recipient of the 2011 Distinguished Alumnus Award. The award was presented as part of the 73rd annual Conference for Veterinarians on June 5, 2011. The Distinguished Alumnus Award recognizes veterinarians who have had an outstanding career and have contributed to the success of the veterinary profession through service and professional organizations.
Dr. Coffman earned a bachelor's degree in 1960, DVM in 1962 and master's degree in pathology in 1970, all from K-State. After earning his DVM, he operated a private equine practice in Wichita from 1962-1965. He served on the faculty of the department of surgery and medicine from 1965-1969. After two years in private practice in Oklahoma City, Dr. Coffman served as professor of equine medicine at the University of Missouri from 1971-1981. He also was director of the Equine Center there from 1973-1977. Dr. Coffman returned to K-State in 1981 as the head of the Department of Surgery and Medicine. This marked the beginning of his 28 year tenure at K-State where he has served as dean of the college of veterinary medicine from 1984-1987 and provost from 1987-2004. For the past two years, he has worked as a volunteer with K-State's Department of Animal Sciences and Industry, helping in the development of an equine-assisted therapy program. He has authored or co-authored more than 120 scientific papers and two books.
"It is a real honor and very humbling to receive this award," Dr. Coffman said. "The College of Veterinary Medicine has been a very important part of my life, and I was really fortunate to have the education and experience I received there. This goes far beyond the classroom and clinics – to mentoring and long-term relationships. I am extremely proud to be part of the veterinary medical profession. It is a unique mix of hands-on expertise, problem solving and leadership. I am especially grateful to the Veterinary Medical Alumni Association and Dean Richardson for making this possible."
"Dr. Jim Coffman has been an amazing leader with a career that spans the roles of veterinary practitioner, faculty member, department head of clinical sciences, dean of the College of Veterinary Medicine, and provost of Kansas State University," said Dr. Ralph Richardson, dean of the College of Veterinary Medicine. "This award helps recognize an inspirational career, a great role model and a valuable colleague."
Dr. Coffman has been active in many professional organizations including: American Veterinary Medical Association (AVMA), American Association of Equine Practitioners (AAEP), American College of Veterinary Internal Medicine (ACVIM), Phi Zeta, Gamma Sigma Delta, Phi Kappa Phi and Gold Key honor societies. With his expertise, Dr. Coffman has served as president for multiple organizations including the ACVIM in 1976 and AAEP in 1986. He served on the AVMA Professional Liability Insurance Trust Board of Trustees from 1978-1983 and as chairman from 1983-1985.
Dr. Coffman has been recognized with numerous awards throughout his career. In 1969, he was a recipient of the Norden Distinguished Teaching Award in veterinary medicine. Dr. Coffman was awarded an Alumni Recognition Award by the K-State College of Veterinary Medicine at the AAEP convention in 2002. He is a Distinguished Life Member of AAEP. He has received the Iverson Bell Award from the Association of American Veterinary Medical Colleges in 2005. During that same year, Dr. Coffman received K-State's E.R. Frank Award. In 2010, Coffman Commons was dedicated on the K-State campus in honor of Dr. Coffman. Coffman Commons is an outdoor plaza with seating and garden areas located south of Hale library.
Dr. Coffman is married to Sharon (Neill). They have three sons: David, Michael and Scott, and nine grandchildren.